More seniors learning to lead digital lives as Singapore accelerates nationwide digitalisation plans
Singapore will ramp up outreach efforts to help seniors go digital by partnering with companies as well as enhancing training programmes and schemes
More than 100,000 seniors have benefitted from digital skills training conducted by the SG Digital Office since it was launched in June 2020
 More than 60% of Singapore's hawker stalls now offer e-payments
SINGAPORE: "I think I'll pick up TikTok and teach other seniors," said 69-year-old Kathirithamby Selvakkrishnan. "I (already) have people sending me TikToks ... As seniors, we must keep (up) with what our youngsters are also doing."
Seven years ago, that would have been unthinkable for the former secondary school teacher.
"I was too busy with so many things and I only knew the basics like Facebook," he said, adding that there was no real "need" to learn digital applications.  
But that all changed in 2014, when he retired and suddenly found that he had a lot more time on his hands.
Over a WhatsApp voice call with CNA, Mr Selvakkrishnan shared how he decided to take up digital courses after retirement, such as online banking and how to market products on Instagram.
"It was exciting, interesting - and even entertaining - learning how to use the different apps, and the more I learnt, I realised that what I knew was very little," he said.
Now, the 69-year-old retired teacher continues his commitment to teaching by volunteering weekly at various community centres to help other seniors learn basic digital skills.
"Our seniors are a little apprehensive and a little fearful, but when you teach them slowly and explain to them, they will come on board; and the moment they can use it, you can see the glow in their eye and they gain confidence," he said. "If we are relevant then, we are respected and people will want to communicate with us, and so we won't become redundant."
"The moment we can communicate with our youngsters through their medium, then they will think 'You are one of us' and they will open up, and so I think this is an avenue for us," he added.
Mr Selvakkrishnan is part of a growing number of seniors in Singapore who are jumping on the digital wave, as the country accelerates its digitalisation plans.
On Friday (Sep 3), Communications and Information Minister Josephine Teo announced that the Infocomm Media Development Authority's (IMDA) SG Digital Office will expand outreach efforts, enhance resources, and work with more partners to provide support for senior workers and vulnerable groups.
It was set up in June last year to drive digitalisation nationwide. "We want digitalisation to benefit everyone, that includes seniors and groups like hawkers," said Mrs Teo. "Using digital tools may not come naturally to them but the Government is here to help."
To help more seniors go digital, the office will partner with companies to set aside time and space to train their senior employees. It will also set up more than 200 roving counters to bring its services even closer to seniors in the community. This is on top of its 47 community hubs presently.
IMDA said SG Digital Office will also expand its training curriculum for seniors to include topics such as health, cybersecurity and lifestyle.
Seniors can learn, for instance, how to use health-related apps such as HealthHub and Healthy 365 to access their medical records and appointments, it added.
Meanwhile, an existing scheme will be enhanced to allow eligible lower-income seniors to enjoy affordable mobile access for a longer period.
Under the current Mobile Access for Seniors scheme, which was launched in June last year, eligible seniors can purchase a basic smartphone with co-payment starting from S$20, bundled with a S$5 monthly mobile plan that offers at least 5GB of data for one year.
Seniors who signed up for the plan from June this year will now enjoy a two-year mobile plan, up from one year previously. Those who have signed up between July 2020 and May 2021 will automatically receive the extension, said IMDA.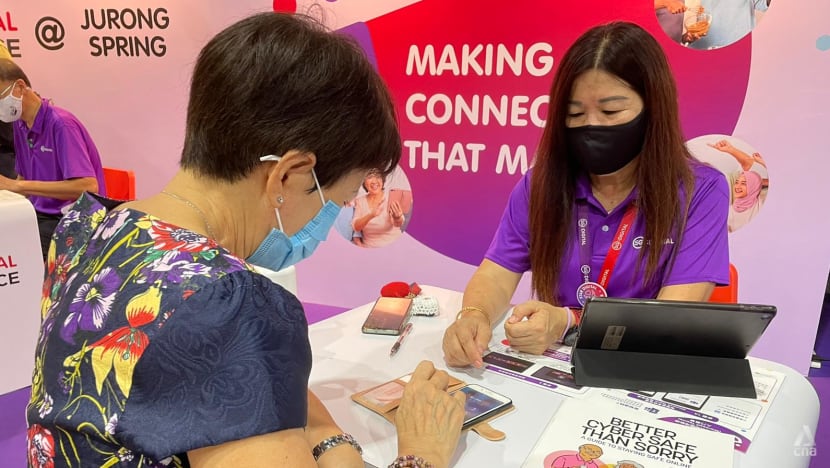 MORE THAN 100,000 SENIORS TRAINED
Speaking at an event to mark the first anniversary of SG Digital Office, Mrs Teo said that the office as well as the Digital for Life movement have made "good headway in a fairly short time".
More than 100,000 seniors have undergone digital skills training conducted by the SG Digital Office to date, according to IMDA.
According to a survey of seniors who completed the SG Digital Office's training programmes, nine in 10 continued to apply the skills learnt, including using their smartphone for video calls, accessing government digital services and making e-payments.
HELPING HAWKERS GO DIGITAL
Meanwhile, more than 60 per cent of Singapore's hawker stalls in various hawker centres, coffeeshops and industrial canteens, now offer e-payments.
This translates to more than 11,000 stallholders, said IMDA.
Transaction volume and value crossed the 1.8 million and S$17 million mark respectively in July - around six times of what they were in June last year, when the Hawkers Go Digital programme was launched.
The programme also met its target of engaging a total of 18,000 stallholders to adopt a unified e-payment solution by June this year.
The digital office is now engaging stallholders at hawker centres managed by the National Environment Agency (NEA) or NEA-appointed operators to raise awareness on the online ordering options.
As of mid-August, around 1,750 stallholders are currently on online ordering platforms.