Some organisations see rise in number of senior volunteers
For an active ageing centre that serves elderly residents, having volunteers of the same age group is important to the cause, one organisation said.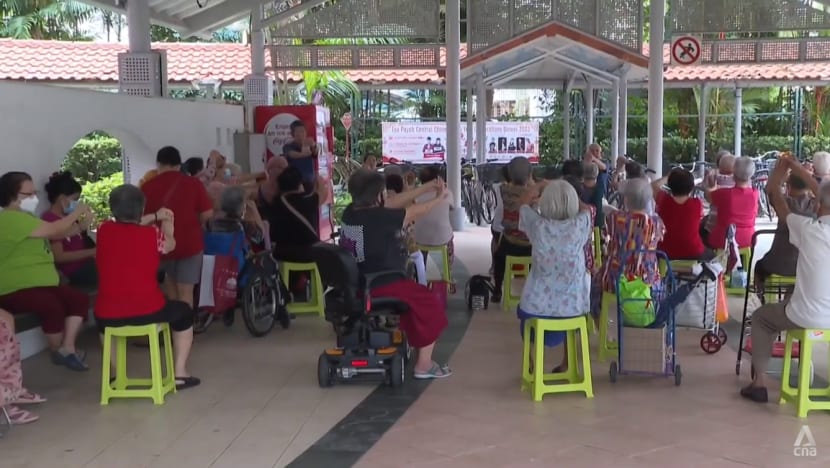 SINGAPORE: Volunteering may not seem like the typical activity for seniors, but it is getting more popular among this age group.
Two organisations have seen an increase in the number of senior volunteers.
About 80 seniors joined Lions Befrienders Service Association last year, about four times the number in 2021.
Over the past year, the number of senior ad-hoc volunteers rose by at least 30 per cent at RSVP Singapore. 
For an active ageing centre that serves elderly residents, having volunteers of the same age group is important to the cause, said Lions Befrienders executive director Karen Wee. 
"Senior volunteers are very, very critical because they are friends of other seniors. They reach out to them, they are familiar faces, they're the trusted faces," she said. 
"So with that, we have insight to the seniors and we can do the curation of programmes that suit their needs best."
TECH-SAVVY SENIORS
Ms Wee said their engagement efforts, especially in attracting seniors well-versed in digital skills, have paid off, with more literate and tech-savvy retirees coming on board recently. 
"(This) is very important for us, because this is the pool of people who we can tap on to serve the other seniors," she said.
The rising trend of tech-savvy senior volunteers has allowed the organisation to expand its reach, and make use of social media platforms dominated by the young, she added.
RSVP said it has seen keen interest from the Merdeka generation who are in their 60s and early 70s.
"They are more tech-savvy, more educated and to a certain extent, financially stable. So these people are more willing to come forward. However, having said that, they usually volunteer on more what we call ad-hoc, or episodic case," said chairman of RSVP Koh Juay Meng.
WHY THEY VOLUNTEER
Among the senior volunteers is Ms June Chen. At the age of 67, she still has the moves and puts them to good use by guiding other seniors at a weekly Zumba class held at the Lions Befrienders Service Association.
She was a student herself once. 
"Lions Befrienders … approached me to start to do exercise first. That is how I got to know people around my age, and that's how I pull them in. And to be with them, I think, is a blessing," Ms Chen said.
Another senior volunteer, 68-year-old Ling Lik Kwok, is looking to break the norm.
"I would like to change the mindset that seniors are slow and can't do many things. In fact, with their years of life experiences, they are still very useful and also relevant," he said. 
He added that it is "very appropriate" for seniors to share their knowledge with other seniors, as they tend to have common interests. 
Every two weeks, a few volunteers like Mr Ling organise activities for older residents living in Toa Payoh. Under the Enriching Lives of Seniors Programme, they hold bingo games, mini performances and even exercise sessions. These typically draw a crowd of about 30 residents.
Seniors are "social capital" in the nation, said RSVP's Mr Koh.
"Seniors can always act as a stabiliser in the society in time of need. Seniors have a wealth of experience, and at the same time, a lot of skills that can help us," he said.