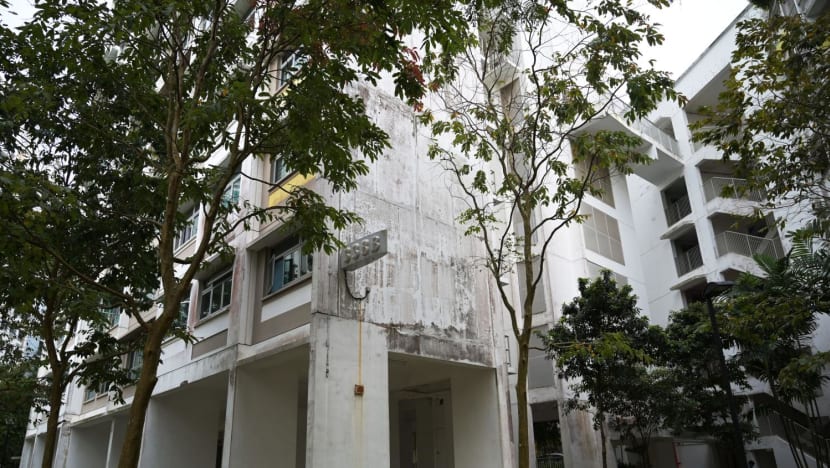 SINGAPORE: The Housing & Development Board (HDB) is looking into the cause of mould growth at two HDB estates, and may review the specifications and maintenance practices for flats, depending on the outcome of the technical study it has commissioned.
Some flats at Anchorvale Parkview in Sengkang and Matilda Court in Punggol made the news in January after their external walls were stained with mould, even though the estates were just five or six years old.
Residents complained that the blocks looked unsightly and worried about the health risks.
Responding to parliamentary questions from a few Members of Parliament, the Ministry of National Development said on Monday (Feb 6) in a written reply that HDB will be commissioning an independent professional technical study to determine the cause of the mould growth.
"The scope of this study will also address why some blocks are more susceptible to mould growth and include recommendations to remedy the current situation and to prevent future recurrence," MND said.
The study is expected to take about three to four months to complete.
Depending on the outcome of the assessment commissioned by HDB, the Singapore Standards Council will assess the need to further review the relevant standards, on top of periodic reviews carried out every five to eight years, MND said.
HDB will also assess the need to further review the specifications and maintenance practices for flats.
Currently, the external walls of all HDB developments are painted with one coat of water-based sealer and two coats of algae-resistant emulsion paint, which contains biocide that prohibits the growth of algae.
The sealer and emulsion paint used in HDB blocks complies with standards commonly used for buildings in Singapore, for both public and private sector projects, MND added.
"These standards, which have helped ensure that external facade walls remain clean and clear of mould over the last 20 years, were most recently reviewed with industry experts in 2021 to ensure that the standards are updated and remain relevant to the industry," said MND.
"These standards were also used in numerous other HDB projects, where no such incidents of mould growth have been identified, including developments located near waterbodies."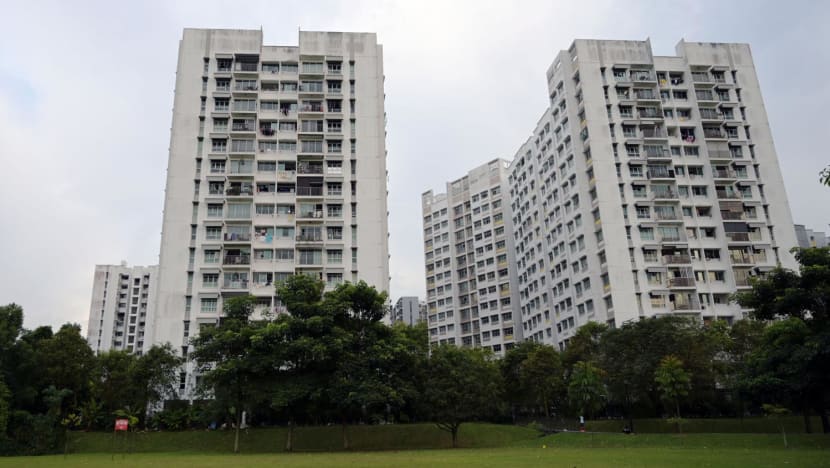 Both the Sengkang and Punggol estates are located near a river. Residents had also voiced concerns about the workmanship of the flats.
Dr Lim Wee Kiak (PAP-Sembawang) had asked whether the deterioration of HDB building facades can be attributed to changes in weather and climate conditions.
MND said that prolonged exposure to severe environmental conditions, such as high temperatures and intense rainfall, may generally accelerate the deterioration of building facade materials.
BCA is conducting a study on the impact of changing climatic and weather conditions on the service life of facade materials, to identify more durable facade materials and develop best practices for their maintenance, MND said.
To Nominated MP Shahira Abdullah's question on the health risks associated with prolonged exposure to mould, MND said that it depends on an individual's duration of exposure to the mould, and his or her current health, but the technical study will be identifying the species of mould found at Anchorvale Parkview and Matilda Court for further risk assessment.
In the meantime, to rectify mould growth on external walls, thorough cleaning and patching of cracks can be conducted, before repainting with sealer and algae-resistant paint.
The recommended schedule for town councils to carry out repair and redecoration works is seven years, but the councils have the discretion to slightly advance or defer such works, said MND.
"They can also engage a paint specialist to recommend a more optimal repainting method for any unique situation. If necessary, they may approach HDB for further advice," the ministry said.
Newly completed HDB blocks also have a six-year warranty period for external painting. Town councils can approach the building contractor and their paint specialist to rectify any defects during this period.