Book a travel buddy: SBS Transit launches initiative to help people with disabilities navigate routes
While the programme is limited to wheelchair users at the moment, SBS Transit intends to extend the initiative to all people with disabilities in the future.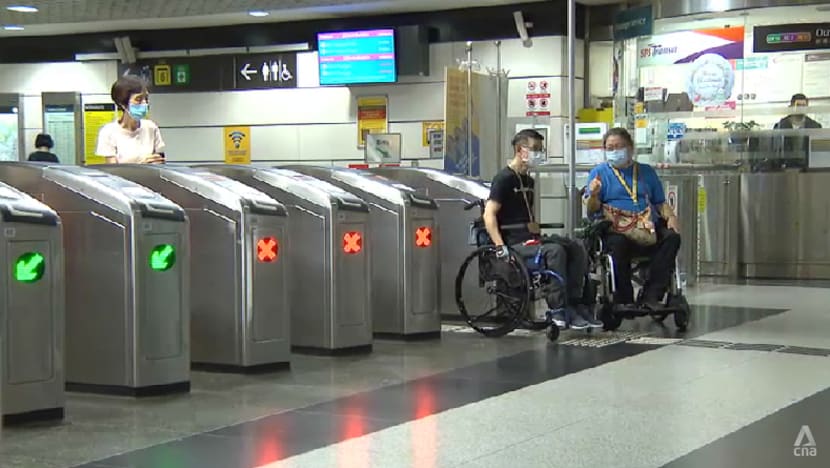 SINGAPORE: Two years ago, a spinal cord injury left Mr Tan HB with the need to use a wheelchair, and he commuted around Singapore by driving a modified vehicle for people with disabilities.
But with driving getting more expensive, the 57-year-old is now looking at making the switch to public transport.
However, having driven for most of his life, the public transport system is unfamiliar to him and navigating the network of trains and buses can be tricky.
To help passengers like Mr Tan, SBS Transit has launched a travel buddy programme to make the system more accessible for people with disabilities.
The initiative will pair such commuters to staff members, who will familiarise these passengers with their chosen travel route by accompanying them on the journey.
"It's very helpful for people like me, who are very unfamiliar with the train system in Singapore," said Mr Tan.
"Now there are a lot of (new MRT lines and) extensions going on, which I need to learn and know how to manoeuvre. So the travel buddy actually gives me a lot of guidance," he said.
He spoke to CNA during a trip with his travel buddy Helen Yan, who met him for a guided commute from Lakeside MRT station, the station nearest to his home. They took the East-West Line to Outram Park station, before switching to the North East Line to end the journey at Chinatown station.
As part of the session, Mdm Yan also showed Mr Tan the facilities provided at stations and in trains to aid people with disabilities, such as ramps, lifts and wheelchair-accessible train carriages.
THE TRAVEL BUDDY
Also a wheelchair user, Mdm Yan is among 30 SBS Transit staff members serving as travel buddies. She is one of four people with disabilities involved in the programme.
"I share my experience as a person on a wheelchair as well, and share my experience as a disabled person," said Mdm Yan.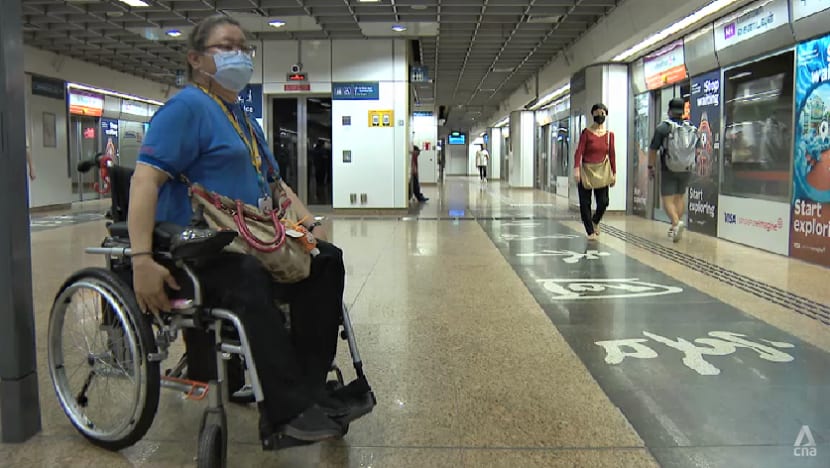 Mdm Yan said her role as a travel buddy guides people with disabilities to safely navigate the public transport system.
She also advises wheelchair users on how to manoeuvre their wheelchairs into the train, depending on how wide the gap between the train and the platform is, so that their wheels do not get trapped.
The travel buddy role is on top of her duties as a station guide helping commuters with the public train system at train stations.
TRAVEL BUDDY SESSIONS
The travel buddy sessions can be booked online for free. Passengers can book up to three sessions per route to get themselves familiarised with that journey. A section of that journey must include travelling on an SBS Transit bus or train.
Once a commuter has booked to travel on a particular date, a travel buddy will meet them at a specific originating bus stop or train station.
From there, they will start the journey until they reach the passenger's destination.
SBS Transit is also piloting a stair climber technology at Outram Park Station. It will assist people with disabilities when elevators are not working.
Unlike wheelchair lifts that move along the side of stairs, this mechanism does not need to be installed, saving space and money.
SBS Transit says more stair climbers will be made available at other MRT stations if there is enough demand.
MAKING PUBLIC TRANSPORT ACCESSIBLE FOR ALL
SBS Transit said discussions with social services agencies, and feedback from passengers with disabilities, prompted the public transport operator to launch the travel buddy initiative.
"This is part of our push to ensure that public transport is accessible for all," said Mr Jeffrey Sim, chief executive officer of SBS Transit's rail business.
"We do our best to implement programmes like the travel buddy to encourage persons with disabilities to take public transport as their mode of travel," he added.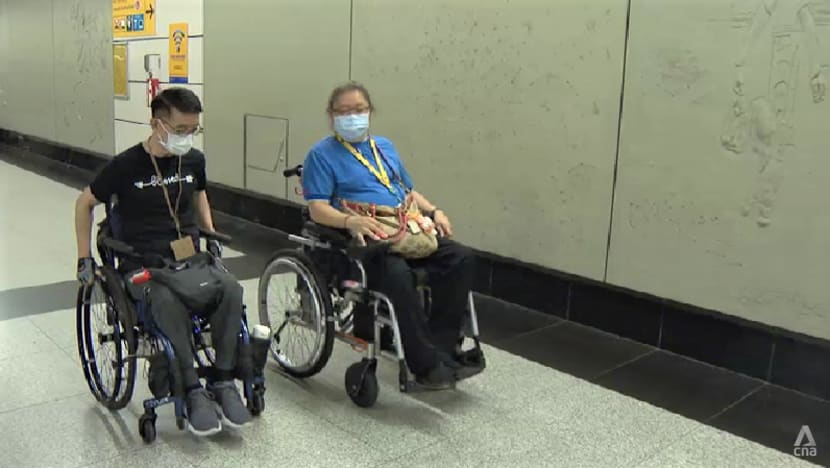 Mr Sim said all travel buddies have been through training with SPD, a local charity that helps people with disabilities, so that they can better understand the needs and difficulties of such commuters and the best ways to help them.
While the programme is limited to wheelchair users at the moment, Mr Sim said SBS Transit intends to extend the initiative to all people with disabilities, and will scale up sessions according to demand.
"This has been a key tenet of the company, that we take care of all commuters, not just the able-bodied, but importantly, also those with special needs – the young, the old, and persons with disabilities," said Mr Sim.