Music for the deaf, theatre for the blind: How the arts is catering to people with disabilities
SINGAPORE: Sign language interpreters convey the meaning of words, but how can one express the meaning of melodies?
That was the central question Ms Janis Wong grappled with when she was asked by the Singapore Symphony Orchestra to interpret their concerts for audiences who are deaf or hard of hearing.
Though the 32-year-old former teacher of deaf children was hesitant about the opportunity, three years on, she has become a regular fixture at the orchestra's performances.
Picture this: A piece kicks off with the low, steady plunks of a bass – mimicking a sign of life. She signs repeatedly: "Heartbeat."
As the music grows, an index finger traces the flitting melody of a violin, while the other dots the percussions.
Rising to a crescendo, instruments clash in a soundscape of chaos. Her brows furrow in confusion as she frenetically signs a multitude of instruments.
"From an audience perspective, it sounds like rubbish ... I'll be signing 'chaos', 'messy' and act very frantic. For the flute, I'll draw melodic lines going up and down, and drums going 'bang bang bang'."
When it eventually melds back into harmony, her expression turns serene as she signs: "The group is back together again, everybody is the same".
Her service is one way the arts sector is being made more accessible to people with disabilities.
Ms Wong likened herself to a "visual accompaniment", similar to animated backdrops or lights one would see at a live concert.
"In deaf schools we had music lessons … where the louder the music was, the colours would go up, it would be red, orange. The softer it was, it'd be greenish, bluish. So I'd imagine myself as that, rather than trying to interpret (per se)."
To develop the interpretations for concerts, which can last more than an hour, Ms Wong studies pieces months in advance, hearing from composers themselves about the meanings they hope to evoke.
Feedback from the deaf community has been generally positive, she said, adding that it has nevertheless helped her refine her process.
Ms Wong was also recently enlisted to interpret alongside the Purple Symphony, an orchestra comprising musicians with and without special needs. Across her performances over the years, she has also received interest from musicians in learning sign language.
All of these point towards what she describes as growing awareness about inclusivity in the arts for people with disabilities.
CATERING TO OTHER DISABILITIES
In other forms of art, efforts are also being made to cater for other disabilities.
"A couple, cosy and intimate. They entwine fingers and smile. She nuzzles his hand," says a voiceover in a trailer for an audio-described play by the Singapore Repertory Theatre (SRT).
In these performances for visually impaired audiences, a speaker describes key non-verbal elements, such as facial expressions or body language. SRT also has captioned performances for deaf audiences.
Since the firm made inclusivity a core commitment in 2018, these assisted performances have become a staple – with attendance growing over the years, said Mr Paul Adams, its learning and engagement manager.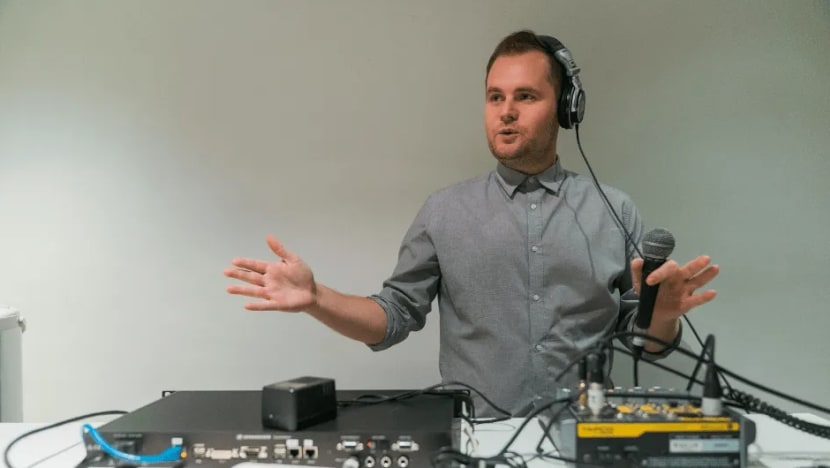 "We've worked really closely with the associations, the schools. Really now, three, four years on, word-of-mouth … is really powerful," he said, noting that for a recent play, there were 15 patrons for an audio-described show and 18 for a captioned one.
This is compared to having zero to six people per show at the beginning, he said. 
SRT's managing director Charlotte Nors added that costs for assisted programmes are about 30 per cent higher due to the modifications and training needed. Donations are also often needed to underwrite some tickets.
But the cause they have committed to is crucial, said Ms Nors. "Is it financially viable? No. Is it something we have to do as part of our strategic community engagement? Absolutely, yes."
Indeed, in the past few years, there has been "a lot more consciousness" about inclusivity in the arts sector, according to Maureen Goh, the executive director of non-profit ART:DIS, which was formerly known as Very Special Arts.
This has come in various forms, such as discussions around improving access, and more consulting and hiring of people with disabilities in the sector, which have also furthered awareness, said the team.
WHAT MORE CAN BE DONE?
But there are still sticking points – including a seemingly tepid desire among this group to participate more in the arts, said industry players.
Ms Melissa Yeo, who chairs a disability advisory panel for Access Arts Hub, noted that interest in assisted performances is not strong among the disabled people she knows.
The costs of tickets may be a big reason for this, as many of them are not financially independent or gainfully employed, said Ms Yeo, who is blind.
In addition, children with disabilities may not grow up with as much exposure to the arts as "mainstream children" do.
Companies like SRT are keenly aware of the struggle to generate demand. While it has increased, Mr Adams said the challenge remains that "the service can be available, but we shouldn't expect people to just turn up at the door".
Instead, gradually building up a culture of patronising the arts requires a long-term view, said his colleague Ms Nors.
The head of performing arts and artistic development at ARTI:DIS, Mr Peter Sau, added that representation can be improved to overcome "attitudinal barriers".
"When you don't see disabled actors on stage, you feel that this world or this play is not actually very close to me, because I don't see myself in this way.
"So if we have disabled actors, for example … a blind Romeo, a wheelchair-user Juliet, perhaps we'll be attracting more audiences with disabilities."
The ART:DIS team added that more funding from private companies would be hugely helpful, particularly at a time when the pandemic has threatened arts companies and their budgets for inclusivity efforts.
MAKING SURE EFFORTS DON'T GO TO WASTE
Circling back to the importance of demand, Ms Yeo stressed: "If we cannot get the interest going in the community, these efforts will go to waste."
Though engagement efforts have long been aimed at the disabled, she added this may not be effective because they often need encouragement from their friends and families to attend events, especially if they require assistance or support.
"So we need to target beyond the disabled themselves, but also their caregivers, friends or even colleagues."
Eventually, SRT's Mr Adams hopes that demand will be strong enough to further expand offerings, as providing choices is key to accessibility.
Ultimately, the players reiterated that it must be a long-term agenda, with efforts from all parts of the community.
"It can't be something we can just switch off. We have to continually keep it on and keep evolving and pushing," said Mr Adams.