HDB flats, estates to be more senior-friendly to prepare for Singapore's 'super-aged society': PM Lee
Many seniors want to live out their old age in their own homes and neighbourhoods, said Prime Minister Lee Hsien Loong in his National Day Rally speech.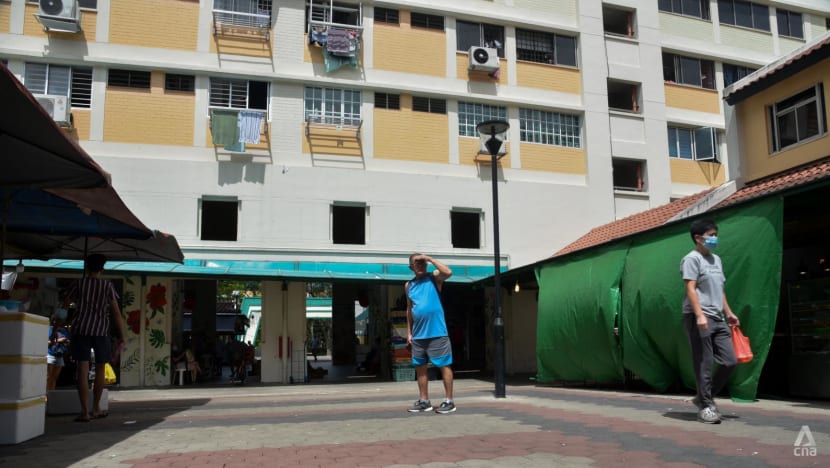 SINGAPORE: Housing and Development Board (HDB) flats and neighbourhoods will become more senior-friendly as Singapore's population continues to age, said Prime Minister Lee Hsien Loong on Sunday (Aug 20).
In his National Day Rally speech on Sunday night, Mr Lee highlighted that nearly one in four Singaporeans will be aged 65 and above by 2030. 
"Many seniors have told us that they want to live out their golden years in their own homes and neighbourhoods," he added. 
"It is a familiar environment, a cosy sanctuary, and they have established deep roots and meaningful friendships. And this is a very good thing. We will help as many seniors to age in place as we can." 
Homes will become more senior-friendly, with enhancements to the current Enhancement for Active Seniors, or EASE programme, he added. 
Under the programme today, seniors can install fittings like ramps to help them get in and out of their homes, as well as grab bars and slip-resistant flooring in toilets, Mr Lee noted. 
Soon, seniors will be able to choose from an expanded suite of fittings under the enhanced programme, or EASE 2.0, he added. 
For example, this includes foldable shower seats or widened toilet entrances for those who are wheelchair-bound, he added. 
"And life can be safer and much more convenient," said Mr Lee. 
EASE was introduced to all towns in 2013. In April, HDB said that about 283,900 households have had elderly-friendly fittings installed under the programme. The programme was expanded in April to include features such as wheelchair lifters, which were previously offered as part of a pilot.
SAFER, ELDERLY-FRIENDLY ESTATES
Singapore will also make it safer and more comfortable for seniors to move about their neighbourhoods, said the Prime Minister. 
Streets and linkways frequented by seniors will be revamped and more shelters and rest points will be built, he added. 
"Also, more therapeutic gardens, fitness trails, and exercise machines, to encourage seniors to stay active," Mr Lee said. 
Roads will also become more pedestrian-friendly, with measures like longer green man signals to give seniors more time to cross the road, barrier-free ramps and raised zebra crossings to help wheelchair users, as well as 3D road markings and narrowed roads to slow cars down, he said. 
The Ministry of Transport announced in March that lifts will be added to more pedestrian overhead bridges to cater to Singapore's ageing population.
In his speech on Sunday, Mr Lee said larger and more colourful signs with familiar symbols will be installed around HDB blocks, to help seniors remember their own block and find their way home. 
Singapore will also build more assisted living facilities "for those who need a little more help", he said. 
In a separate press release on Sunday, the Ministry of National Development and HDB said they will launch more Community Care Apartments, which integrate senior-friendly housing with customisable care services, "to enable seniors to age in place". 
"We will keep making Singapore a more friendly home for current and future seniors," said Mr Lee on Sunday. 
"We will do this across Singapore, starting with the towns with more seniors like Ang Mo Kio and Bukit Merah." 
In his speech, Mr Lee also stressed the role of active ageing and Singapore's investment in healthcare for seniors. 
"The government plays a big role in providing care, but seniors must also play our part to look after ourselves," he added. 
Noting the launch of Healthier SG in July, the Prime Minister encouraged Singaporeans to sign up for the programme when they receive the invitation. 
Beyond their physical health, Mr Lee also stressed that "one of the biggest threats" to the well-being of seniors is loneliness.
"Today, many seniors are living alone. They risk becoming socially isolated. Their spouses may have passed on, and their children are probably living elsewhere with their own families." 
The government will do more to help seniors stay engaged and socially active, he said. 
For example, active ageing centres have been set up all over the country, said Mr Lee, encouraging Singaporeans to bring their senior family members to join a nearby centre.
"And if you are a senior yourself, I strongly encourage you to join a centre near you, because many seniors are having a good time there. Take the first step towards active ageing, so you can live well and age well."
These steps are part of a new national programme called Age Well SG, which will complement Healthier SG, announced Mr Lee on Sunday. 
The programme will be led by the health, transport and national development ministries. More details will be announced in future, said the National Development Ministry in its press release. 
"So we are taking major steps to prepare for a super-aged society," said Mr Lee. 
"Together, we will make Singapore an endearing home for all ages, where seniors can age with dignity and grace, connected with friends and family."