NDP 2023 to include heartland celebrations with fireworks, live performances and sport tryouts
Singapore's National Day Parade will be held at the Padang for the first time since 2020, when only 150 people attended in person due to the pandemic.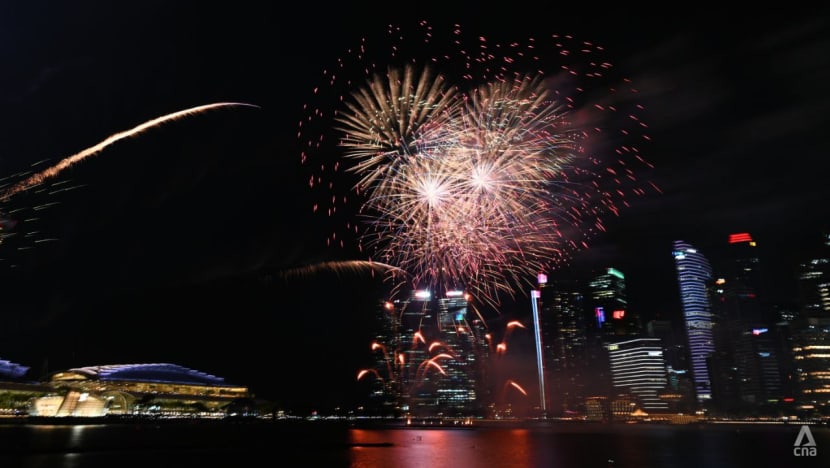 SINGAPORE: Singapore will celebrate its National Day birthday in 2023 across the Padang and five stadiums in its heartlands, with the Aug 9 festivities also including fireworks and fighter jets.
The weekend before - on Aug 5 and 6 - live performances, carnivals and sports activities co-organised with Sport Singapore will be held in the Bedok, Jurong West, Toa Payoh, Woodland and Tampines areas.
Called the GetActive! Singapore Heartland Festivals, they will feature family-friendly activities such as sport tryouts, the National Day Parade (NDP) 2023 executive committee said on Thursday (May 25).
More information on aerial flypasts, fireworks and ticketing for the heartland celebrations will be shared subsequently.
NDP 2023 will be held at the Padang field for the first time since 2020 and feature a total defence parade and show segment among others.
Exco chairman Colonel Terence Ho called the Padang "a place of great significance and nostalgia to many Singaporeans". He noted that the very first NDP and SG50 celebrations in 2015 were also held at the Padang.
In 2021 and 2022, NDP celebrations were held at the floating platform in Marina Bay, which will be developed into NS Square.
The Padang's parade capacity will be around 27,000. Highlights include an enhanced aerial display to celebrate the Republic of Singapore Air Force's 55th anniversary, and the inaugural appearance of the Digital and Intelligence Service's (DIS) guard-of-honour marching contingent.
The DIS was formally established last October as the fourth service of the Singapore Armed Forces (SAF).
There will also be a total defence parade using floats and SAF, police and civil defence hardware.
Total defence has never been more relevant given the increasingly hybrid threats faced by Singapore, said exco chairman Col Ho.
"We want to remind Singaporeans that everyone … can play a part in total defence," he said.
Audiences can also look forward to crowd favourites such as the presidential gun salute and the Red Lions parachute team.
The show segment will feature more than a dozen Singaporeans who are pursuing their dreams and inspiring others, including national sprinter Shanti Pereira, who recently became the first Singaporean woman to win the 100m and 200m gold medals at a single Southeast Asian Games.
"ONWARD AS ONE"
The theme for this year's NDP is "Onward as One", which encourages Singaporeans to look forward confidently and come together to build a shared future as one united people, said Col Ho.
"'Onward' has a very strong attachment to all of us, because it is a direct translation of the word 'majulah'," he added, referencing the national anthem, which is Malay for "onward Singapore".
"Onward" also focuses on Singapore being resilient to challenges ahead, while "as one" highlights the importance of inclusivity and unity, the committee added.
Singapore will celebrate its National Day birthday in 2023 across the Padang and five stadiums in its heartlands, with the Aug 9 festivities also including fireworks and fighter jets. Sherlyn Seah with more.
The NDP 2023 logo features a lion head looking beyond the horizon, and "58" for the number of years since independence in 1965.
It was also drawn at a slight upward angle to represent aspirations to take Singapore to greater heights, while the five stars represent national ideals of democracy, peace, progress, justice and equality, said the exco.
The NDP committee will also promote volunteerism through public engagement efforts like #GiveAsOneSG, which will partner non-profit organisations and schools among others to organise activities to give back to society.
The #UniteAsOneSG, meanwhile, will encourage Singaporeans to come together to learn more about the country and this year's celebrations.
THEME SONG: SHINE YOUR LIGHT
Last year felt like the closing of a chapter as Singapore exited the pandemic and so the NDP 2022 song Stronger Together had a hopeful vibe, said the 2023 parade's music director Don Richmond.
This year's theme song, Shine Your Light, is cheerful and uses the metaphor in the title to illustrate that "we can bring out the best in all of us" as Singaporeans move onward as one, he added.
"What we wanted to do was start off a new chapter with something that's even more vibrant," said Mr Richmond, noting that NDP songs need to be appropriately written for a particular season of time.
"I don't think it's too soon to be celebrating, I think Singapore needs a song that brings everyone together."
The song was co-written by Singaporean rapper Shigga Shay, who directed the music video.
Asked if the song was meant to target the younger crowd, Mr Richmond said the team wanted to instead create something "embedded in the minds and the memories of future generations".
He said a lot of NDP songs he heard as a child stuck in his head, and that parents and grandparents respond to National Day songs through their children.
"I kind of feel like, if we kind of get the kids to clap along, they will usually be the ones that will inspire the older generation to also come along for the ride," said Mr Richmond.
"So that was our way of trying to like write a song for all generations, without trying to write a song for all generations."