SAF formally establishes Digital and Intelligence Service
The Singapore Armed Forces now has four services: Digital and Intelligence Service, the Army, Navy and the Air Force.
SINGAPORE: The Singapore Armed Forces (SAF) officially established its fourth service - the Digital and Intelligence Service (DIS) - on Friday (Oct 28).
This comes two months after Parliament approved amendments to the SAF Act and the Constitution to include DIS as a service under the SAF.
First announced in March, the DIS was set up to integrate the SAF's capabilities in dealing with a wide spectrum of external threats, including those in the digital domain.
To mark the occasion, two guard-of-honour contingents formed by DIS - wearing the new service's white and grey "Number 1" ceremonial dress uniform - took part in an inauguration parade on Friday.
The event was held at SAFTI Military Institute and officiated by President Halimah Yacob.
Madam Halimah also presented a letter of appointment to Brigadier-General (BG) Lee Yi-Jin - who will head the new service - and conferred DIS its State Colours.
With 23 years in the service, BG Lee served in various command appointments, including Commanding Officer of the 21st Battalion Singapore Artillery, Commander of the 3rd Singapore Infantry Brigade and Commander of the 6th Singapore Division and Headquarters Sense and Strike. 
He also held various key staff appointments, including as Assistant Chief of the General Staff (Plans) and Group Chief Policy and Strategy at the Ministry of Defence (MINDEF).
The 42-year-old also oversaw contact tracing operations as Commander of the Health Surveillance Task Force in 2020. 
As Director of Military Intelligence and Chief of the C4I (command, control, communications, computers and intelligence) community, BG Lee laid the foundations for the establishment of the DIS - helping to chart its mission, define its role within the SAF and design its organisational and manpower structure.
Meanwhile, BG Mark Tan, who is also Defence Cyber Chief, has been appointed Chief of Staff Digital and Intelligence Staff.
Military Expert 5 (ME5) Noh Kok Tiong has been named Chief Expert of DIS.
Speaking at Friday's parade, Mdm Halimah said the establishment of the new service is timely and necessary for the SAF to adapt to changing security threats.
"In the past decade, we have witnessed many attacks on other countries, not through traditional armed conflicts, but through the digital realm," she said, adding that such attacks can be orchestrated by state and non-state actors.
"The impact of these digital attacks is real and can result in disruption of essential services, data theft, and even local elections."
To fulfil its mandate, she said the DIS will not only need a highly-skilled digital corps, but also those trained in other domains such as psychology and social sciences to understand the motivations and means of hybrid threats, and respond decisively.
"My hope is that the DIS will nurture a skilled and competent workforce that will not only defend our digital borders, but also contribute to a strong national digital ecosystem in Government and key sectors of the economy," she said.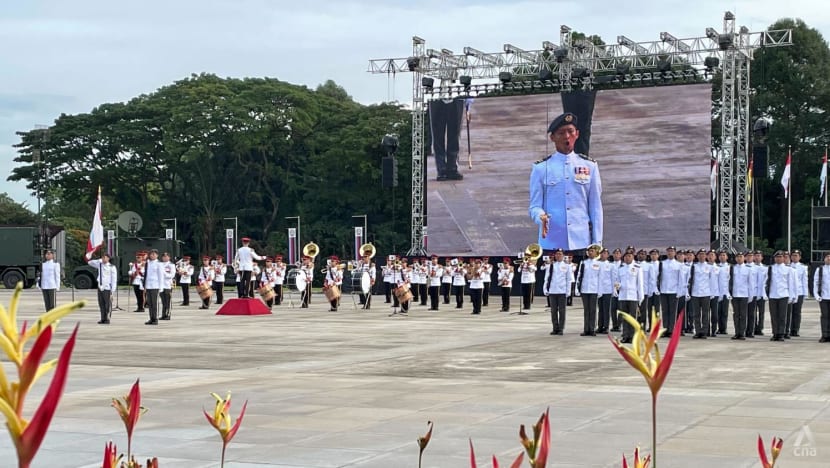 DEFENDING THE DIGITAL DOMAIN 
The DIS will have a service headquarters, four commands as well as a Digital Ops-Tech Centre, which will equip the SAF with a quick response force to meet new operational requirements on the digital frontier. 
At a media briefing on Wednesday, Colonel Letchumanan Narayanan, who heads the implementation of the DIS office, said it will take time to build up the capabilities of the new service, citing challenges such as attracting new talents.
"We are currently mostly an (SAF) regular force, we have a good proportion of full-time national servicemen (NSF) and defence executive officers but we expect the NSF and NSmen (operationally-ready national servicemen) to grow over time," he said.
While he did not reveal the strength of the new service due to operational reasons, COL Letchumanan said the bulk of the workforce will come from the military domain expert scheme, which recruits and trains SAF regulars to develop deep expertise and specialisation in key areas such as engineering and intelligence. 
Currently, there are three vocations under the scheme. They are: Command, Control, Communications, Computers expert (C4X), military intelligence expert, as well as digital and intelligence systems engineer.
NSmen with matching talents and relevant civilian expertise can also express their interest to serve in the DIS through the Enhanced Expertise Deployment Scheme, which aims to better optimise and maximise manpower resources to meet operational needs.
In March, MINDEF announced that selected NSFs will undergo a new scheme where they can take up modules to earn academic credits at the Nanyang Technological University (NTU) that contribute to a degree in data science and AI, computer science or computer engineering, while serving four years of national service. 
"It's going to be the work of a generation and I think 10 years from now, you should see a far more capable DIS but also still with the same mindset of starting up and evolving quickly, such is the nature of our job," said COL Letchumanan.