SAF's Digital and Intelligence Service to be set up after Parliament passes amendments to SAF Act and Constitution; WP objects to changes to Constitution
The amendments to the SAF Act and Constitution mean that the Singapore Armed Forces will have four services: Digital and Intelligence Service, the Army, Navy, and Air Force.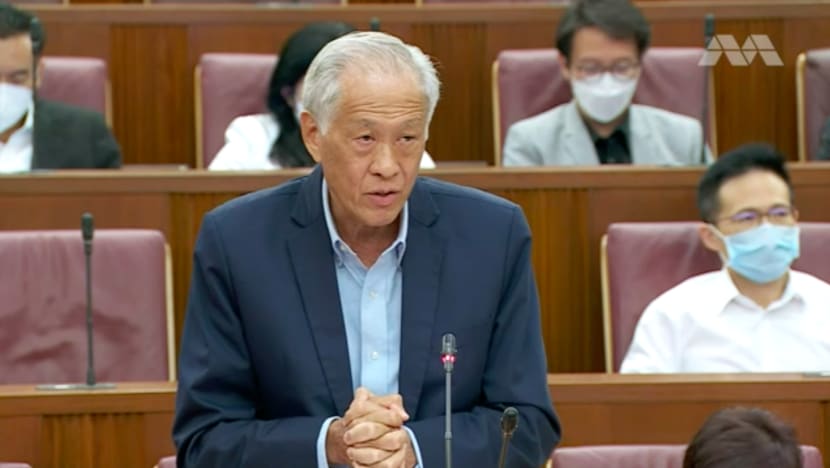 SINGAPORE: The Singapore Armed Forces (SAF) will set up its new Digital and Intelligence Service (DIS) after Parliament passed amendments on Tuesday (Aug 2) to the SAF Act and the Constitution.
This includes changes to the SAF Act to include DIS as a service under the SAF and to grant legal powers to the Chief of Digital and Intelligence Service (CDI) to discharge his or her duties and authority to lead the DIS in times of conflict.
As for the Constitution, amendments were made to include the CDI as an appointment made by the President acting in her discretion.
While changes to the SAF act were passed with no objections, the Workers' Party objected to amendments to the Constitution.
Leader of the Opposition Pritam Singh said in view of the WP's position on the elected presidency, his party would vote against the amendment Bill as a "matter of principle".
"The Workers Party is on record in Parliament (with) regard to the prospect of gridlock if any elected president withholds nominations to key appointments, particularly in the context of a new government which defeats the PAP at the general elections."
He added that the WP advocates returning the presidency to its original form, an appointed office without blocking powers.
"This will enable the president to focus on being a unifying figure for the nation, rather than having any confrontational role, vis-a-vis the elected government.
The amendment to the Constitution was eventually passed with a majority of 75 to eight.
DEFENDING DIGITAL BORDERS
Speaking in Parliament, Defence Minister Ng Eng Hen said the digital domain has become a battle terrain which can impact the security and sovereignty of any country if left unguarded.
He pointed to examples such as a cyber attack last year which cut off gas supplies in states across the US for at least two weeks as well as a cyber attack which targeted Vodafone Portugal earlier this year, restricting cellular communications across the country.
"It will be horrendous, but not unthinkable, about the potential fallout from attacks on water systems, hospitals, air traffic, trains, financial systems, pension systems – the list goes on," said Dr Ng.
"In fact, cyber threats, disparate in form and source, occur in the thousands, even millions each day. However, they should be differentiated from the ones that have the most pernicious intent and seek to undermine our nation's sovereignty or security."
While the SAF has built up capabilities in Command, Control, Communications, Computers, and Intelligence (C4I) in its three existing services - Army, Navy, and Air Force - Dr Ng said the C4I community's role has been largely that of a "supporting agency", akin to combat support, logistics and maintenance.
With growing use of disinformation in warfare and cyber threats, Dr Ng said the SAF needs a dedicated service to raise, train and sustain cyber troops and capabilities to defend Singapore's digital borders.
"We are thankful that hitherto, our intelligence agencies have not detected any campaign against Singapore of that nature in the digital domain," said Dr Ng.
"But we should not wait for one and it would be prudent to start and build up the fourth service. That alone would serve as a deterrent."
He added that the DIS will ensure that Singapore is defended against the full spectrum of threats against potential aggressors.
"The digital environment is more porous than the physical one, but the DIS will be responsible to guard against these aggressors in that domain," he said.
For the SAF, the DIS will protect its networks and systems and strengthen soldiers' commitment and resilience in operations. It will also continue to provide accurate, relevant and timely intelligence to support SAF operations, and capitalise on cutting-edge digital technologies to advance the SAF's digitalisation as a networked force.
As for threats to Singapore's internal environment, it will work closely with the Home Team, Cyber Security Agency (CSA) and other national agencies to leverage on their strengths in Singapore's digital defence.
This is similar to the SAF's support to the whole- of-government for counter-terrorism, said Dr Ng.
SAFEGUARDS AGAINST ABUSE
During the debate on the SAF Bill, several Members of Parliament (MPs) raised concerns such as whether safeguards are in place to protect against abuse of powers and information leaks that could compromise national security.
In particular, MP Zhulkarnain Abdul Rahim (PAP-Chua Chu Kang) and MP Dennis Tan (WP-Hougang) asked if foreigners could be part of the DIS.
Responding to their questions, Dr Ng said: I think not. Singaporeans must - just like air, land and sea - be the core elements of this fourth service but obviously there will be services that we can outsource to third-party contractors," he said. "I agree with you that we have to be very careful when we do that."
To provide oversight and ensure that the DIS' capabilities and powers are not abused or turned on citizens, MP Gerald Giam (WP-Aljunied) suggested having MINDEF provide confidential reports to a cross-party parliamentary select committee for defence that can scrutinise the reports and ask questions in a confidential setting.
With a shortage of tech talent in Singapore, MPs including Shawn Huang (PAP-Jurong) and Mr Zhulkarnain asked whether there is enough local talent for the DIS to recruit and retain.
Mr Zhulkarnian proposed having SAF scholarships in key areas and expertise to attract groom, and train in specialised fields local talents for the DIS.
He also suggested providing DIS officers with exposure and experience of operations across all SAF services as well as with various relevant agencies within the Ministry of Home Affairs (MHA) and the Ministry of Communications and Information (MCI) to keep abreast with new technologies and innovation.
Dr Ng said these proposals will be studied seriously but added that the formation of the new service - one that is on par with the Army, Navy, and Air Force - will help to attract the "right type" of people it needs.
"It provides the new entrants and existing staff, career paths and programmes on par with the Army. Navy, and Air Force, including for those with the aptitude to be Chief of Service, and even to be Chief of Defence Force.
"Once formed, it puts the onus on the DIS leaders to fight for their fair - or unfair - share of talent they need."
Meanwhile, MP Alex Yam (PAP-Marsiling-Yew Tee) highlighted that there is some "misplaced concern" that the new vocation might be mistaken for being a more comfortable way to serve National Service (NS) obligations.
In March, MINDEF announced that selected full-time national servicemen (NSFs) will undergo a new scheme where they can take up modules to earn academic credits at the Nanyang Technological University (NTU) that contribute to a degree in data science and AI, computer science or computer engineering, while serving four years of national service. 
Addressing this, Mr Yam said: "This is a potentially damaging mindset to have as it could adversely affect the morale of our soldiers. All NS vocations come with a high amount of responsibility and stress, and should be respected and regarded seriously as such."