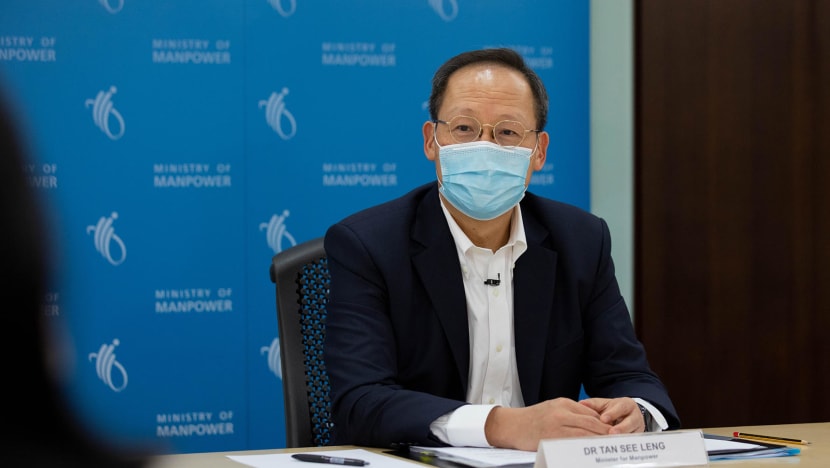 SINGAPORE: A new Jobs Taskforce has been set up to coordinate the efforts of various agencies helping workers keep pace with transformation, said Manpower Minister Tan See Leng on Wednesday (Sep 1).
The task force will focus on three areas: Supporting locals to switch into new careers in key sectors; reskilling existing workers for new or expanded job scopes as these sectors transform; and promoting progressive human capital practices.
Dr Tan announced this to reporters in an interview marking his first 100 days in office. Dr Tan took over the reins at the Ministry of Manpower (MOM) on May 15 and he is concurrently the Second Minister for Trade and Industry.
On how this task force is different from the National Jobs Council, set up last year and chaired by Senior Minister Tharman Shanmugaratnam, Dr Tan said that the council looks at the issue from the "macro level" and the task force will be more "granular".
The Jobs Taskforce will try to understand the evolving needs of companies, where skills shortages lie and how to help fulfil them. 
It will be chaired by Dr Tan and comprise members from agencies working on industry transformation and workforce development.
There are eight members in the task force, including Dr Koh Poh Koon, Senior Minister of State for Health and for Manpower and Mr Ravi Menon, managing director of the Monetary Authority of Singapore.
Dr Tan said he will hold dialogue sessions with different groups of workers, trade associations and companies in the lead up to Budget 2022.
"These dialogues will allow us to see where the mismatches and missed matches are and explore what more we can do to better support our job seekers, workers and businesses," he said.
"BOUNCE BACK FASTER AND EMERGE STRONGER"
On the Manpower Ministry's priorities and plans ahead, Dr Tan said: "The first thing is to create good jobs, create high-level, proper career paths for Singaporeans and ensure that they continually have access to these opportunities. 
"And for those individuals, who will … be affected by change, because of all the disruption, the shortening of the economic cycles and so on, we want to help them bounce back faster and also emerge stronger."
It is equally important to continue to uplift vulnerable groups such as lower-wage workers and people with disabilities, so that no one is left behind, he said.
On that, the ministry will also focus on narrowing the income gap between the median wage earners and the lowest 20th percentile, look at the needs of gig economy workers and help mature workers stay relevant in a fast-changing economy.
Dr Tan said that he is particularly concerned about mature workers who have been harder-hit by COVID-19. While many have been helped by career conversion programmes, there is more that can be done, he said.
"Many still have the perception that older workers are not as open or adaptable as their younger counterparts. This is not true, and we need to shift our mindsets to combat ageism."
SIMPLIFYING CPF
Touching on retirement adequacy, Dr Tan said that one of his priorities will be simplifying the Central Provident Fund (CPF), without eroding its core purpose.
"While the policies are well-meaning, the complexity may sometimes make it difficult for members to understand despite our best efforts to explain. This is not optimal as a lack of understanding may hinder members from taking steps to boost their retirement adequacy," he said.
"For example, we will make it easier for members to top up their retirement nest and to receive payouts during retirement. It is not a straightforward task but we will aim for the vast majority to benefit from a more intuitive system."
More details will be shared in due course, he said.
One of the initiatives the ministry will redouble efforts on is the launch of Jobs Transformation Maps.
They will provide detailed job-level insights on the impact of technology and automation on each industry. Three maps – for financial services, human resources and the logistics sector have been launched – with plans for 12 more.
"These JTMs will be a useful compass for employers and workers to prepare for the future of work," said Dr Tan. "For example, following the Financial Services JTM, financial institutions committed to reskill and redeploy more than 5,000 employees to take on new and enhanced roles."
MIGRANT WORKER DORMS
Responding to questions on why migrant workers' movements continue to be restricted even as the rest of Singapore opens up, Dr Tan said that MOM had clear plans to lift restrictions at the dormitories early on. 
"But each time when we came close to it, a new curveball happens," he said. 
He said that with a "very high" rate of vaccination among the migrant workers now, authorities have been monitoring breakthrough infections among the workers as one indicator of whether to open up.
In the past six weeks or so, no infected worker has required hospitalisation and the vast majority of them have been asymptomatic, said the minister.
"It gives us a lot of confidence to know that the vaccination helps in protecting (them from) more serious outcomes."
He added that another concern was the possibility of "cross infections between the community and dormitories".
"We are actually very actively contemplating (lifting restrictions). In fact, every day, we work out all the different scenarios … it's a matter of finding a safe window," he said.
He also elaborated on future plans for housing migrant workers in dormitories that have a "higher level of resilience and resistance to a future infectious outbreak".
These will be "self-resilient, sustainable zones" supported by their own medical centres, access to telemedicine, recreational centres and community areas.
"Ensuring the safety and well-being of our migrant workers is a whole-of-society effort. We can all play a part by looking out for them," said Dr Tan.
Dr Tan said that as Singapore recovers from the pandemic, it's important that every segment of the workforce has a fair chance of emerging stronger post-pandemic.
"For us to be a more caring society and 'carrying' (society) … I think we need to carry our people along with us," he said. 
"Because one of the problems with globalisation, with fast moving economies is that … you also want to look behind and make sure that the rest of our citizens are close behind and not too far away."