Singapore doctors develop new spinal surgery technique that reduces pain, improves mobility
In the last 15 months, more than 100 patients, aged between 21 and 75, have undergone the procedure at Alexandra Hospital.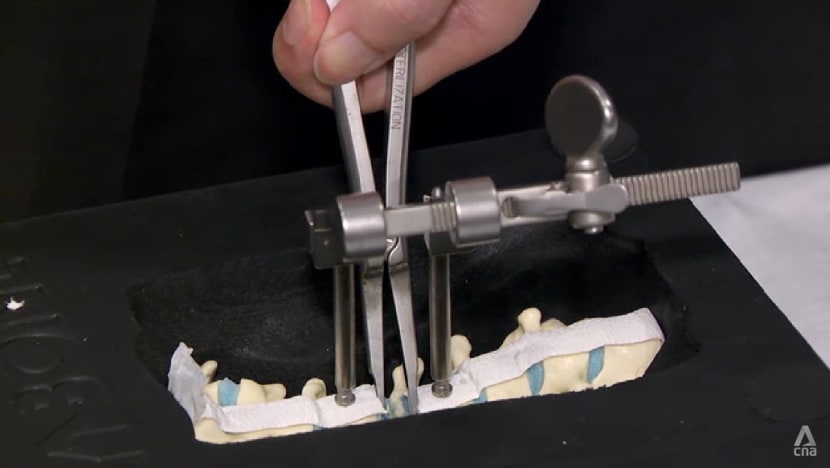 SINGAPORE: A new spinal surgical method, which is developed locally, has been taking the burden off the backs of some patients at Alexandra Hospital.
It is less invasive than conventional methods and maintains spinal mobility after the treatment, making it suitable for a wider range of patients. The technique also reduces pain and overcomes surgical obstacles like stiff joints and osteoporosis.
More than 100 patients, aged between 21 and 75, have undergone this procedure in the last 15 months.
Patients, such as seniors with osteoporosis and need surgery to replace their degenerated and damaged cervical discs, can now undergo the procedure. This has become the norm in the new spine unit at Alexandra Hospital in Queenstown.
Unlike the conventional method of spinal fusion, this technique involves a combination of soft tissue releases and accurate placement of implants, while aiming to reduce pressure, so that the stiff spines are more mobile at the affected segment.
FUNCTION FIRST
Dr Dennis Hey, director of Alexandra Hospital's new motion-preserving and minimally invasive spine unit, explained that immobilising the affected segment and stopping it from pressing on the nerves is something that has been done for almost 20 years.
What they are doing differently apart from freeing the nerves is to insert an artificial spinal disc, which improves a patient's mobility and helps them move more freely afterwards.
"This artificial disc replaces the function of the normal disc allowing movement, so the movement of the spine becomes normal (and) natural. The advantage is that it prevents stress within the spine, and causing … failure of the adjacent segments of the spine," said Dr Hey, who is also a senior consultant spine surgeon at the National University Hospital.
"So the stress doesn't get translated to the next level because it is fully dissipated in the entire spine, therefore giving the patient not just movement, but also a lesser chance of accelerated degeneration."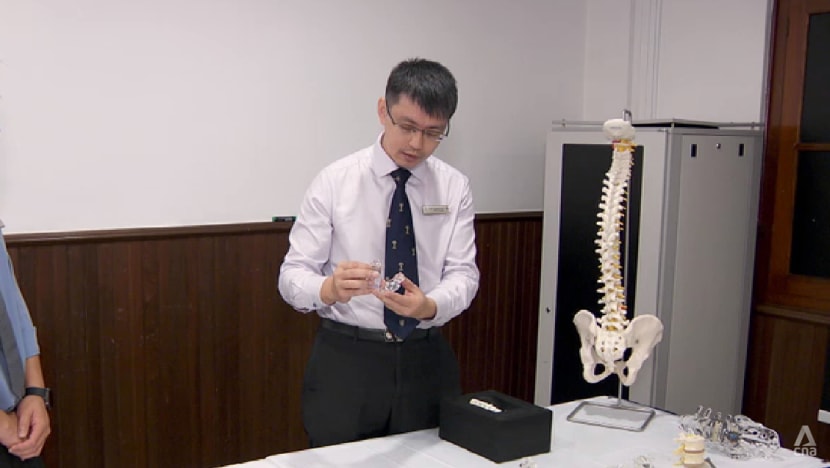 Dr Lin Shuxun, a consultant spine surgeon at Alexandra Hospital and Ng Teng Fong General Hospital, who works with Dr Hey in the new spine unit, said: "We shift the paradigm of spine surgery from 'fusion' to 'function', to enable preservation of a flexible and naturally mobile spine, to the benefit of more senior patients." 
LOCAL CONTEXT
Degenerative spine conditions are common in Singapore, with cases expected to increase in the coming years due to the country's ageing population and general lifestyle habits, the National University Health System (NUHS) said in a media release.
The causes of degeneration include ageing, obesity, poor lifestyle habits such as lack of exercise and poor posture, as well as occupational hazards.
As Asians are more petite than people in the West, Dr Hey is currently working with an international design team to customise implant designs and sizes more suited to this region.
Patient Yee Cheng Kee, who underwent the new surgery, said: "After the operation, it's a natural feeling, not like there's anything inside. The wound took some time to heal, around two months. After that, I went back to work and it was all normal."