SINGAPORE: Playing games at a national monument, immersing in an audiovisual tour or delving into the lesser-known history of Singapore – these are some of the new experiences popping up as tourist guides and attractions here look towards a revival of travel.
Some tour operators CNA spoke to said that while the pandemic has been tough for them, it gave them a chance to come up with innovative ideas that they would otherwise not have time to develop.
For instance, tourist guides Peter Tay and Leanne Sim spent a year researching and developing a night tour of Chinatown about the women of early Singapore with stories about samsui women, amahs and prostitutes like karayuki-san and ah kus.
Just two years ago, Mr Tay would have spent most of his days taking foreign tourists on day trips and city tours.
With the sharp fall in visitors since the COVID-19 outbreak, his income plummeted. But with much time on his hands, the guide decided to indulge his interest in Singapore's history.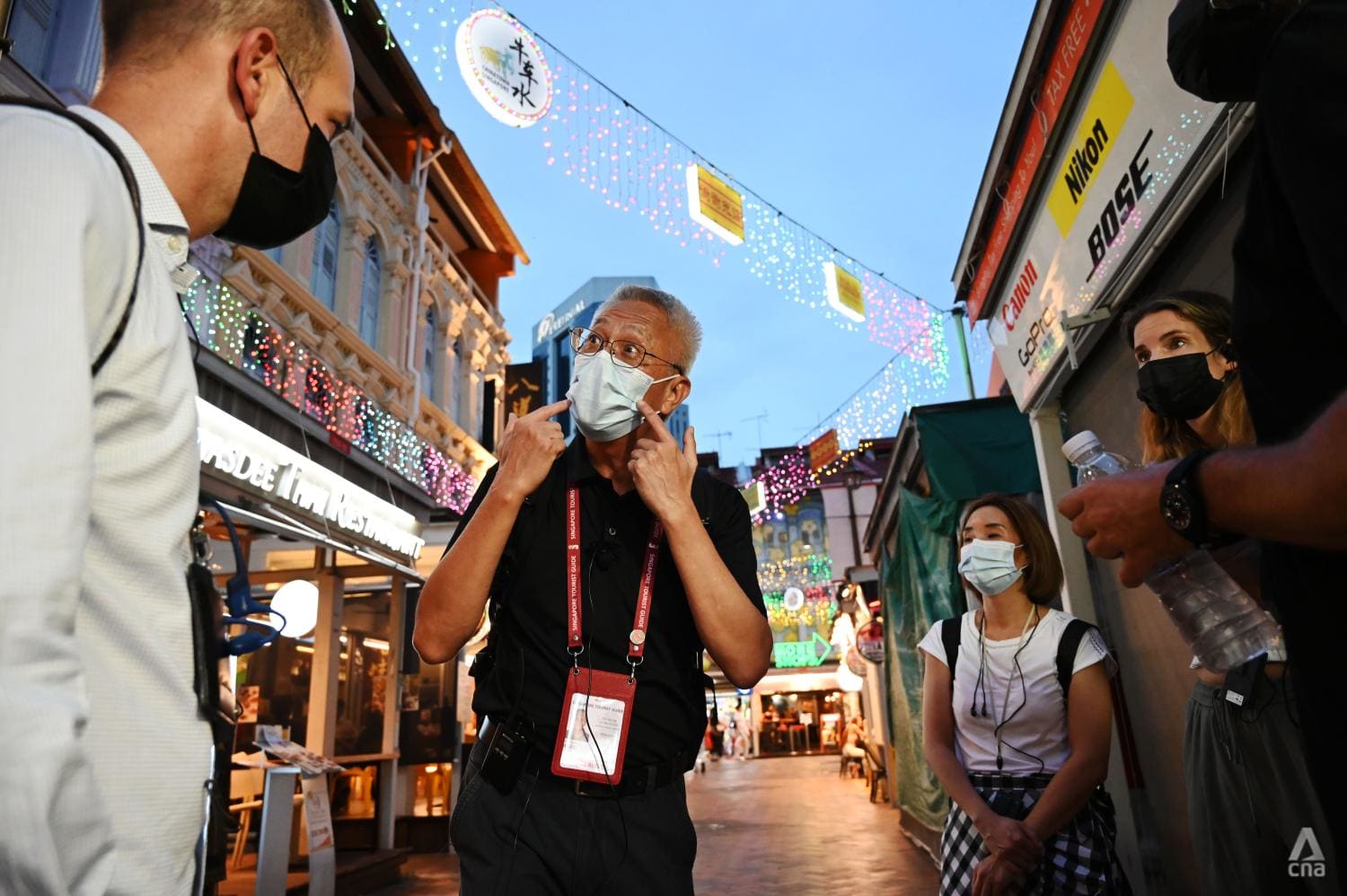 Ms Sim, a self-confessed history buff who did much of the research, said that she felt the stories of Singapore's early women need to be told.
"These women really struggled, they strived and they worked hard – they suffered, the pain that they suffered, a lot of people don't know … and they must not be forgotten, their stories must be told," she said.
"INTIMATE" MULTIMEDIA TOUR
Two other tours aim to give a different perspective to historic districts here by using multimedia and by injecting theatre into the experience.
For re:walk Telok Ayer, there is no guide in the traditional sense. Participants walk around Telok Ayer with a tablet and headset, led by cues from pre-recorded media.
Instead of reeling off historical facts, characters acting as virtual "guides" share personal stories or invite the participant to listen to music or watch a dance created for the area in four separate routes.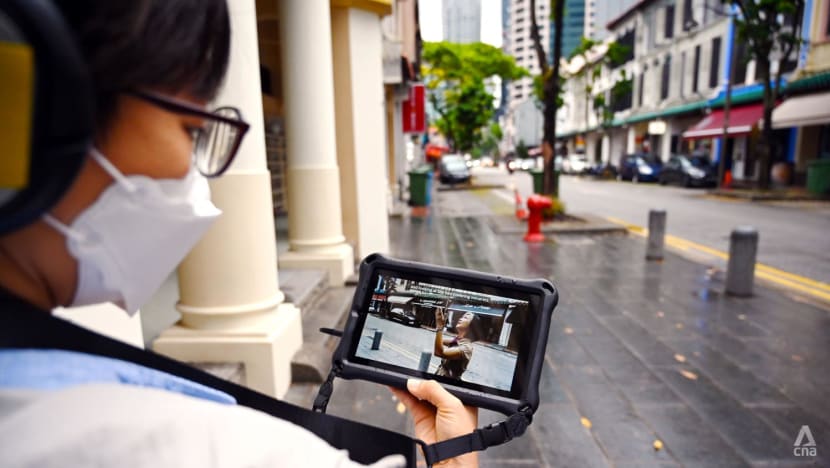 Contrary to expectations, the tours created an "intimate" experience by not having a guide in person, said two participants.
Mr Rei Poh, a lecturer at the Nanyang Academy of Fine Arts, went on a tour that was "led" by a well-known dance veteran, and he said it felt like he was retracing the artist's footsteps.
"I like the idea that there isn't a guide. There was a lot of freedom for me to observe and spectate the things that I wanted to or to make the experience my own," said Mr Poh. 
"I wasn't just busy trying to follow someone … and it was very personal and intimate because of that."
Ms Tricia Lui, a tourist guide who produced the tour with theatre company Secretive Thing, told CNA that one of the reasons for this virtual format was to allow participants to walk alone, in line with the demands of social distancing in a pandemic. 
But on the other hand, she feels that the tours allow for a more emotive connection to a place and explores how disappearing places affects a person.
"How do you feel when places you're familiar with are no longer there, but only (exist) in your memory?" she said, when asked how the tours were different from others.
INTERACTIVE THEATRE SET IN TANJONG PAGAR
Ms Lui also helped to write the script for Somewhere in Time, an interactive tour that is produced by veteran tourist guide Jean Wang and Theatre Today.
In a bit of interactive theatre that is enacted in the Tanjong Pagar area, tour participants are enrolled as errand runners and have to complete tasks to uncover "hidden gems" and lesser-known tales about the conservation district.
Ms Wang, who has been a guide for more than 40 years, said she used to take large groups of people, some of whom came off cruise ships for just a few hours, on short excursions. She thinks that things will be very different post-COVID.
"For me personally, I want to prepare for the new breed of visitors from overseas, they will want something experiential," she said.
They thus created this tour for people to see things from the perspective of the rickshaw coolie and other labourers who would have worked there.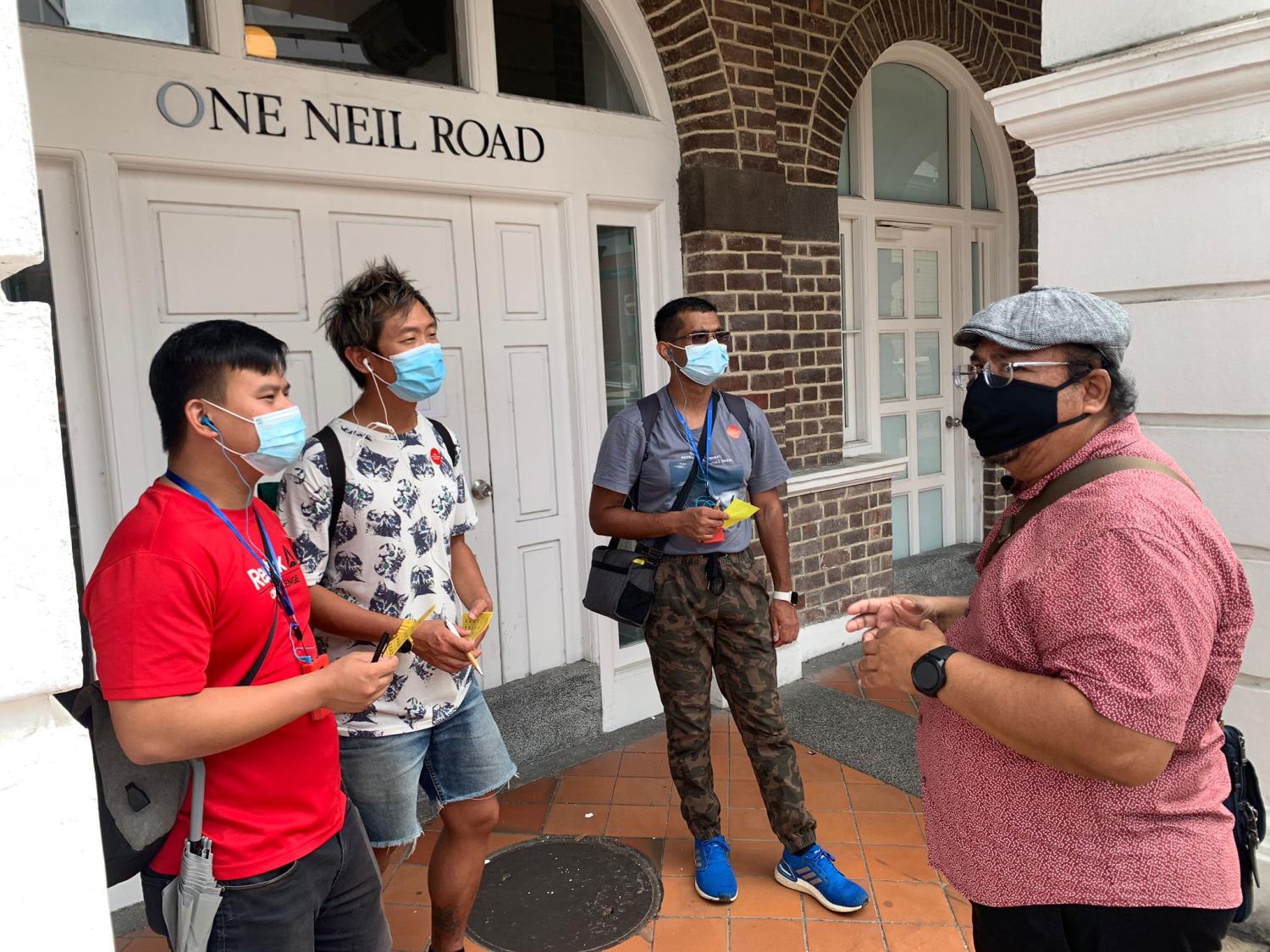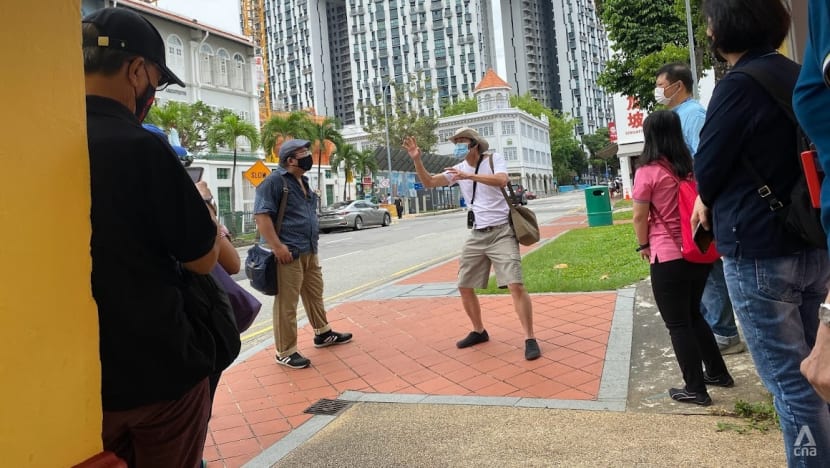 For the guides, it has also been a refreshing experience as they have had to hone their acting skills. Mr Ayob Begai, an actor/guide for the tour, said that the initial challenge for him was getting into character, something that he did not have to do as a guide.
"Compared to what I used to do, I find this very, very interesting, and it's an experience that I never regretted taking up," he laughed.
These tours and a few others are the result of collaborations between tourist guides and arts companies, some of whom were brought together by the Singapore Tourism Board (STB) and the National Arts Council under the Tour Experience Innovation Lab (TEIL).
The other three tours developed in the programme are Voices: Memories of Kampong Lorong Buangkok, Katong Dreaming and The Secret Life of Haw Par Villa.
A DIFFERENT SIDE OF SENTOSA
Under TEIL, STB also worked with the Sentosa Development Corp and tour operators to develop a series of Sentosa tours called SentoSights. The 10 tours have different themes ranging from heritage, sustainability, marine conservation and biodiversity.
Letters from Blakang Mati, for one, replicates an escape room experience at Fort Siloso, which was just gazetted as a national monument.
The gamified tour, a collaboration between puzzle company Ransack and Monster Day Tours, requires participants to wreck their brains as they search for clues all over the historic fort, while picking up nuggets of information about its military past.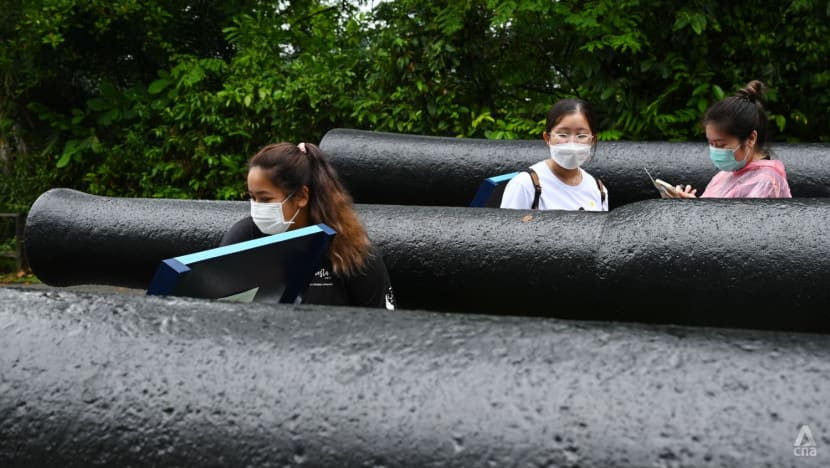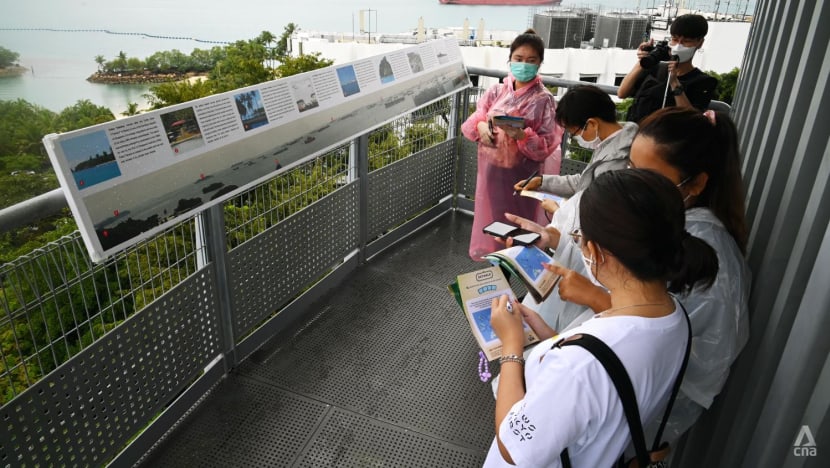 Over on the other side of Sentosa, those who prefer to relax in nature can tour Fort Serapong – a less well-known British military installation that has been restricted to visitors for years.
Walking into the forested area, one sees a very different side of the manicured holiday island. Here, roots and vines enfold unrestored buildings from as far back as the 1870s, and the trip back in time is as much about nature as it is about heritage.
Ms Loh Xin Xin used to guide adventure tours in Chile before moving back to Singapore, where she now runs tour company Pudu Puda. She said she wants to show visitors that there is beauty in places left in their original form and that have "evolved with nature".
"It looks like in Cambodia when you go and visit the temples around Angkor Wat … and it really evokes that sense of urban exploration," said Ms Loh of Fort Serapong.
Other tours on Sentosa feature magic performances, flora and fauna on the island and even a cruise to the southern islands. 
STB, in its latest update on the local tourism industry in January, said that there have been encouraging signs of recovery in the tourism sector.
The local tours industry had close to 320,000 local participants and strong month-on-month growth for most of the year, it said.