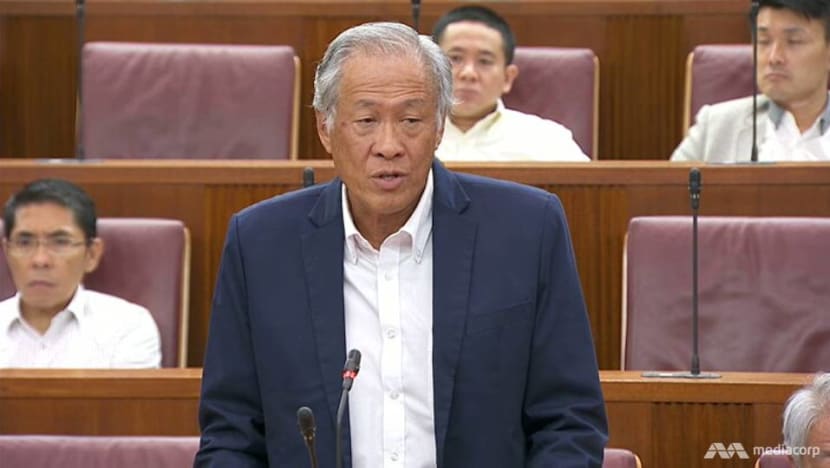 SINGAPORE: Talented athletes have been able to raise their game after serving National Service (NS), Defence Minister Ng Eng Hen told Parliament on Monday (Aug 6).
"Many talented sportsmen have served NS as required and yet at the same time raised the level of their own skills and the teams they played with," Dr Ng said.

He was responding to questions by several Members of Parliament on the rejection of 17-year-old Singaporean footballer Benjamin Davis' application to defer National Service enlistment. 
Dr Ng pointed to Saifullah Akbar, Ikhsan and Irfan Fandi, three local footballers who have completed their NS and have been talent-spotted to take part in trials for clubs competing in professional leagues overseas.
"In fact, Saifullah Akbar and Ikhsan Fandi asked to be enlisted early, presumably so that they could complete their NS early to pursue their professional careers," Dr Ng said.

According to Dr Ng, Saifullah played for the Under-16 national team and was spotted by an Australian club at age 16 but went ahead to enlist for NS.

As for the Fandi brothers, he said Irfan and Ikhsan trained and played for the Under-22 national team during the 2017 Southeast Asian (SEA) Games, supported by the Singapore Armed Forces and Home Team.
"Irfan and Ikhsan are now playing for the Young Lions in the Singapore Premier League and representing Singapore in regional football competitions," Dr Ng said.

"I understand Irfan has gone for trials with European clubs, including an upcoming trial with Sporting Braga, and Saifullah and Ikhsan are slated to follow suit at CD Tenerife and Braga, respectively.

"This is a good sign for football in Singapore and talented footballers, Ben Davis included, can emulate the example of Irfan, Saifullah and Ikhsan to complete both their NS duties as required and also advance their professional football careers."

MINDEF remains open to considering deferment applications where athletes' achievements might not be quantitatively assessed due to the nature of sports they participate in, added Dr Ng, in response to a question from MP Darryl David, who cited the hypothetical example of a local sportsman who wins a junior tennis championship on the global stage.

"The answer is yes – if it satisfies the criteria that I've talked about - that we maintain equity for all other NSmen, and that they serve national interest, never their own," replied Dr Ng. "If the first example you gave was that he competes in tennis then he decides that he wants to be a professional tennis player before he comes back – obviously that will affect our considerations."

Dr Ng added that there has been no change in MINDEF's policy on NS deferment.
"It has not changed over the time that MINDEF has administered this policy," added Dr Ng, responding to a question from MP Pritam Singh.
PROVISIONS DURING COMPETITIONS 
For the recent SEA Games 2015 and 2017, Dr Ng said the Ministry of Defence (MINDEF) had supported those competing by adjusting NS enlistment dates for those affected so that they could participate in the Games first, including some footballers.

"Those who were already enlisted were given time off to train and maintain their peak performance," he said.

Dr Ng added that for the upcoming Asian Games later in August, MINDEF has given 10 national servicemen a "short postponement of their enlistment of a few weeks, or if they have been enlisted, time off to train for the Games".
This includes a member of the water polo team that clinched their 27th straight SEA Games gold medal last year.

"Besides these provisions, MINDEF has offered disruption to full-time National Servicemen competing in these games," Dr Ng added. "Very few have chosen to disrupt, perhaps because they are able to train adequately in the SAF."

These examples show that "MINDEF has exercised flexibility towards sportsmen competing in team sports", Dr Ng concluded, "without transgressing the fundamentals of NS and still maintaining equity for all national servicemen".

"MINDEF will work with the Ministry of Culture, Community and Youth, Sport (MCCY) SG and other relevant agencies through various pathways that can allow sportsmen to do well and still fulfil their NS obligations, be it in individual or team sports."

NO PRIORITY FOR INDIVIDUAL OVER TEAM SPORTS: MCCY
Minister for Culture, Community and Youth Grace Fu also noted that MCCY does not "favour individual sports over team sports" in their support for NS-liable athletes' deferment.
"My ministry shares Singaporeans' aspirations for excellence in sports, and does not favour individual sports over team sports. Across all sports, we objectively assess the NSAs' (National Sports Associations) development plans and targets," she said.
"For team sports, we have to adopt a whole-team development strategy which covers the entire squad of athletes, beyond just an individual athlete."
These considerations include "the robustness" of the NSA's development plans for the team, whether there is a clear target of a major games competition in sight and plans to hit that target, as well as the individual athlete's role and potential contribution to the national team, Ms Fu explained.
"If there are sporting talents who are part of this squad, and who demonstrate commitment to represent Singapore and serve NS, MCCY is prepared to work with MINDEF to evaluate NS deferment applications, or training privileges during NS so that the enlisted athletes can train together with the rest of the squad," she added.