NParks rolls out crow trap, CCTV camera in Toa Payoh after receiving feedback
This comes after hecklers disrupted an operation using a different type of crow trap in the same area back in February.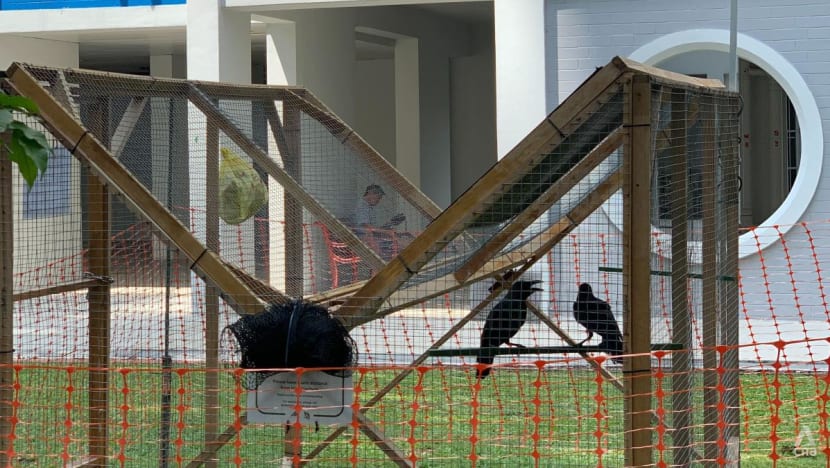 SINGAPORE: The National Parks Board (NParks) set up a trap on Thursday (May 25) targeting crows around Lorong 7 Toa Payoh, along with a closed-circuit television camera to monitor the live conditions of birds that have been captured.
This comes after feedback received on crows in the area, added NParks' group director of wildlife management Adrian Loo in response to CNA's queries.
In February, hecklers had disrupted a crow-trapping operation in the same neighbourhood – near Block 10B and 14 Lorong 7 Toa Payoh – with shouts of "crows are innocent" and "animal cruelty".
The trap then consisted of netting and balloons, and it was apparently the first time NParks had used such a method.
When CNA was in the vicinity of Block 14 and 14A Lorong 7 Toa Payoh around 11.30am on Thursday, several curious onlookers were seen examining the crow-trapping structure made of wood and wire. It was fenced off with orange plastic safety meshing.
Two crows had been successfully captured by then.
Water and food such as carrot cake, fish cakes, Hokkien mee and kueh were laid out on the ground inside the structure, right below several holes for birds to fly into.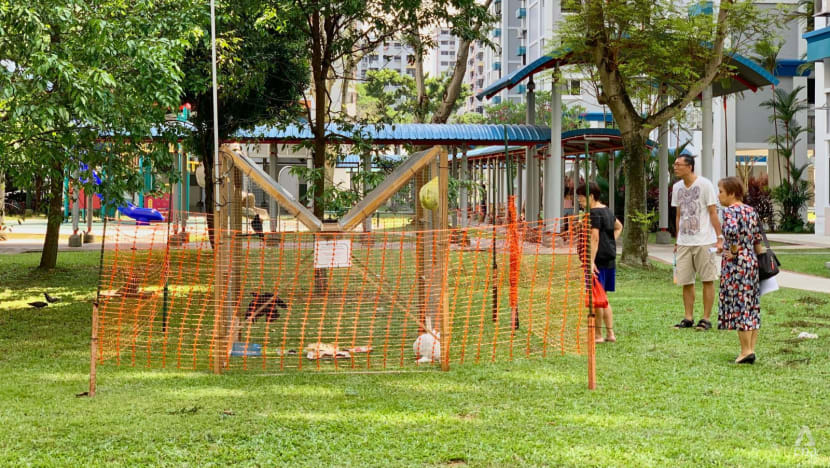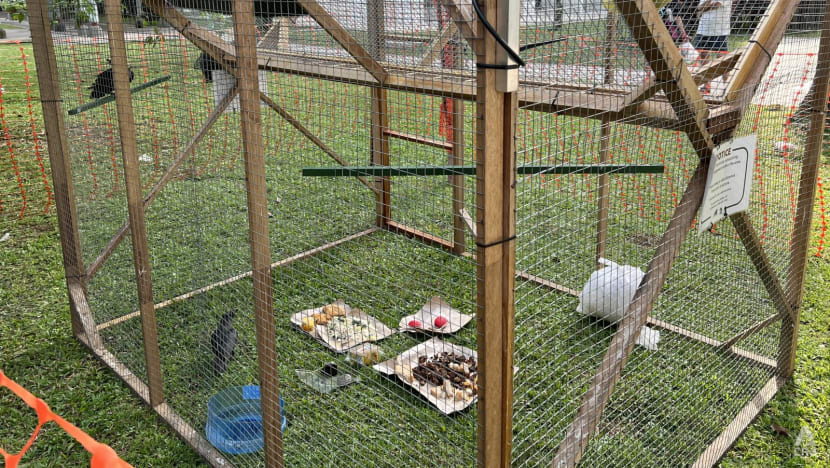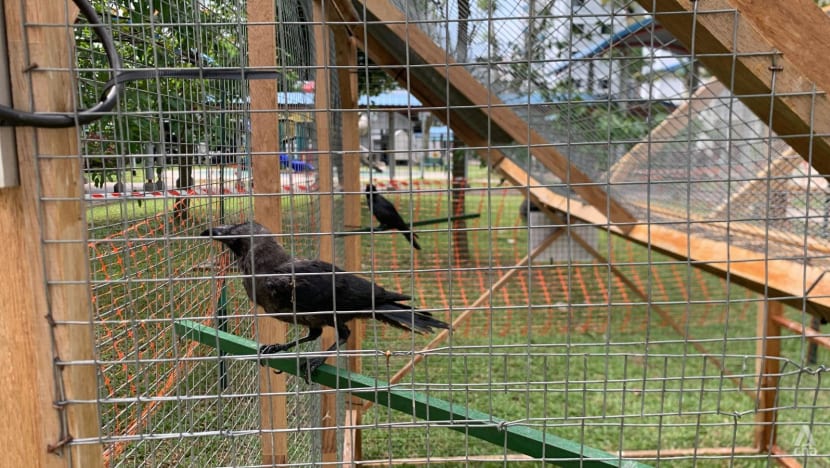 Notices affixed to the trap read: "We are currently conducting bird management within the area. Please keep a safe distance from this structure. Thank you for your understanding."
Two phone numbers for a contractor – Mastermark, a company dealing in wildlife and bird management – and NParks were also listed on the signs.
At 12.45pm, two men sporting Bishan-Toa Payoh Town Council shirts arrived and cordoned off the grassy area, preventing people from going near the structure. CNA has sent queries to the town council about their involvement.
As of 3pm, no further crows had been trapped.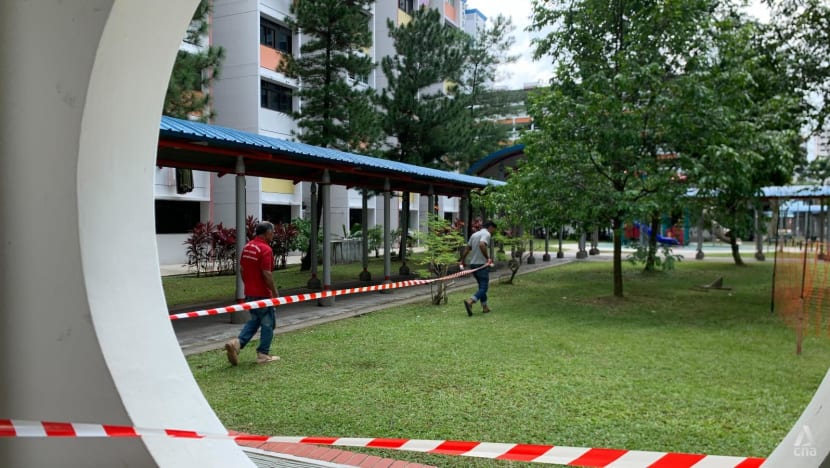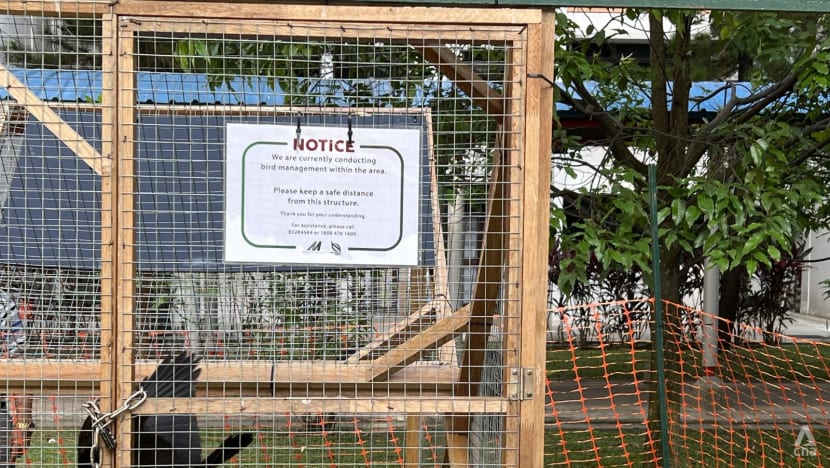 Dr Loo reiterated that NParks adopts the "more humane method of trapping and subsequent euthanasia to manage the crow population".
He noted that house crows, known by the scientific name corvus splendens, are not native to Singapore and pose a threat to the country's native biodiversity.
They are particularly protective of their young and may attack when their chicks are in the nest or when they sense that their young are threatened, he said.
"Management of invasive bird species requires a holistic and science-based approach, incorporating the removal of food sources, habitat modification, population control strategies such as nest removal and crow trapping, and studies to understand the population ecology of the birds such as their roosting patterns and movements," Dr Loo added.
"To ensure that population control is carried out in a humane and safe manner and does not result in animal cruelty, NParks benchmarks against internationally accepted and science-based standards when choosing suitable depopulation methods."
In February, NParks said that it was taking steps to reduce the crow population around Bishan Street 12 after several people were attacked by the birds there.
In response, the Animal Concerns Research and Education Society (ACRES) said that while culling is a quick way to address complaints from the public, there are better ways of controlling the crow population in Singapore.
NParks previously told CNA that it received an annual average of around 3,000 to 4,000 cases of crow-related feedback from 2020 to 2022. These include complaints about noise, crow sightings, feeding and crow attacks.
DIFFERING VIEWS
Residents whom CNA spoke to on Thursday had mixed views on the effectiveness of the crow-trapping structure, with some saying that birds have been a problem in the neighbourhood for some time.
A 70-year-old retiree, who only wanted to be known as Mr Liew and has lived in the Lorong 7 Toa Payoh area for more than 10 years, said he saw people setting up the structure at around 8am when he went to get groceries.
When he returned at around 10am, the crows had already been trapped. CNA spotted him throwing some bread into the structure.
"There were some birds standing there, on top of the trees, but they didn't dare to go in. I hoped this would help," he said in Mandarin.
He added that he had seen a similar structure around block 23 about two years ago after officials stopped culling crows with shotguns.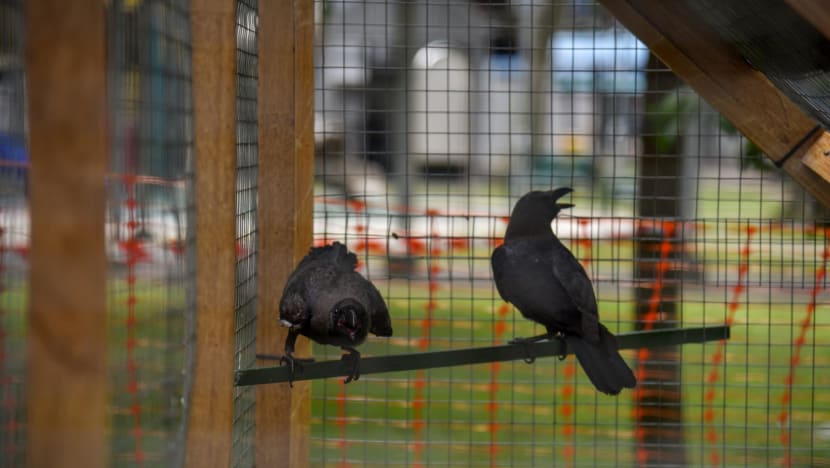 Another resident called the structure "cruel" and said the signs citing "bird management" should be clearer so that parents can better explain the situation to their children.
The 71-year-old, who gave her name only as Cherry, also questioned if pests would enter the structure due to the food laid out on the ground.
Mr Liew and other residents flagged the issue of residents from the surrounding blocks throwing food down from their flats for birds to eat.
A 61-year-old resident said she and her husband had previously complained to the town council about noise pollution from birds, especially in the evenings.
The couple, who live at block 10, added that they did not dare to walk under a particular tree in the area because birds are constantly being fed by residents close by. They did not wish to be named. 
Mr Brandon Tan, 40, who works in IT, said he was not bothered by the birds but that his parents have noticed more of them in recent years. He was taking videos of the trapped crows when CNA approached him.
Dr Loo advised that the public can help to mitigate the population growth of crows by not feeding them and ensuring the proper disposal of food scraps, as food from humans is a "key driver" of their growth.
"NParks also partners agencies and the town councils to educate the community on proper refuse management," he added.