Nurses to get additional payments in move to ensure healthcare jobs in Singapore remain attractive
Singapore must keep up its "relentless effort" to build up the healthcare workforce, said Health Minister Ong Ye Kung.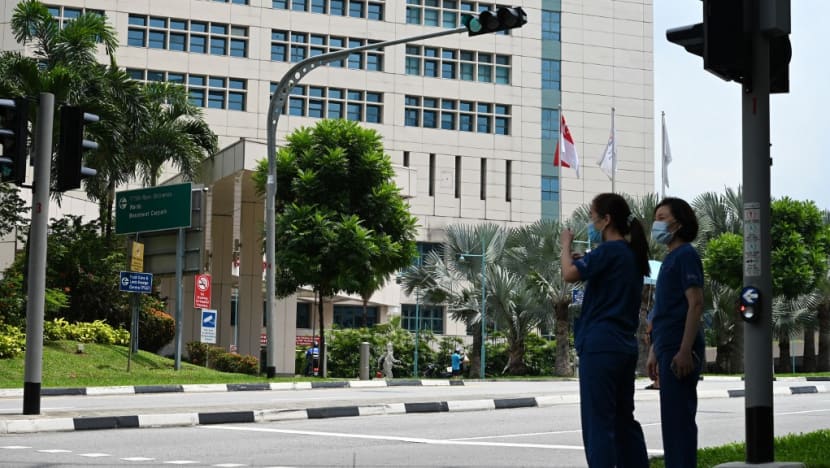 SINGAPORE: Nurses will get an enhanced payment package for 2022 and 2023 as part of efforts to build up Singapore's healthcare workforce and keep jobs in the sector attractive, said Health Minister Ong Ye Kung on Friday (Jul 29).
More details on the package will be announced on Nurses' Day on Aug 1.
"As the pandemic is still ongoing with a major burden falling on our nurses, I think they are deserving of another payment, perhaps structured as a nurses' retention payment," Mr Ong said during a speech at the 2022 Healthcare Scholarships Award Ceremony.
The salaries of nurses in the public healthcare sector were raised in 2021 following a review of their remuneration. The pay increase was done in phases over two years, and Mr Ong noted that the second-phase adjustment for nurses was completed this month.
BUILDING HEALTHCARE WORKFORCE
Singapore must keep up its "relentless effort" to build up the healthcare workforce in terms of size, capability and quality, Mr Ong said in his speech.
The country's population is ageing, and COVID-19 has highlighted the demand for healthcare workers.
"Due to the pandemic, there is now a higher demand for well-qualified healthcare workers, especially nurses in many countries, who know that Singapore trains our healthcare workers well and will see us as an attractive source for qualified manpower," said Mr Ong. 
"So a significant change in the post-COVID-19 world is that healthcare can no longer be regarded purely as a local domestic service. We need to keep an eye on the international competition for healthcare manpower."
To build up a nursing workforce, Mr Ong said the Ministry of Health (MOH) must look at two factors that determine the attractiveness of the healthcare sector - remuneration and the professional work environment.
"Nurses are professionals and want to perform at the highest level of their licence," said Mr Ong, highlighting the need to streamline unnecessary administrative work, introduce technology and improve IT systems.
He also spoke of the need to continue attracting younger people to the nursing profession, noting that both Nanyang Polytechnic and Ngee Ann Polytechnic can now collectively take in about 1,400 students.
The Institute of Technical Education enrols close to 500 students, while the National University of Singapore and Singapore Institute of Technology nursing schools take in 400 to 500, from mainly A-Level and polytechnic graduates respectively.
Another 100 to 200 adult workers undergo skills conversion programmes to enter the nursing profession each year, Mr Ong said.
"The good thing is that I believe the standing of nurses has risen significantly in our society over the years. They are often seen as heroes and role models, and it is now common to meet young people, both men and women, who aspire to be nurses or allied health professionals," he added.
Mr Ong noted, however, that Singapore is a small country with limits to educating and training local nurses to meet the growing demand.
This is why Singapore needs to continue recruiting good foreign nurses, who make up a third of all practising nurses in the country, he said, adding that competition for nurses has become international and "more intense".
"We will continue to find ways to entrench the feeling amongst foreign nurses that they are an integral part of the Singapore healthcare family, and they can continue to develop their careers in Singapore," he said.
COVID-19 WAVE
Commenting on COVID-19 infections, Mr Ong said Singapore should see the current wave subsiding further in the coming week.
Infection numbers have been falling and the week-on-week ratio of infection numbers has dropped below 0.9 over the last few days, he noted.
Singapore reported its first three community cases with the BA.4 and BA.5 variant in May.
There have also been eight cases with the Omicron subvariant BA.2.75, six of which are local infections.
"What is more significant, is that we have ridden through this current wave without imposing further social restrictions or imposing border measures," the Health Minister said, adding that this was due to a majority of the population getting their booster shots.
"The other reason is that our healthcare system is able to carry the brunt of the current infection wave."
To ease the workload on the healthcare sector, patients with lower risk have been transferred to COVID-19 treatment facilities and long-term stayers to nursing homes.
"These transfers have made a significant difference to help hospitals cope with the heavy workload," said Mr Ong.
A total of 120 people received their scholarship awards on Friday.
They will be studying in various tertiary institutions, in subjects such as nursing, social work, physiotherapy, diagnostic radiography and pharmaceutical science.