Water parades and popsicles: Nursing homes find cool ways to fan off warm weather
Some nursing homes are looking to longer-term energy-saving features such as window films and cool paint.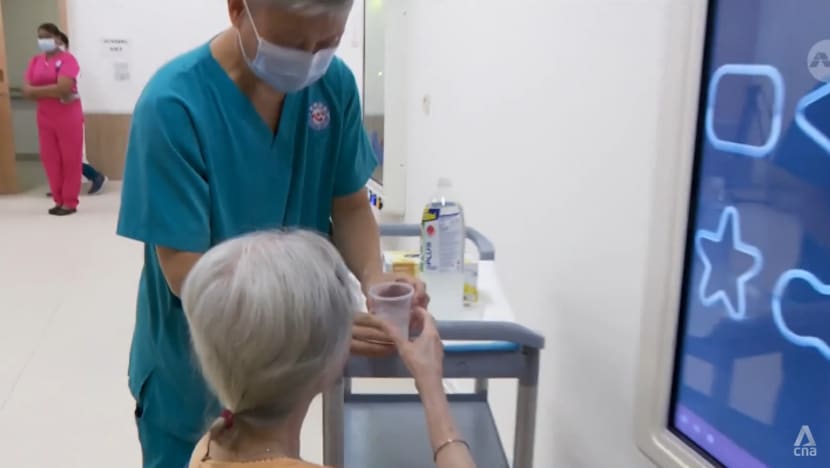 SINGAPORE: Nursing homes in Singapore are ramping up efforts to keep their residents cool during the recent spell of hot weather.
Most homes are relying on additional fans and air coolers to combat the warmth.
Staff are also stepping up to ensure residents stay hydrated and do not succumb to heat-related ailments.
Some care facilities have started looking at bigger changes to their buildings to cope with rising temperatures in the long term.
The Meteorological Service Singapore (MSS) said on Tuesday (Aug 1) that warm and humid conditions are expected to persist in the next two weeks, with daily maximum temperatures of around 34 degrees Celsius.
AIR COOLERS OVER AIR-CON
Most nursing homes do not use air-conditioning as elderly residents have different medical conditions, with some more prone to feeling cold.
With the threat of viral transmissions, wards also need to be naturally ventilated.
Hence, most homes have opted for portable air-coolers, which are able to bring temperatures down by about four degrees Celsius.
"Due to climate change, we can feel the heat (getting warmer). Lunch time is the hottest. The nurses will provide ventilation with air coolers and fans," said Mr John Zechariah, 56, a resident at the NTUC Health Nursing Home in Chai Chee. 
"To avoid dehydration, we (hang out) in shaded areas. If we have to go outdoors, we put on caps and light-coloured clothing."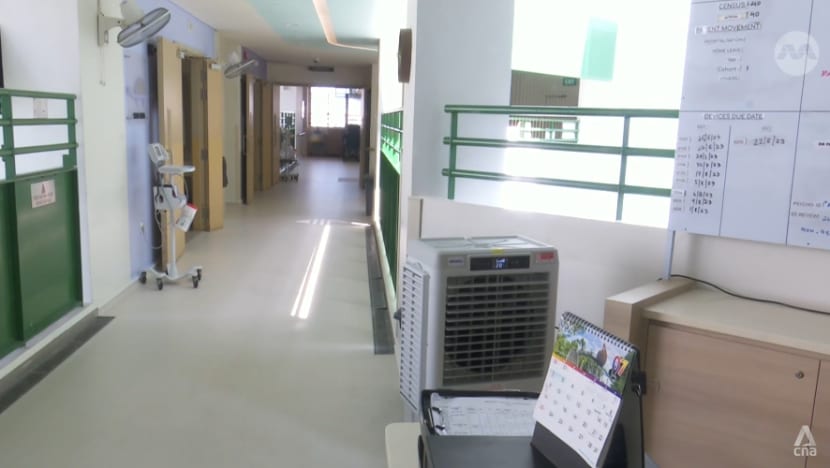 The nursing home currently stations three air coolers in each of its seven wards and has brought in portable fans to improve the circulation.
It also serves iced beverages and cold snacks including popsicles and chilled fruits to keep residents cool.
LONGER-TERM MEASURES
NTUC Health's nursing homes are among those looking to go one step further to put in place more permanent and energy-saving features.
For instance, it has fitted thermal films at the windows of its Chai Chee branch. These films can reduce the amount of glare, heat and harmful ultraviolet (UV) rays penetrating through by reflecting the sun's rays.
It hopes to install more of such films at its five other locations across the island.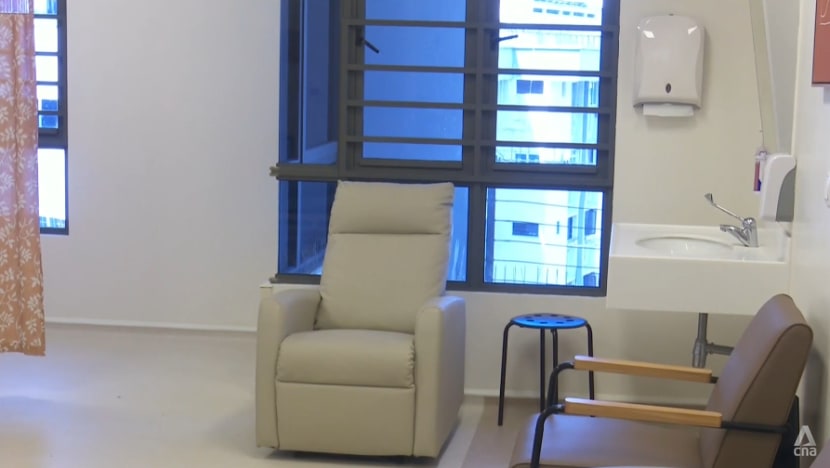 The social enterprise is also considering using cool paint for its building façades, which is capable of lowering the temperature inside by two degrees Celsius.
While the heat-reflective coat is more expensive than normal paint, the social enterprise said the benefits outweigh the cost.
"We are exploring more long-term and sustainable solutions," said NTUC Health's head of clinical services and residential care Goh Siew Hor.
"Both the cool paint and thermal film can potentially help to lower ambient temperature around the building and thus reduce the load on our air conditioners and also improve the thermal comfort for those in the building."
EFFORTS TO KEEP COOL
Homes that are unable to make big changes to their infrastructure said they are making do with existing measures such as additional standing fans and cooling pads.
Nurses are also taking extra measures to monitor room temperatures and residents' vital signs, with a lookout for heat-related conditions including giddiness, nausea, fatigue or rashes.
At the Thye Hua Kwan Nursing Home, its sensory room for residents with dementia is also being used as a makeshift heat shelter. It is one of the few rooms in the home with air-conditioning.
The care-givers are also stepping up the residents' hydration routine.
"We will continue to check on our patients to make sure that they are not dehydrated. On top of that, we also do what we call a 'water parade' to load up on liquids for the day," said the home's chief executive officer Ardi S Hardjo.
Such "water parades" have become more frequent, with water and isotonic drinks served hourly instead of the usual two-hourly routine, the home said.
However, as a result of measures to offset the heat, the nursing home has seen its electricity bills soar.
 
Mr Ardi said the home's electricity consumption increased by 6 per cent in May, compared to April, amounting to approximately S$1,000 in additional costs due to increased air conditioning and the deployment of extra fans and air coolers.
He said he expects higher maintenance costs in the long run if the heatwave does not let up.