Schools relax rules on student uniforms as hot, humid weather persists
Under the Education Ministry's guidelines, schools can also minimise outdoor physical activities between 10.30am and 3.30pm.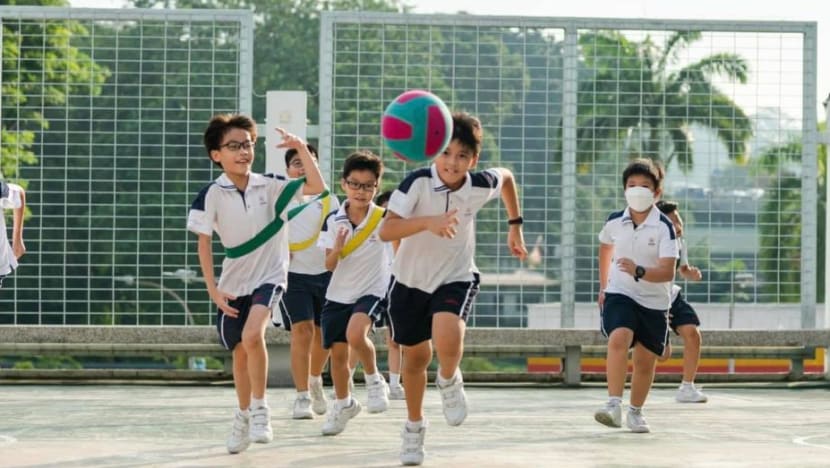 SINGAPORE: Several schools in Singapore have eased their rules on uniforms amid scorching temperatures recently.
In a notice sent out to parents last week, Henry Park Primary School said its uniform rules for students will be adjusted between May 5 and May 26. 
Students will be allowed to leave their polo shirts untucked in school. Female students can also choose to wear the shirts with physical education (PE) shorts instead of the school skirt, the notice to parents read. 
"While we make these provisions to ensure the comfort of our students, we seek the help of all parents to ensure that your child is neat and presentable," it said. 
"We will also be reminding our students to stay well-hydrated by drinking plenty of water throughout the day." 
May is normally one of the warmest months of the year, said the Meteorological Service Singapore at the start of the month. 
With the warm and humid weather from April continuing into the first half of May, the daily maximum temperature is expected to reach 34 degrees Celsius on most afternoons, it added. 
On a few days when there is less cloud cover, the maximum temperature could reach 35 degrees Celsius. 
At Raffles Girls' Primary School, students have been told that they do not have to put on their pinafores after PE lessons if they feel it is too warm to do so. 
Some have chosen to do so but many still wear their pinafores, a student's parent told CNA. Students who do not have PE that day have to continue wearing their pinafores. 
Methodist Girls' School is also allowing its students to wear their PE uniforms instead of full uniforms. 
At St Joseph's Institution, students are allowed to wear the official half uniform on all school days except on Mondays, when students are required to wear the full uniform with a tie, said a spokesperson for the school.
The half uniform comprises the school's polo shirt paired with the school's shorts, skirt or pants. 
This measure was implemented some years ago, the spokesperson said. 
HEAT GUIDELINES IN PLACE: MOE
Schools have guidelines to ensure the safety and well-being of students and staff in hot weather, the Ministry of Education (MOE) said in response to questions from CNA. 
These include minimising outdoor physical activities between 10.30am and 3.30pm, when temperatures and ultraviolet levels are generally higher. 
"Schools may also explore ways to help students better manage the heat, such as allowing students to dress in PE attire or their school T-shirt, depending on their specific needs," the ministry said. 
Students are encouraged to stay hydrated before, during and after physical activities to prevent and alleviate exercise-induced heat strain, it added. 
"MOE and schools will continue to monitor the heat situation and students and staff's well-being closely, especially those who may be more vulnerable to the effects of higher temperature conditions."