SINGAPORE: What havoc might Omicron wreak around the world and how might Singapore be affected?
Many had hoped last year to see the light at the end of the tunnel in 2021. But things took a turn for the worse in most parts of the world, including Singapore, with the Delta wave.
Now, a more transmissible variant – Omicron – is making its way around the globe. 
The Omicron variant now accounts for 73 per cent of US coronavirus infections, up from just about 3 per cent of sequenced cases in the previous week, the US Centers for Disease Control and Prevention (CDC) said on Monday.
A number of countries have cancelled year-end festivities or reintroduced restrictions. Thailand has reinstated quarantine for travellers, while New Zealand has postponed its border reopening plans due to Omicron's rapid spread.
Singapore has reported 71 confirmed Omicron cases, of which 65 were imported and six are local infections. There is also a suspected Omicron cluster of three cases, from the Health Ministry's update on Monday.
Will 2022 be 2020 too? Or will Singapore continue its journey towards living with the virus?
CNA asked some experts what lies ahead and what risks the new variant poses.
VAXXED BUT STILL VEXED BY VIRUS
Back in June, the co-chairs of the multi-ministry task force wrote an editorial in the Straits Times outlining Singapore's COVID-19 endemic living strategy.
About half of the population were vaccinated then, and achieving a higher rate of vaccination was the key plank of the plan. Now, more than 96 per cent of Singapore's eligible population have had at least two jabs and about a third have got boosters. 
Against Singapore's total population, the vaccination rate is now 87 per cent, and a large group of the unvaccinated – children aged five to 11 – are set to get inoculated.
By all measures, this is a success, except that the Delta variant had more surprises in store for the world, and for Singapore. 
Like other countries that have achieved a high rate of vaccination, Singapore found out that vaccines alone could not stop the virus in its tracks. COVID-19 safe management measures have remained front and centre in controlling the spread.
OMICRON WILL BECOME "DOMINANT" STRAIN
Public health expert Associate Professor Natasha Howard said that with the rise of the much more transmissible variant, increased case numbers and hospitalisations are likely.
"It appears likely that Omicron will become the dominant SARS-CoV-2 strain globally in 2022," said the interdisciplinary health policy and systems researcher from the Saw Swee Hock School of Public Health. 
"The implications of this are still unclear, but it shows that the pandemic is not controlled yet and until initial and booster COVID-19 vaccine doses are accessible to everyone eligible globally, we can expect new variants to emerge." 
She said that for the Singapore population, it's clear that two COVID-19 vaccine doses are not enough to provide reasonable protection against Omicron and people should get booster shots as soon as they are eligible.
She added: "I do think Singapore will continue to do well against COVID-19 if the pragmatic and evidence-informed government responses that we have seen so far continue."
Associate Professor Ashley St John from the Duke-NUS Medical School's Emerging Infectious Diseases Programme said that Omicron will likely be the cause of a "significant wave" of COVID-19. 
But while the Omicron variant is more transmissible than most we have seen, it is still SARS-CoV-2, she said. 
"The same measures can control it that we have been discussing," she said. These include vaccination, mask-wearing in public or crowded spaces, and testing before meeting with those who are at risk.
OMICRON VS DELTA
Assoc Prof Howard said that Omicron is more transmissible and has "increased immune escape" compared with Delta. 
Citing Imperial College modelling data, she said that the risk of reinfection with the Omicron variant is more than five times higher and it does not appear milder than the Delta variant.
But she added that there is significant uncertainty with such modelling estimates and hospital data from South Africa still indicate a milder infection.
It's clear that much is still unknown about the new variant.
Assoc Prof St John explained: "The genetic backbone of Omicron is very, very different … However, we don't yet have consistent data whether those genetic differences result in increased severity." 
Public health experts are thus monitoring the data on severity for Omicron and are waiting for more concrete numbers to bolster the initial assessment that vaccines are efficacious against it, she said.
CAN THE PANDEMIC END IN 2022?
The World Health Organization (WHO) has called for the world to pull together to end the COVID-19 pandemic next year. 
"2022 must be the year we end the pandemic," WHO Director-General Tedros Adhanom Ghebreyesus told reporters in Geneva on Monday.
But experts here said much depends on how potent the Omicron variant is.
Dr Lim Wee Kiat, associate director at the Singapore Management University's Centre for Management Practice, said it is "futile" to try and predict when the pandemic will end.
After all, the 1918 flu pandemic never really ended – according to the US CDC, descendants of the influenza virus from more than a century ago still circulate today.
"The path to normalcy is going to be punctuated by twists and dead ends, even reversals, as we have seen here in Singapore and elsewhere," said Dr Lim, a disaster sociologist by training.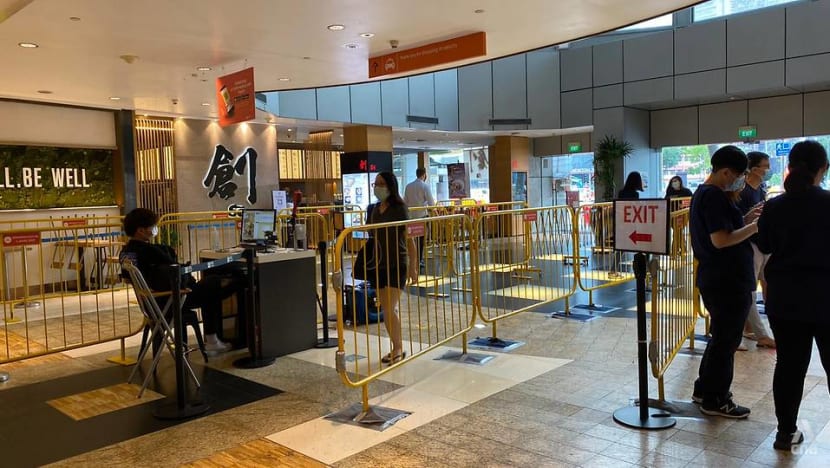 But this doesn't mean that we will be at a standstill for another year. Assoc Prof Howard said that SARS-CoV-2, the virus that causes COVID-19, is already endemic in the sense that it will always be around.
"So the question is: How soon we can adopt an endemic rather than epidemic approach to living with it and what this will look like. Key indicators to note are rates of severe illness and deaths due to COVID-19."
And while Omicron may further delay the roll-out of the Government's COVID-19 endemic roadmap, Singapore's experience in managing the pandemic over the past two years is a plus. 
"Our experience in managing the pandemic over the past two years means that we are unlikely to revert to a 'circuit-breaker' type situation – which will only serve as a last resort given Singapore's endemic goal – especially since most of the population has been vaccinated," said Ms Nydia Ngiow, Singapore managing director of strategic advisory firm BowerGroupAsia.
WHAT LIES BEYOND
So when Singapore has overcome the Omicron wave, be it big or small, what might life look like?
Assoc Prof St John feels that testing without symptoms should eventually be rolled back for most of the Singapore population, but can continue to be useful in some circumstances.
"For example, it is a key tool that can be used before meeting with individuals who are at-risk, before large group gatherings, or for individuals in certain positions with a high level of risk," she said.  
She also thinks the transition to living with COVID-19 will likely mean making mask-wearing "a personal choice". But it should be required in high-risk settings like hospitals, during travel or if new variants emerge where vaccine protection is significantly reduced.
Dr Lim said that perhaps the "most significant marker of normalcy" is when mask-wearing is no longer mandatory.
Experts also said that contact tracing has "reduced in utility" and similarly, TraceTogether and checking into public places may be less relevant unless it is "repurposed".
On vaccine-differentiated measures, Assoc Prof St John thinks they are "reasonable" but should exclude those who have a genuine health-related reason for exemption.
TRAVEL GROUNDED FOR ANOTHER YEAR?
While Omicron has paused Singapore's border reopening, experts said that Singapore has to continue to further open up the economy as well as its borders given the vital importance of external trade to the country.
Mr Nicholas Lim, Asia CEO of The Travel Corporation said that the 2022 travel situation will largely be dependent on governments keeping borders open and how quickly businesses can adapt to the fluidity of the situation.
"While we understand the precautionary measures that governments and experts are advocating or implementing, it is also important that we do not make the people panic, which is a crucial step towards living in a COVID-19 endemic world," he said.
Based on The Travel Corporation's booking and enquiry figures, travel demand from Singapore remains to be high, with people booking trips as far ahead as the third quarter of 2022, he said.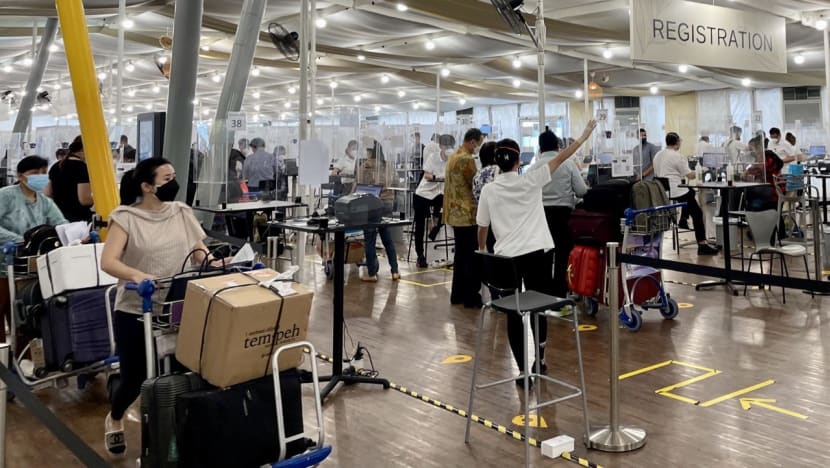 Ms Jane Lim, vice-president of global markets at Tripadvisor said that the interest, searches and bookings for VTLs available from Singapore were high over the festive and school holiday season.
"This tells us that as long as opportunities for international travel are open, Singaporeans will want to get out there and start exploring again," she said.
She thinks that there will be "more robust" travel into Singapore in 2022 with the introduction of booster shots and new vaccines or treatments. But she also warned that Omicron may cause countries to change their restrictions and disrupt travel plans overnight.
VIRUS WILL CONTINUE TO EVOLVE
Public health experts agreed that new variants of the virus are the key concern and risk ahead, and to combat this, ensuring that the whole world has access to vaccines should be a priority.
"The potential of new variants of concern to emerge and cause changes to policy is real, especially as much of the world remains unvaccinated," said Assoc Prof St John. 
"For that reason I always emphasise vaccine equity … COVID-19 will remain with us as a public health concern until vaccination targets are achieved worldwide." 
She said that the world should also work towards the development of vaccine formulations that better promote long-term immunity, counteract the transmission of the virus as efficiently as preventing severe COVID, or that are more effective in the elderly. 
Dr Lim, who studied how China reformed its emergency management policies following the 2003 SARS epidemic, said the crux is that governments have to be "fleet-footed". 
"They have to be adaptive and willing to change their minds in light of new evidence and evolving realities. And even so, they need to accept that at some point, they will be caught off-guard," he said. 
"It's going to be about how quickly its leadership can correct and recover from mistakes, miscalculations and possibly even misconduct."
He added that it's vital to learn from the current crisis. 
"As we are still in 'firefighting' mode, it is easy to defer the need to be prepared for the next one," he said.
"It is critical that organisations, not just hospitals and government bodies, but also businesses, non-profits, schools and shopping malls, capture their experience in coping with COVID, not just what works, but when it does not."