Outdoor education operators gear up for return of high-element activities for students
Such activities have been suspended since February last year, after a 15-year-old student died following an incident at a camp programme in SAFRA Yishun.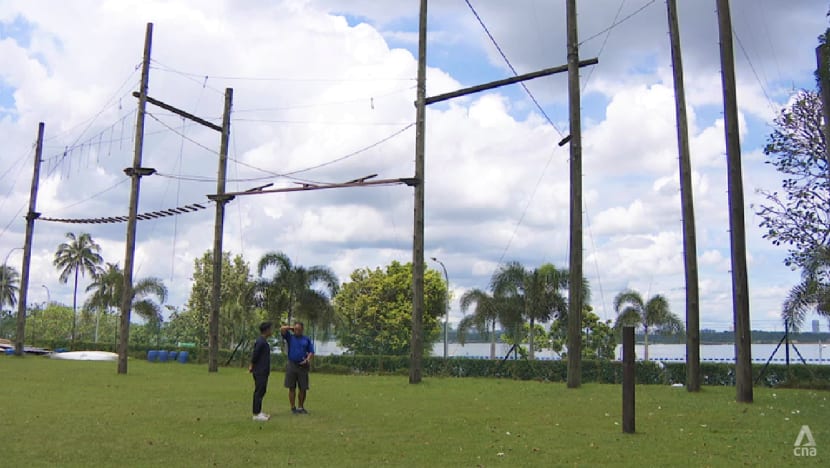 SINGAPORE: Some outdoor education operators are exploring the use of new equipment and technology such as body cameras to take safety up a notch, as they gear up for the return of high-element activities for students after a two-year hiatus. 
Such activities have been suspended since February last year, after a 15-year-old student died following an incident at a camp programme in SAFRA Yishun.
Outdoor education operator InnoTrek co-founder Mike Lim said his firm is revisiting the idea of using body cameras that it had initially tested, to see how these can be extra pairs of eyes to look out for safety gaps. 
"We need to have a few more pilot projects to see how these body cameras can come in handy to assist us in our operations," he added.
On Monday (Nov 28), the Ministry of Education (MOE) gave schools the green light to progressively resume outdoor activities involving high elements from Feb 1.
The ministry said it has completed an internal review to improve the safe delivery of such activities. 
Mr Lim, who has been guiding students to overcome their fears through such activities, said: "All the schools and kids that we spoke to, or even parents and teachers, are very excited, because high-elements bring out a lot of different learning points and are good tools for character development."
However, the height-based outdoor adventure learning activities will come with enhanced safety measures. 
For instance, all operators offering height-based activities for students from MOE schools must have their facilities regularly accredited by a National Sports Association or a regional outdoor adventure learning professional body. 
This is to make sure that their facilities meet the safety standards for operation and training.
Mr Lim said the enhanced measures are fair and doable, but added that participants have to look out for their own personal safety too. 
From February to the end of March, accredited operators running challenge course activities will resume with 50 per cent or less of their normal operational capacity.
MANPOWER CHALLENGES REMAIN
But amid this optimism, challenges such as a labour crunch still remain.
"There is a severe lack of manpower. Not just in the height-based related activities, but it's also in other disciplines," said Mr Delane Lim, honorary secretary of the Outdoor Learning and Adventure Education Association.
"We are like any other sectors, in food and beverage or retail, that are having a manpower crunch. So one of the immediate priorities right now is to also look at how we want to attract, develop, as well as to retain talent in this sector."
More roadshows and recruitment drives are on the cards, as the association aims to boost manpower by the first half of next year. 
Some observers have suggested recruiting polytechnic students in related courses.
KEEPING UP WITH LATEST STANDARDS
MOE has been running refreshers to keep instructors on top of their game, something that freelance instructor Ronald Wee believes is necessary.
"It's timely," said Mr Wee, who has spent over a decade in the line. "When the next year comes, it will be good that we are all refreshed once again, so we are up to date on the latest standard operating procedures.
"And some of us who have less practice over the last year can then (do so), so that they are ready once these courses resume."
Over the next two years, a task force will also come up with guidelines, spelling out industry safety standards.
This will cover all 13 disciplines of outdoor education, including water-based activities like kayaking and improvised rafting.