Singapore's hospices extend support for more illnesses, boost home and day care services
While palliative care usually caters to those with cancer, hospices are looking to include more patients with other conditions.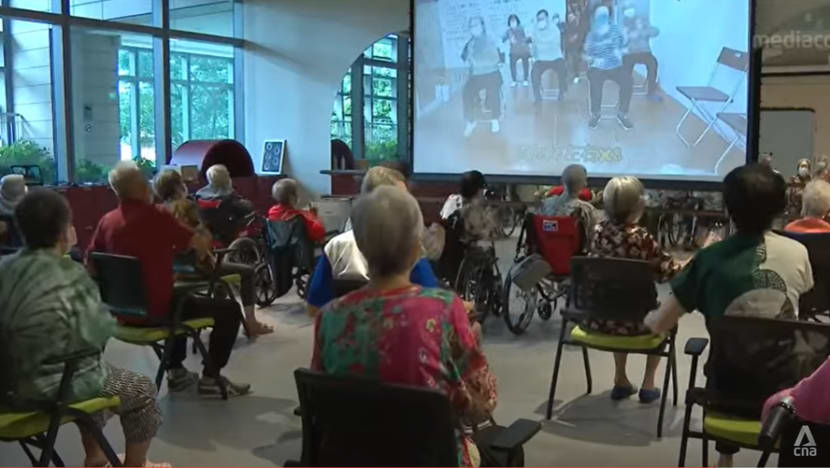 SINGAPORE: Madam How Sow Peng lives with stage four cancer. But in the face of terminal illness, her philosophy is to celebrate the little joys in life.
Mdm How attributes her positivity to her caregiver daughter and a hospice home care team which helped her through difficult periods - and still looks after her needs today.
"When the doctor told me (the cancer is at) stage four – the end stage, at that moment I felt very lost. It was like falling into a well," recalled Mdm How, whose cancer has spread to her spine and bones.
"But then the care team came in to help. With the strength they gave me, with help from everyone around me, I'm very happy. Today I'm in good spirits."
With support from Dover Park Hospice's home care team, Mdm How, who was bedridden eight months ago, can now stand. She hopes that further physiotherapy will allow her to walk down steps and go outside in her wheelchair.
The palliative home care team visits Mdm How and other patients with similar conditions about three times a month.
A team of social workers, nurses and doctors takes turns to check in on patients, assist them with everyday movements and provide them with emotional support. They also guide caregivers and family members on patients' needs.
Palliative care providers like Dover Park Hospice are increasingly boosting home support services and roping in the community to enable patients to live well in their final days.
This form of supportive care, typically for patients who are terminally ill and no longer seeking treatment for their conditions, is growing in demand in Singapore's ageing society.
DYING AT HOME
As the population ages, the death rate is also rising in Singapore. There were 5.8 deaths per 1,000 residents in 2021, up from 5.2 in 2020, and five in 2019.
The need for more palliative support comes amid the Government's push to help those who wish to die at home instead of in a hospital.
Six in 10 patients die in hospitals currently, and Singapore aims to lower this figure by 10 per cent over the next five years.
To achieve this, the Health Ministry has prioritised boosting palliative care to increase the quality of life for patients outside of hospitals.
Most people in Singapore wish to pass on in familiar surroundings, according to a 2014 survey by philanthropic organisation Lien Foundation. It found that 77 per cent of Singaporeans hope to die at home.
Mdm How is one such patient who wishes to say her goodbyes at home.  
"After all, home is most comfortable. I've told my daughter, if one day I really can't go on anymore, don't send me to the hospital, just let me go, at home," she said.
Her daughter and primary caregiver Ms Joanne Pnay said she wants to respect her mother's wishes.
"My dad passed away in the hospital. The surrounding, it's totally different," she said. "At home it will be much better. She will feel more at ease, more security, rather than, you know, in a cold (hospital) room."
DEMAND FOR PALLIATIVE CARE
While palliative care usually caters to those with cancer, hospices are looking to increase home care and day care services in order to include more patients with other conditions.
"We do intend to grow home care to meet this need. And it will not just be the cancer group. We are anticipating a growth in demand for patients with advanced dementia, or patients with end stage organ failure as well," said Dr Mervyn Koh, Dover Park Hospice's medical director.
He added that earlier referrals for patients and earlier involvement by palliative care personnel can help to manage symptoms of illnesses and elevate patients' quality of life in their remaining time.
"(This can) make sure that their pain is under control so that they can have a good quality of life, they can still go out and spend time with their families," he said.
Dover Park Hospice currently takes care of about 750 home patients a year, up from 400 two years ago. The organisation said it anticipates the numbers to continue growing.
Similarly, Assisi Hospice's patient load has grown four-fold over the past seven years. The organisation said it is targeting 15 per cent annual growth across inpatient, home care and day care services to meet the demand.
On top of palliative care, the hospice is also adding social and leisure activities such as art workshops and leather crafting to engage its patients.
"They would have in their lives had many different types of interests and areas of expertise that they may have," said Ms Choo Shiu Ling, chief executive officer of Assisi Hospice.  
"All we're doing is to really understand what is of value to them, and what they are interested in. And from there, we create more new activities which meet their psychotherapeutic needs."
HCA Hospice, which caters to about 3,600 patients a year, has also set up day centres for patients who do not require all-day nursing assistance.
These centres offer respite to caregivers, and provide patients with therapy and social activities.  
Run by staff members and volunteers, its Oasis@Outram Day Hospice sees an average of 35 to 40 patients each day, up from 15 a year ago.
With the increasing demand for palliative care, HCA Hospice said it aims to get more hands on deck by bringing in more volunteers. The organisation currently has about 2,000 volunteers in its database, but only 150 to 200 are active.
"We're looking at how we can bring individuals, schools, even corporate (organisations) to come into our fold," said Ms Karen Lee, the hospice's chief executive officer.
She added that the organisation equips volunteers with skill sets to engage people in the final stage of life, and support including emotional care.  
"The process of caring for the ill and the process of dying is a communal activity," she said.
"We're trying to train our volunteers up to a level that they (can) play a part in supporting their own, our own community."