PAP, WP hold final rallies for Hougang by-election
The ruling People's Action Party (PAP) and opposition Workers' Party (WP) held their final rallies on Thursday night as campaigning for the Hougang by-election came to a close.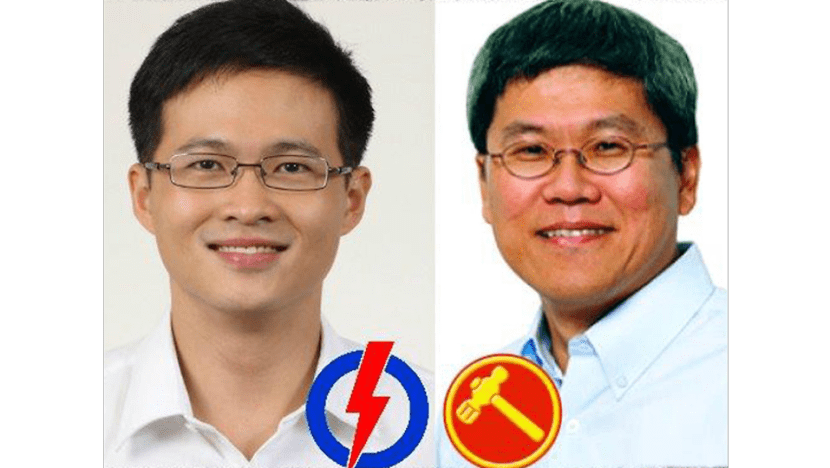 SINGAPORE: The ruling People's Action Party (PAP) and opposition Workers' Party (WP) held their final rallies on Thursday night as campaigning for the Hougang by-election came to a close.
At their rally at the Hougang Stadium, PAP leaders stressed the importance of choosing the right candidate to bring about a turning point in the single-seat ward, which has been in the hands of the Workers' Party since 1991.
The eight speakers included former and current MPs as well as Education Minister Heng Swee Keat and National Development Minister Khaw Boon Wan. They focused mainly on why PAP candidate Desmond Choo can be a strong advocate for the voters at both the national and local level.
Mr Khaw, who is also the chairman of the PAP, spoke of why he backed Mr Choo. He said Mr Choo is not a quitter but a stayer.
Mr Khaw also spoke of national issues, saying that the PAP is not perfect and the government has its shortcomings but that he is confident that within 4 or 5 years, the situation on national issues should have improved significantly.
Education Minister Heng Swee Keat, who spoke first in Teochew and then in Mandarin, said Mr Choo is efficient and has leadership abilities.
As for candidate Mr Choo, he said he has met residents in the last few days who are looking forward to change the status quo in Hougang.
"That is why this by-election is so critical. We are at a crossroads - continue with the status quo in Hougang or make a change now. If you continue with the status quo, then you will have four more years of the same things. If I may say, four years of the same is four years too long!" he said.
Mr Choo also said he has shared his vision and plans for Hougang and will see it through.
He said: "I need your mandate, so that we can work together for a stronger and better Hougang - a Hougang that we can all call home; a Hougang that we will all be proud to pass on to our next generation.
"On Saturday, as you go to the polls, I humbly ask you to let me serve you and your family. Give me your support. This is your time to make a difference. Vote for change, vote for a new beginning in Hougang."
Meanwhile the Workers' Party (WP) had its rally at the open field in front of Block 837, bounded by Hougang Avenue 4 and Hougang Central.
The WP's third rally for the by-election saw 12 of its members take to the stage. They again included the party's Members of Parliament as well as party chairman Sylvia Lim and party secretary-general Low Thia Khiang.
They countered the PAP's criticism that the WP has been dishonest, flip flopping on policies and taking voters for granted.
Several WP members spoke of the party's candidate Png Eng Huat's integrity and his track record in Hougang.
They also said that as an opposition party, the WP does not oppose for the sake of opposing.
MP for Aljunied GRC Chen Show Mao spoke about what he described as "political honesty". He said what the party tries to do is: be an honest critic.
Chairman Sylvia Lim addressed voters who may still be on the fence, and gave reasons why Mr Png would be a good MP at a local level.
She said: "As for being a representative in Parliament, Png is also an excellent choice. He is thoughtful, mature and extremely hardworking. He was not born with a silver spoon in his mouth but a self-made man who fought his way through life. Png will not hesitate to raise the concerns of people in Parliament; he will be a bold yet sensible opposition voice."
WP secretary-general Low accused the PAP of unwarranted personal attacks on the WP MPs.
"During the PAP's rally, MP Denise Phua criticised the Workers' Party for always saying the bad things about the government. But in fact, I rose to thank the government for giving better focus to the welfare of the people in the same Budget debate, where totally unwarranted attacks were made on the Workers' Party MPs. The Workers' Party is very clear that our core mission is the welfare and the well being of our people," said Mr Low.
Mr Low added that opposition MPs can only do so much to suggest policy changes. He refuted criticism that the Workers' Party had no suggestions or only criticised the government.
Mr Low said: "Policies are not always perfect and groups of people may be adversely affected. We can provide feedback from the ground, make recommendations, but it is almost impossible to challenge the technicality of these policies without the resources that the ministries have.
"Opposition MPs cannot, neither can the PAP MPs. Let's see what Desmond Choo, or any other PAP MPs for that matter, can propose alternative policies to solve the problems of high COE prices or high water and electricity charges."
Like he did at his previous rallies, Mr Png again shared his plans for Hougang residents. Among these are upgrading for flats and the construction of amenities like covered walkways as well as elderly fitness corners.
Mr Png again explained why the Hougang vote is important. "When Hougang goes to the polls on Saturday, the whole of Singapore will be watching. A vote for the PAP will be a vote in the wrong direction in our march towards a First World Parliament. A vote for the PAP will be a step backwards for justice, democracy and equality."
Friday is Cooling-off Day and Hougang's over 23,000 voters will go to the polls the day after that.