'I couldn't get up to play with my child': The struggles of parents with mental health conditions
Social workers, therapists say that seeking help early is key.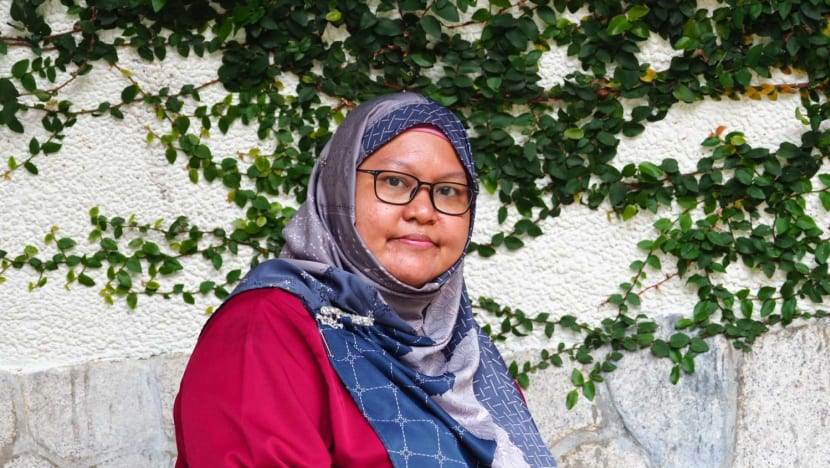 SINGAPORE: Walking home from her part-time job late at night, Ms Fauziah Aman began discarding her belongings, even her identity card.
"I was walking from one end of Bukit Batok to another end, and dropping my things along the way in the middle of the night," she said, describing her first manic episode.
"Before I reached home, somebody returned my IC to my mum, so she was wondering what happened."
At the time, she was struggling with her university studies and in therapy for depression. After that manic episode in 2004, she was diagnosed with bipolar disorder.
People with bipolar disorder can experience episodes of mania – when their thoughts race and they feel "high"; these alternate with periods of depression, when they feel down and lack energy.
Both extremes can be disruptive to their daily lives and strain relationships with their families.
With medication, Ms Fauziah's condition stabilised for many years – she dropped out of school and found work, then got married and had a daughter.
RELAPSE
But facing pressure from family members during her second pregnancy, she had a relapse.
"I got stressed when I was pregnant with the second one … it was not an easy pregnancy," said Ms Fauziah, who also had problems in her marriage back then.
She had thoughts of harming herself and her daughter, although she did not act on them.
"(My younger daughter) was taken care of by my sister-in-law because I was grappling with … accepting her."
She and her husband have since divorced. When Ms Fauziah tried to have her younger daughter come back to her home on weekends, she had another relapse.
"I would have a lot of energy, a lot of ideas. I would feel this grandiosity, that I was linked with supernatural powers and things like that. At the acute stage I would hear voices ... (but) before it reaches that stage, I would be hospitalised," she said.
When hospitalised at the Institute of Mental Health (IMH), she could not see both her children for months. During these times, she relied on her family to take care of them, and spoke to her elder daughter on the phone every day.
While her manic episodes and hospital stays were disruptive, the depressive periods were harder to overcome. When the depression takes over, Ms Fauziah said she feels lethargic, sleeps a lot and just doesn't have the energy for daily tasks and household chores.
"When (my younger child) was born … I couldn't get up to play with her (but) they need attention … I just had to push myself to play with her," she said.
PARENTS WHO STRUGGLE
Now 41, Ms Fauziah works at the Singapore Association for Mental Health as a peer specialist and social work assistant. Her work includes helping others with mental health conditions reintegrate into the community.
She is better at managing her condition and wants to help others like herself.
These struggles are faced by many parents with mental health conditions, said medical social workers Vera Chua and Jonathan Mark in a separate interview.
For parents who are bipolar, in their "high" state, they may speak very quickly and "want to do everything". Signs of mania vary by individual, ranging from agitation to profligate spending or making grand, often unrealistic, plans.
The children wonder why their parents are suddenly behaving differently, said Mr Mark. Then, when depression hits, their behaviour takes a rapid U-turn that raises even more questions for their kids.
"They cannot understand why (when the parent is depressed), all she wants to do is to sleep and sleep and sleep, just keep sleeping," he said.
The social workers use books specially written for children to help explain different mental health conditions, ranging from depression to schizophrenia, and why their parents behave the way they do.
The risk is that some kids become resigned to the way things are and become the ones to take care of their parents, said Mr Mark. "So instead of children being children, they become parents."
EXTREME CASES
In extreme cases, when the parents hear voices and lose touch with reality, the children can end up getting hurt.
These can be seen in some court cases that have been in the news, such as that of a mother with untreated schizophrenia, who killed her eight-year-old daughter after voices told her that her daughter was an evil spirit.
In another case, a woman cut her son's arm with scissors and hit her daughter. The children were found to be suffering from trauma.
Therapists CNA spoke to said that such cases can happen when the parent's mental health problems have deteriorated to an extreme state, and advised people to seek early treatment before this happens.
Said Mr Mark: "Mental health can be seen along a continuum, with mental wellness being on one end and mental illness on the other end. 
"It is generally helpful to pay attention to what states we are in along this continuum so that we can address the signs and symptoms early before it progresses further to an unmanageable or distressing state."
Preventive measures can be taken at different stages. Ms Chua said that to maintain good mental health, one should stay active, prioritise making social connections with others, sleep and eat adequately and take up relaxation practices.
It is also important to increase one's knowledge and awareness of mental illness, such as the signs and symptoms, and be open to seeking help when needed.
While there are such extreme cases where the parents' conditions most likely had been neglected, Ms Chua is quick to note that she knows many patients who are excellent parents, saying: "That's a role that's very precious to them."
Ms Katy Harris, who runs Family SOS, said that help can be sought at Family Service Centres or at private practitioners. Seeking help early is key, because such extreme emotions within families do adversely affect kids. 
"It is easier to process them when young than to carry the damage into adulthood," she said.
Ms Harris added that people need to view mental health like physical health.
"There are times when our bodies are strong and have good immunities and times when they are not. 
"We ought to all of us be talking about what's hard for you at the moment … Yet in Singapore, there's still a little bit of a stiff upper lip, and we'll cope, we'll keep going."
She also acknowledged that sometimes, the fear of stigma stops people from seeking help.
"Our society can choose to see the shame of mental illness or the pain," she said. "If one sees the pain, then the natural response would be to support those going through it, instead of judging."
For example, children could be the victims of rage in cases where parents "overuse" the cane. But most people don't want to hurt their children, said Ms Harris, and these parents often don't have the time or energy to reflect on how they can manage better.
"When people are using panic and anger, and crashing through disappointment and acting out, they're not doing it because it's fun. They're doing it because they don't have other tools and they're struggling," she said. 
"That's the message we want to get across with mental health. That struggle is a part of our world … and struggle needs support."
HAVING A CARE PLAN
Ms Chua and Mr Mark run IMH's Resilience Programme, which supports families and children of parents with psychiatric illnesses. Started in 2008, it has helped 1,070 children and caregivers, said Mr Mark.
The programme has grown from a camp for children of such patients to a series of workshops, counselling services and other interventions, including social gatherings to help them learn and share strategies to manage the parents' conditions better.
One important aspect of support is helping the families devise a "care plan" detailing the steps to take and who should take them in a crisis – such as when the parent has a relapse.
An important part of the plan is to have arrangements for the children's caregiving. Parents are also encouraged to write letters to their children, which can be given to them if the parents are hospitalised.
And to know when to trigger the care plan, it is important to know what the patient's "relapse signature" is – so that family members can spot early signs of a relapse and act quickly.
"We are trying to be proactive here in coming up with a plan so that everyone knows what to do in the event of a crisis. Who can they turn to? Could be an aunt, could be a neighbour  … everyone needs to know their role and what is expected in a crisis," said Ms Chua.
"If you don't know what to do, then … there's a lot of conflict and confusion."
The programme also brings together families with similar backgrounds to bond, share resources and help each other.
As the patient recovers and the family learns to manage the condition, they graduate from the programme, but are now equipped with a care plan and connected to community resources that they can tap on.
Some parents even return to become volunteers to help other families, said Mr Mark.
You may also be interested in: