Proposed changes to Immigration Act to allow checkpoint biometric clearance without passport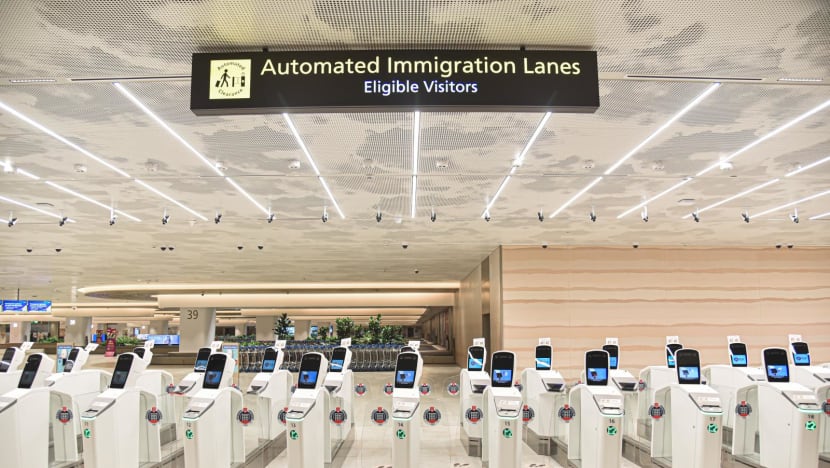 SINGAPORE: A series of proposed amendments to the Immigration Act will allow digital and biometric clearance at Singapore's checkpoints – without the use of passports.
The Bill, which was tabled in parliament for its first reading on Wednesday (Aug 2) by Second Minister of Home Affairs Josephine Teo, also contains changes to better deal with exigencies such as pandemics, strengthen border controls and streamline the administration of passes and permits for foreigners and permanent residents.
Under the Bill, digital versions of permits and passes can be used to verify immigration status, a change from current legislation which requires physical copies.
One key change empowers the Minister for Home Affairs to authorise the disclosure of passenger and crew information to the airport operator, for specific uses such as bag drops and passenger tracing within the airport. 
This allows for end-to-end biometric clearance, meaning that the passenger does not need to produce their passport, ticket and boarding pass multiple times during the boarding process.
The passenger's identity and flight information will be processed "backend" to produce a unique digital token, the Ministry of Home Affairs (MHA) said in a press release. The information is then retrieved using biometrics to verify the passenger's identity and travel details at automated touchpoints, from check-in and bag drop to immigration and boarding.
Travellers' data will be retained by the airport operator "for a short time" and purged after that, with appropriate safeguards to ensure data security, MHA said. 
A second set of changes aims to enhance the Immigration and Checkpoints Authority's (ICA) ability to handle potential security threats and future pandemics. The Bill provides for powers to collect advance passenger and crew information across all modes of entry, and clarifies that it is an offence to give misleading information to ICA even when the person was outside Singapore.
If the Bill is passed, ICA will be able to issue no-boarding directives to airlines and other transport operators to deny "undesirable individuals", particularly those who pose a safety or security threat, said MHA. 
"This prevents them from travelling to Singapore in the first place, instead of only being turned back at our checkpoints on arrival," the ministry said.
Penalties will be introduced for transport operators who fail to submit advance traveller information or who do not comply with no-boarding directives. 
MORE POWERS FOR OFFICERS
The Bill also extends the Home Affairs Minister's powers to prohibit the entry or transit of foreigners on public health grounds, as this was not explicit before.
To strengthen border controls, the Bill also gives ICA officers more powers. Currently, ICA officers only have powers of arrest for immigration offences or non-immigration offences committed in or near an authorised area, such as a checkpoint. 
The Bill will give them powers to detain people or vehicles for non-immigration offences no matter where they take place, pending the arrival of the law enforcement agencies.
"These powers are particularly relevant at land checkpoints, as ICA has taken over protective security functions there from the Singapore Police Force since January 2023," said MHA. 
Among a series of changes to the administration of immigration passes and permits, the Bill removes the right to make statutory appeals to the Minister of Home Affairs for decisions made by ICA on the granting and revocation of PR status, and changes to conditions attached to PRs' permits.
MHA said this was in line with the treatment of decisions on other immigration passes such as long-term visit passes and citizenship. "Foreigners have no right to demand to enter or stay in Singapore; this must be the prerogative of the government," said the ministry.
However, it added that even with the removal of the statutory appeal, PR applicants and PRs may continue to seek ICA's reconsideration of its decisions, particularly if there are new facts that were not submitted to the agency. 
Another change allows the ICA to simply notify permit holders of new or changed conditions on permits, in contrast to the current process, where ICA must first allow representations by the permit holder before the changes are made.
"The aim of imposing such conditions is to ensure that PRs and pass holders comply with our laws and do not engage in undesirable behaviour," said MHA. "Where such conditions are breached, permits or passes can be cancelled."
Enacted in 1959, the Immigration Act was last amended in 2018. The Bill is slated for a second and third reading at the next parliament sitting before being passed.