S$661 million lost to scams in 2022, with young adults most likely to fall victim: SPF
The most common ruse that young adults aged 20 to 39 fell for was job scams.
SINGAPORE: Scam victims in Singapore were cheated of S$660.7 million in 2022, up 4.5 per cent from S$632 million the year before, according to data released by the Singapore Police Force (SPF) on Wednesday (Feb 8).
Young adults aged 20 to 39 were the most likely to be cheated in scams, making up 53.5 per cent of all victims. Job scams were the most common ruse they fell for.
The total number of scam and cybercrime cases rose by more than a quarter to 33,669 in 2022, compared to 26,886 the year before. Scams accounted for 94.2 per cent of these cases.
The top five scam types were phishing scams, job scams, e-commerce scams, investment scams and fake friend call scams. They made up more than 80 per cent of the top 10 scam types in Singapore.
The number of cases of each of these scam types rose across the board.
Number of cases of top five scam types
 
2021
2022
Percentage change
Phishing scams
5,023
7,097
+41.3%
Job scams
4,550
6,492
+42.7%
E-commerce scams
2,729
4,762
+74.5%
Investment scams
2,467
3,108
+26.0%
Fake friend call scams
686
2,106
+207.0%
There were decreases in the number of loan scam cases and Internet love scam cases, but "as scammers continue to evolve their tactics, we must keep up public vigilance", said the police.
The amounts cheated in each of the top five scam types also rose, with the exception of phishing scams, where the amount that victims lost was cut by more than half to at least S$16.5 million.
Amounts cheated in top five scam types
 
2021
2022
Percentage change
Phishing scams
S$34.8 million
S$16.5 million
-52.6%
Job scams
S$91 million
S$117.4 million
+29.0%
E-commerce scams
S$5.9 million
S$21.3 million
+261.0%
Investment scams
S$190.2 million
S$198.3 million
+4.3%
Fake friend call scams
S$4.5 million
S$8.8 million
+95.6%
Another notable figure was the amount lost in e-commerce scams – involving non-delivery of goods and services sold online after payment has been made – which more than tripled to at least S$21.3 million.
The most common platforms where victims encountered e-commerce scammers were Carousell, Facebook and Shopee, said SPF. Most cases involved transactions of electronic goods, rental units and gaming-related items.
Investment scams accounted for the largest proportion of money cheated, at 30 per cent of the total or S$198.3 million, followed by job scams and government officials impersonation scams.
Listen: Ex-scammer shares how e-commerce scams happen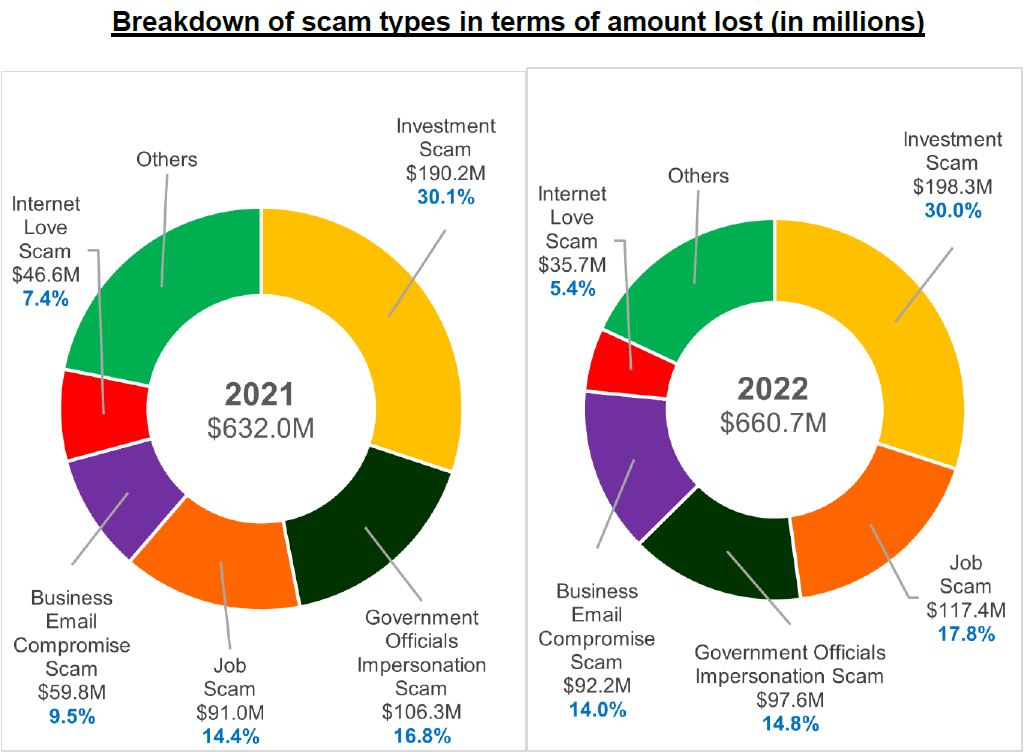 This was the first time SPF released its annual data on Singapore's scam and cybercrime cases separately from physical crime figures.
In recent years, scam numbers have risen and overtaken many other physical crime types, said the police.
"Consequently, this skews the overall crime indicator, which is no longer a meaningful indicator of the physical safety and security situation in Singapore," said Superintendent Brenda Ong of SPF's public communications division.
"Physical crime, and scams and cybercrime should be contextualised in their unique environment as they affect the public's sense of safety and security differently. The harm caused by physical crime and scams occur in different domains as well," she said.
PROFILE OF SCAM VICTIMS
SPF's data included more details on the profile of scam victims. About a quarter of young adults from the ages of 20 to 29 and 30 to 39 fell victim to job scams, in which they are typically promised high salaries for remote work.
"Victims would be asked to perform simple tasks like making advance purchases, liking social media posts, or reviewing hotels/restaurants," said SPF.
In most cases, these offers came through unsolicited messages from unknown numbers on chat applications.
Victims would initially receive some commission to lure them into providing more funds, purportedly so that they could get more commission over time. However, they would eventually not be able to get their money back.
Young adults accounted for 66.8 per cent of the victims of job scams. Phishing scams and e-commerce scams rounded out the top three scam types for this age group.
Experts have pointed out that digital natives depend on Internet platforms and mobile apps to shop, bank and communicate, and that being online more increases exposure to the risk of scams and cyber fraud.
Seniors aged 60 and above accounted for 8.8 per cent of scam victims, with most falling prey to phishing scams, followed by fake friend call scams and investment scams.
In anti-scam efforts, SPF's Anti-Scam Command froze more than 16,700 bank accounts and recovered about S$146.6 million cheated in scams last year.
The Anti-Scam Centre also worked with telco companies to terminate more than 6,500 mobile lines used for scams last year, while engaging WhatsApp on more than 22,800 lines believed to be used in scams.