Government mindful of potential impact of increasing housing grants in buoyant resale market: MND
The CPF Housing Grant increases are specifically targeted at eligible first-timer home buyers with incomes below S$14,000 for families and S$7,000 for singles, says MND.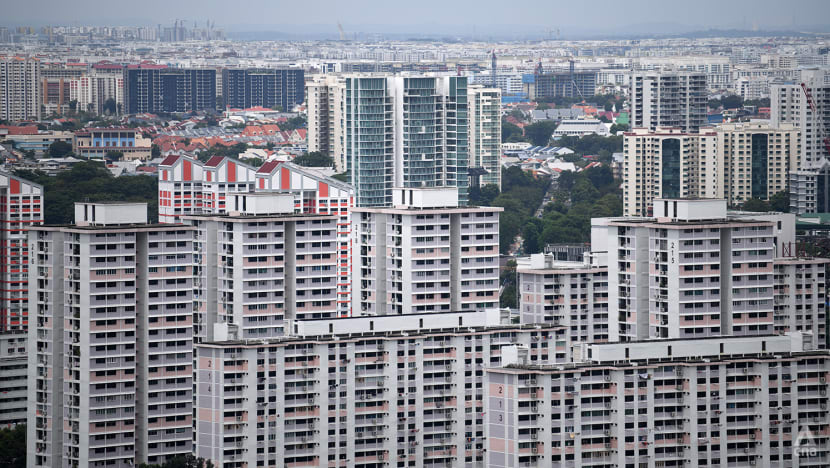 SINGAPORE: The Government is "mindful" of the potential impact of increasing Central Provident Fund (CPF) housing grants in a buoyant resale market, the Ministry of National Development (MND) said on Thursday (Feb 16).
"That is why the grant increases do not go to all resale buyers, but are specifically targeted at eligible (first-timer) home buyers with incomes below S$14,000 for families and S$7,000 for singles, through the CPF Housing Grant," said the ministry.
"About a third of resale flat buyers have received the CPF Housing Grant in the last two years."
Deputy Prime Minister and Finance Minister Lawrence Wong announced on Tuesday in the 2023 Budget statement that the CPF Housing Grant will be increased from S$50,000 to S$80,000 for eligible first-timer families buying a four-room or smaller resale Housing Board (HDB) flat.
For such families buying a five-room or larger resale flat, the amount will be increased from S$40,000 to S$50,000. 
The grant amount for eligible first-timer singles buying a four-room or smaller resale flat will be increased to S$40,000, and to S$25,000 for a five-room resale flat. 
MND estimates that the increase will benefit more than 10,000 first-timer households in the first year of implementation.
After the announcement on Tuesday, property analysts said the measures could further spur demand for resale HDB flats.
Mr Lee Sze Teck, senior director of research at Huttons, said the HDB resale market's transaction volume could increase to between 26,000 and 28,000, up from an earlier projection of 24,000 to 26,000.
Growth in resale prices may increase to between 8 per cent and 10 per cent, he said, upping his earlier projection of about 5 per cent.
Chief executive officer of PropNex Realty Ismail Gafoor said the increase in grant amounts could further spur demand for resale flats, keeping resale prices firm.
MND said on Thursday that resale transactions are "determined on a willing-buyer-willing-seller basis".
"Sellers who raise their asking prices might run the risk of pricing themselves out of the market as buyers remain price conscious, given the high interest rates and uncertainties in the global economy," it added.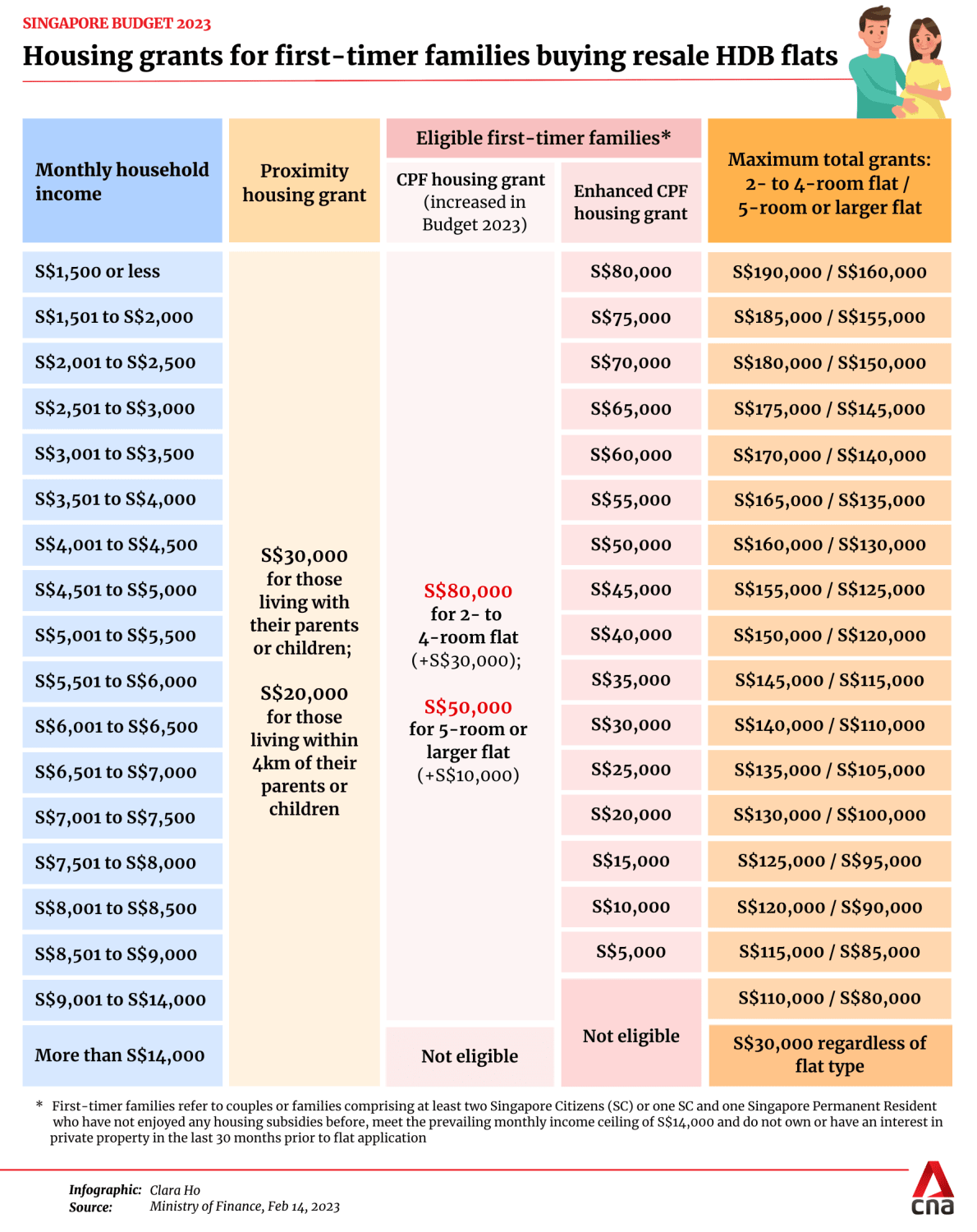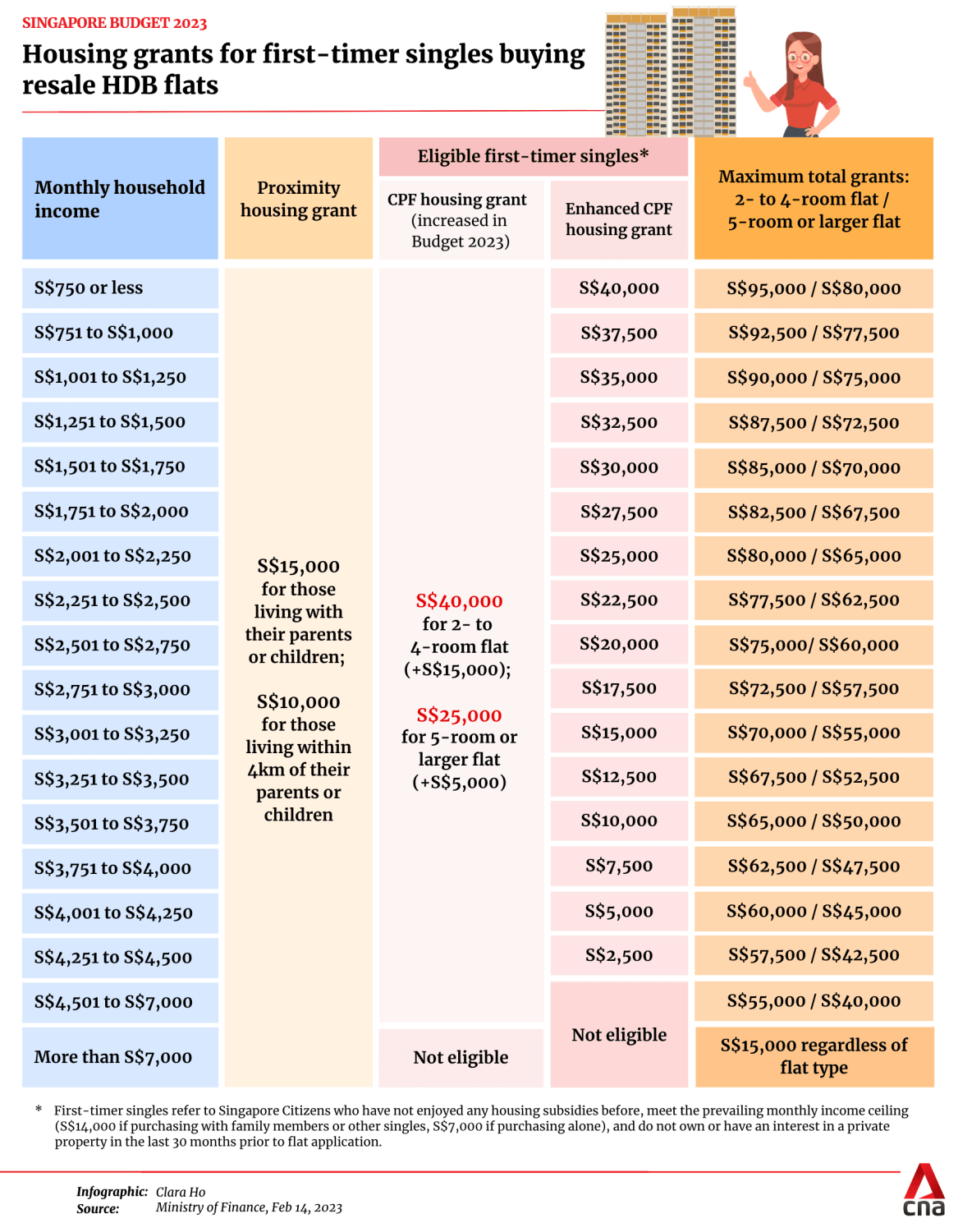 Prices for resale HDB flats rose 2.3 per cent in the fourth quarter of 2022.
Although it was the slowest increase in 2022, it was also the 11th consecutive quarter that the resale price index has risen. The index, which reflects the general price movements in the resale market, grew to 171.9. 
"We recognise that the increase in resale prices has caused some anxieties among these (first-timer)  home buyers," said MND.
"While we have responded decisively with two rounds of cooling measures in December 2021 and September 2022 and are seeing early signs of moderation, these measures will take time to work through the market." 
Last September, the Government introduced a slew of property cooling measures, including a 15-month wait-out period for private home owners who want to buy HDB resale flats. 
The measures include tightening the maximum loan quantum limits. For HDB loans, the loan-to-value limit was lowered from 85 per cent to 80 per cent.
"The Government will continue to monitor the resale market closely to ensure it is in line with economic fundamentals, and will act decisively, if needed," said the ministry on Thursday.
"More details on the changes in the housing policies announced in Budget 2023 will be shared at MND Committee of Supply debate."