Housing demand may shift to HDB resale market after Budget grant boost, say analysts
Budget 2023's measures should alleviate some of the concerns of young families getting their first homes, according to analysts.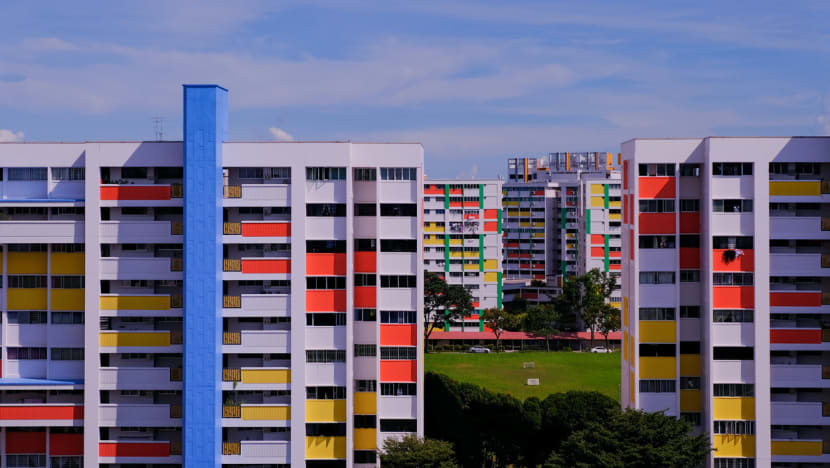 SINGAPORE: First-time buyers urgently looking for homes will get a leg up from Singapore's latest Budget - but the measures rolled out could also further spur demand for flats, property analysts said.
Finance Minister Lawrence Wong announced at Budget 2023 on Tuesday (Feb 14) that the Central Provident Fund (CPF) Housing Grant for resale flat buyers would be raised by S$30,000 to S$80,000, for eligible first-timer families buying a four-room or smaller resale flat.
For first-timer families buying a five-room or larger resale flat, the grant will go up by S$10,000 to S$50,000.
The amount will be halved for first-timer singles, who will get S$40,000 in grants for four-room and smaller resale flats, and S$25,000 for larger resale flats.
In total, with other housing grants, a first-timer family with a household monthly income of less than S$1,500 can get up to S$190,000 to buy a resale flat.
Another measure included in Budget 2023 was the prioritisation of younger first-time buyers and those with children, through additional ballots for their Build-to-Order (BTO) flat applications.
Professor Qian Wenlan, director of the National University of Singapore's Institute of Real Estate and Urban Studies, said Budget 2023 provides additional support for first-time home buyers looking at both BTO and resale flats.
"Given the increasing resale prices and the pandemic-induced delay in housing supply, this will help alleviate the rising cost of home ownership, especially for those less financially ready, and at the same time enhance availability for those who require homes more urgently," she said.
Mr Lee Sze Teck, senior director of research at Huttons, said the two-pronged approach - of increased grants for resale flat buyers, and more ballot chances for BTOs - should alleviate some of the concerns of young families in getting their first homes.
"Some first-time buyers may have a pressing need for a flat and cannot wait for a BTO flat to be completed a few years later," said Mr Lee.
"However resale prices have risen in the last two years and may be out of reach for these first-time buyers. This increase in grants will help to offset the increase in prices and will be a big help to buyers, especially the lower-income groups."
Mr Ismail Gafoor, chief executive officer of PropNex Realty, pointed out that the HDB resale price index rose by nearly 31 per cent between Q1 2020 and Q4 2022.
"We think this is a timely move and the substantial increase in CPF Housing Grant will help flat buyers manage the cost of resale flats by lowering their down payment or lowering the loan amount needed," he said.
He said that with two-room to four-room flats enjoying a bigger increase in grants, this could encourage families to "right-size" their homes, potentially easing demand for five-room or larger flats. 
Analysts said housing grants could also shift some demand to the resale market, away from both BTOs and smaller private properties.
Mr Lee said the HDB resale market's transaction volume could increase to between 26,000 and 28,000, up from an earlier projection of 24,000 to 26,000.
Growth in resale prices may increase to between 8 per cent and 10 per cent, he said, upping his earlier projection of about 5 per cent.
If demand does shift to the resale market, it will also address some of the demand and supply imbalances in the BTO market.
"When this happens, the lowered BTO demand, additional ballot chance and increased BTO supply may improve the chances of first-time buyers getting a BTO flat," said Mr Lee.
Mr Gafoor also said the increase in grant amounts could further spur demand for resale flats, keeping their prices firm.
For first-timer singles with the option of purchasing either a larger HDB resale flat or a smaller, private non-landed unit, the additional CPF housing grant could also channel demand from the private residential market to the HDB resale market, said Ms Chia Siew Chuin, head of residential research at JLL Singapore.
Associate Professor Yu Shi Ming from the Department of Real Estate at NUS Business School summed it up thus: "While this announcement is certainly welcome by young families wanting to buy their first home, it may bring effects that are counter to the objectives of helping young families."
He said increased government grants would give buyers a wider choice of resale flats and more capital to buy a larger or better-located flat. Sellers, on the other hand, would consider such financial assistance and increase their asking prices.
"As it is, we have seen the resale HDB prices setting new peaks," he added.
"This latest announcement may lead to the continuing trend, despite the various cooling measures introduced recently."