'Strong Singapore core' crucial against external influences that seek to divide the country: President Halimah
Speaking at the S Rajaratnam Lecture, Mdm Halimah Yacob says Singapore's diversity as a multiracial and multireligious society must be protected.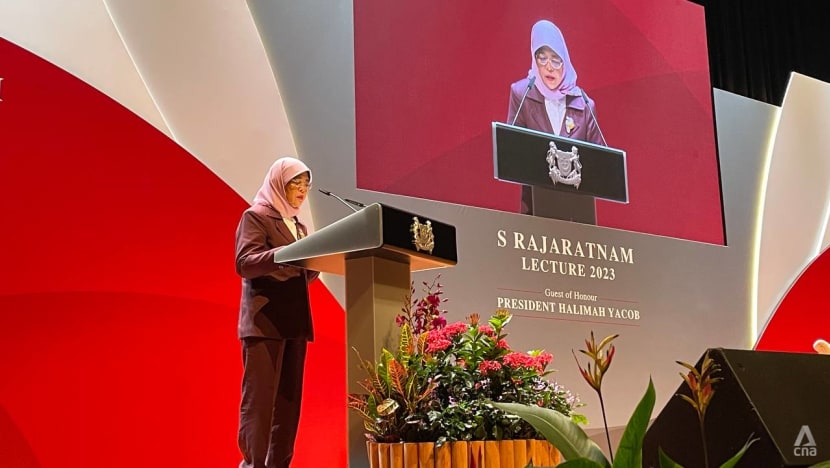 SINGAPORE: A strong Singapore core is crucial to guard against external influences that seek to divide the country, President Halimah Yacob said on Friday (Jun 9) at the S Rajaratnam Lecture.
The event, organised by the Ministry of Foreign Affairs, is held every two years and touches on matters of diplomacy.
Speaking to an audience of more than 800 that included public officers, diplomats and academics, Madam Halimah said natural fault lines in a society like Singapore can easily be exploited.
"Disinformation and misinformation can spread easily in an open and digitally connected country, through social media and instant messaging applications," she said.
"We must be discerning enough to call out half-truths or one-sided views peddled on social media that are packaged as news."
Beyond legislation to tackle falsehoods, people must be sceptical of what they read and reflect on who might stand to benefit from it, she added.
Mdm Halimah's lecture comes two weeks after she announced that she would not run for a second term in the upcoming Presidential Election. Her term ends on Sep 13.
Senior Minister Tharman Shanmugaratnam is the first person to state publicly that he intends to run for the presidency.
STRENGTHENING DOMESTIC RESILIENCE
Amid a troubling external environment, Singapore's unity as a nation and its resolve to stand together is even more critical, said Mdm Halimah.
Pointing to COVID-19, she said the pandemic underscored the importance of resilience.
"Singapore was successful in managing the pandemic because Singaporeans trusted the government," she said.
"Our people closed ranks and played their part to keep each other safe by complying with safe management measures," she said, adding that the country's robust healthcare system and safety nets built over many years also made a crucial difference.
While strengthening resilience and trust within society will allow the country to respond nimbly in an increasingly uncertain external environment, Mdm Halimah noted that there will be challenges as society matures. 
To build resilience, she said it is essential for all Singaporeans to feel that they have a stake in its future, adding that this is the main purpose of the Forward Singapore exercise.
The year-long exercise, which aims to "review and refresh Singapore's social compact", was launched by Deputy Prime Minister Lawrence Wong in June 2022.
In addition to maintaining the trust of the population, Mdm Halimah said the public service and the government must also continually work towards a society that is fair and inclusive, and which is able to adapt to changing circumstances.
"This means re-examining fundamentals to ensure that our system of meritocracy does not result in an entrenchment of privileges and advantages," she said, noting that it is important to continue investing in education and skills training.
She also urged people to be proactive in finding common ground with others.
"We must remember that our diversity as a multiracial and multireligious society is our strength. We must protect this," she said. 
NEW OPPORTUNITIES, SAFEGUARDING NATIONAL INTEREST
While the global landscape is increasingly complex and uncertain, Mdm Halimah said there remain bright spots on the horizon for Singapore.
This includes seizing new opportunities in Southeast Asia in emerging areas such as the green and digital economies and capitalising on the accelerated pace of growth in emerging markets such as Africa and Latin America.
Concluding her speech, Mdm Halimah said the primary task of Singapore's foreign policy is to safeguard and advance the country's national interest.
"Our survival depends on making friends and establishing close relations with the rest of the world in pursuit of common interests," she said, adding that issues like climate change, global health and cybersecurity require global cooperation and innovative solutions.
"We must continue to advocate for dialogue and engagement to achieve peaceful solutions, instead of war or conflicts where there are no winners."
She added that everyone has a part to play in making Singapore strong and stable.
"To be able to protect and advance our interests internationally, we need a strong, resilient, and cohesive Singapore so that our voice matters when we speak," she said. 
"Singapore's stability and cohesion have allowed us to protect and advance our interests over the past 58 years despite the ever-evolving geopolitical realities." 
"This is not solely the work of policymakers and diplomats. All Singaporeans have a part to play in making Singapore strong, stable, and cohesive," she added.