More polling stations and active officials for Presidential Election 2023: ELD
A new X-stamp will also be introduced at the upcoming Presidential Election.
SINGAPORE: More polling stations and other improvements to the voting process will be rolled out for the 2023 Presidential Election, if it is contested.
The Elections Department (ELD) said on Monday (Jul 24) that it will increase the number of polling stations from 1,097 to 1,264.
With 167 – or 15 per cent more – polling stations, the number of voters allocated to each station will go down from an average of 2,400 to 2,150 people.
In addition, polling stations will have more registration and ballot paper counters to reduce voters' waiting times, said ELD. It expects the number of active election officials to go up from 30,000 to 36,000.
These improvements draw on the lessons from the 2020 General Election, ELD said.
In 2020, voting time was extended to 10pm on polling day as long queues and delays at some stations meant that some voters could not vote by the original closing time of 8pm. 
ELD said then that delays in the voting process were due to insufficient resources at large polling stations and COVID-19 precautions such as temperature taking and hand sanitising. A requirement to don gloves was dropped early on to reduce wait time.  
Voters will also have a more convenient way to check online for the queue situation at their polling station. They will be able to visit the voting queue status website by scanning a QR code on their poll card, which will be mailed to them after Nomination Day, if the election is contested.  
ELD is also replacing the X-pen, which was introduced in GE2020, with the X-stamp. ELD said that most voters used the X-pen correctly – by stamping it on the ballot paper – but some voters mistook the X-pen to be an actual pen and tried to write a cross with it.
To avoid any confusion, the X-stamp is "wider and more clearly intended to serve as a stamp".
Three candidates have announced their intention to contest in the upcoming Presidential Election – former Senior Minister Tharman Shanmugaratnam, businessman George Goh and former GIC chief investment officer Ng Kok Song.
POSTAL VOTING FOR OVERSEAS SINGAPOREANS
ELD also gave more details about the postal voting process for overseas Singaporeans, which will be used for the first time if the election is contested.
For overseas voters, they must have resided in Singapore for at least 30 days in the last three years to be eligible to vote. They can choose to vote by post or in-person at one of 10 overseas polling stations.
The law was recently amended so that Singaporeans can qualify for overseas voting as long as they have resided in Singapore for the minimum period in the three years preceding the date of registration to be an overseas voter. Previously, they would have to meet this requirement by the date of the revision of the Registers of Electors, which is Jun 1.
Registration for overseas voting is currently open and will close on the second day after the Writ of Election is issued. Voters have to submit a wet-ink signature at the point of registration which will be matched with their signature on the return envelope containing the ballot paper.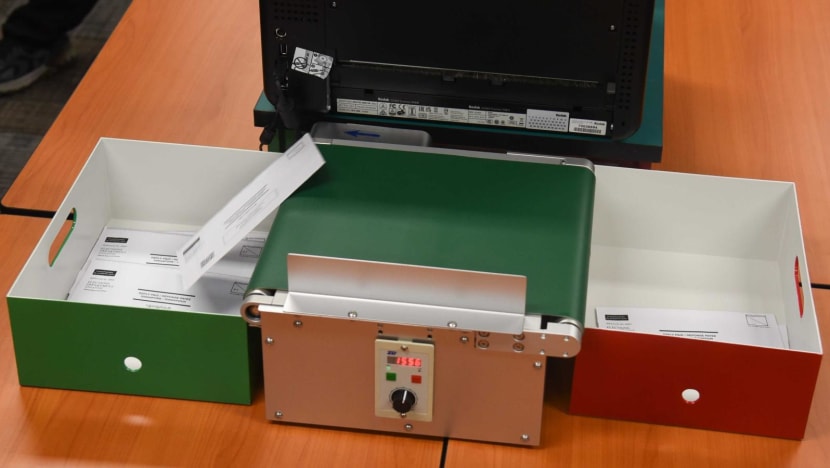 ELD reminded postal voters that their return envelopes containing the marked postal ballot papers need to reach the returning officer in Singapore no later than 10 days after Polling Day. The envelopes also need to be postmarked by the eve of Polling Day to ensure they are cast before the results of the local vote count are known.
During a trial, ELD found that some return envelopes did not bear a postmark. It thus encouraged postal voters in certain jurisdictions to consider affixing postage stamps on their return envelopes to avoid this. 
Postal voters should also mail in their ballots early, said ELD, as some envelopes took more than 10 days to reach Singapore.
When the postal ballots reach Singapore, the envelopes that cannot be counted will be sieved out. These include envelopes which are torn or those with late postmarks.
Each will then be authenticated using a unique QR code printed on it and by matching the signature on the envelope with the one submitted at registration.
The election is expected to be called soon as President Halimah Yacob's current six-year term ends on Sep 13. The revised registers of electors is now open for inspection.