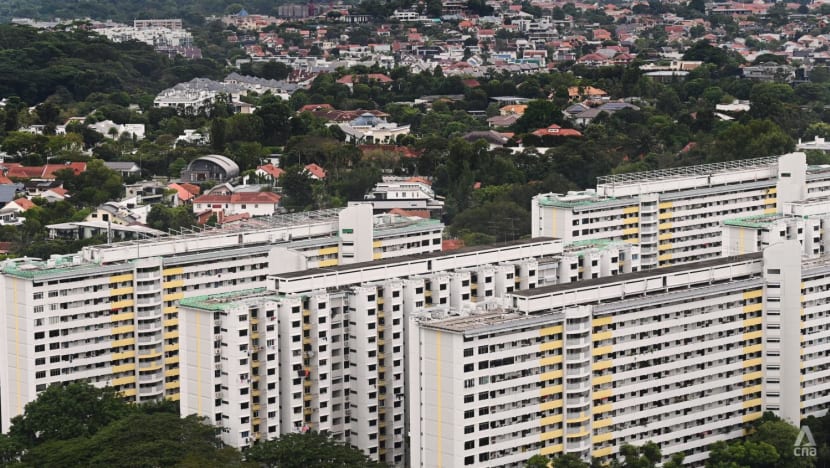 SINGAPORE: Prices for both HDB resale flats and private residential properties rose at a faster pace in the second quarter of this year, according to flash estimates by the Housing and Development Board (HDB) and Urban Redevelopment Authority (URA) on Friday (Jul 1). 
Resale HDB prices rose 2.6 per cent in the second quarter, compared with 2.4 per cent in the first quarter.
The resale price index, which provides information on the general price movements in the resale public housing market, rose from 159.5 to 163.7, the estimates showed.
Meanwhile, private home prices rose 3.2 per cent in the second quarter, almost five times that of the 0.7 per cent increase in the first quarter. 
MILLION-DOLLAR FLATS
Analysts said the continual price growth in the HDB resale market does not come as a surprise as buyers' confidence has improved substantially amid the economy reopening.
"Our economy is almost fully reopened and growth has picked up faster than in many other countries," said OrangeTee & Tie's senior vice president of research and analytics Christine Sun.
She added that the public housing market is usually less susceptible to macroeconomic fluctuations, and that critical drivers such as Singapore's employment rate and income growth remain healthy, keeping demand stable.
Additionally, as Build-to-Order (BTO) construction delays persist, first-time buyers who are unwilling to wait out long completion times are also turning to the secondary market, said Dr Tan Tee Khoon, Country Manager, PropertyGuru Singapore.
Some buyers are also chasing after the limited supply of 5-room and larger flats in the resale market, said Mr Lee Sze Teck, senior director of research at Huttons' Asia.
This has pushed up the prices of such flats and caused more to cross the million-dollar price in the second quarter, he said.
"As of 2Q 2022, there are an estimated 165 million dollar flat transactions. This is more than 60 per cent of 2021's million-dollar flat transactions. There could be more than 300 million dollar flats in 2022," said Mr Lee.

In the private sector, the price growth was strongest in the Rest of Central Region (RCR), which rose by 6 per cent in the second quarter, reversing the previous quarter's 2.7 per cent fall, URA data showed.
Prices in Outside Central Region (OCR) rose at a slower pace of 1.7 per cent, compared to the 2.2 per cent increase in the previous quarter, while those in the Core Central Region (CCR) rose by 1.6 per cent, up from the 0.1 per cent decline in the previous quarter.
Prices were boosted by a surge in launches, with units sold at higher benchmark prices, said analysts.
"This uptick in price growth (in the RCR) was largely attributable to new project launches in the city fringe in May - Liv@MB and Piccadilly Grand - which set new benchmark prices, as developers held firm on their asking prices amid higher construction costs and low unsold inventory," noted Ms Tricia Song, head of research, Southeast Asia, CBRE.
Ms Catherine He, head of research, Singapore at Colliers, added that upcoming mass-market launches over the next few months such as Sceneca Residences, Lentor Modern and AMO Residences are likely to continue to attract upgraders and genuine demand, which will continue to support price growth
"The cooling measures introduced in December 2021 seem to be a distant memory, with Q2 2022 preliminary numbers demonstrating the strong purchasing power of buyers on the back of tight employment and a healthy economy," said Ms He.
The flash estimates are compiled based on transaction prices given in contracts submitted for stamp duty payment and data on units sold by developers up till mid-June.
URA will release its full set of updated real estate statistics for the second quarter of 2022 later this month. 
In an update on upcoming sales launches, HDB said it will offer in August about 4,900 BTO flats in areas such as Ang Mo Kio, Bukit Merah, Choa Chu Kang, Jurong East, Tampines and Woodlands.
In November, about 9,500 BTO flats in areas s such as Bukit Batok, Kallang Whampoa, Queenstown, and Yishun will be made available. 
"This number is subject to review as more project details will be firmed up closer to the launch date," it added. 
"HDB will continue to monitor the housing demand and adjust the plans where necessary."