Commentary: Why buy a S$1 million HDB resale flat instead of a private condo?
Executive flats in Woodlands selling for more than S$1 million raised concerns about housing affordability, but there's good reason why those flats fetched such a hefty price, says PropNex CEO Ismail Gafoor.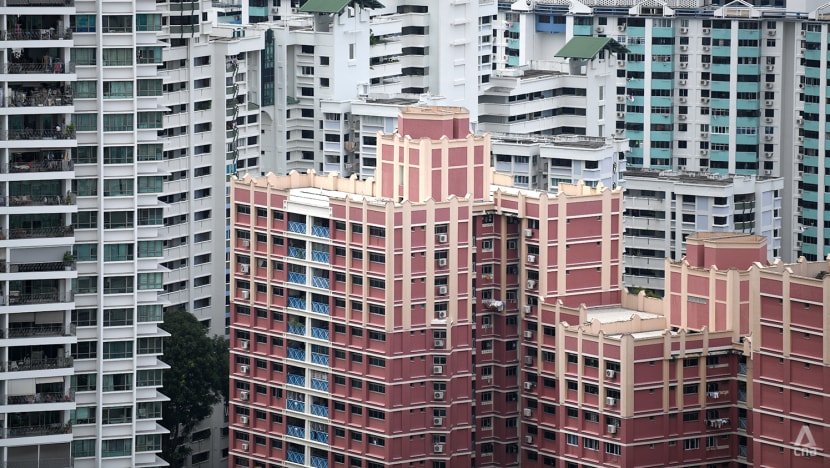 SINGAPORE: When two Housing Development Board (HDB) executive flats in Woodlands sold for more than S$1 million in May, netizens expressed concerns about the affordability of housing for younger generations.
While many in Singapore have come to terms with certain flats commanding a resale value of over S$1 million, seeing these deals in non-mature housing estates could disquiet families looking to buy a resale flat.
It is not unusual for so-called million-dollar HDB resale flat transactions to pop up in mature estates. In fact, these have shown up with more regularity than in the past, with 135 such deals already done in the first five months of the year – up from 87 in the January to May period a year ago. At least 14 such resale flats changed hands in June, according to transaction data.  
In 2021, the number of HDB flats resold for at least S$1 million hit an all-time high at 259, representing a three-fold jump from the 82 resold in 2020.
There's a key reason behind the Woodlands executive flats' hefty price tag: Floor space.
Introduced in 1984 and phased out in the early 2000s, executive flats are a rarity today. They offer generous floor area compared to the average 5-room flat, which tend to be below 120 sq m (1,290 sq ft). Hence some buyers are willing to stump up S$1 million for such flats.
Five resale HDB flats – all executive flats – in non-mature towns of Yishun and Woodlands were transacted for at least S$1 million so far this year. Among them, three units were sold in May. Prior to these deals, the last time a resale flat in a non-mature estate was sold for S$1 million was in 2018 for a 177 sq m maisonette in Hougang.
The executive flats resold are on the larger side, with four of them exceeding 180 sq m (1,937 sq ft). Location likely helped boost the values of these flats. They are just minutes away from the closest MRT stations and numerous amenities, being in well-established towns.
Given these advantages, buyers probably did not mind the flats being older, with a balance lease ranging from 68 to 71 years.
HOW A PRIVATE RESALE CONDO STACKS UP
These million-dollar resale flat deals raise the question: Should buyers have bought a comparable private home for that price instead?
The short answer is, not likely if they are looking at a large unit of over 180 sq m.
Based on URA Realis caveat data, a budget of about S$1 million would enable the buyer to purchase a resale condo ranging from 96 to 123 sq m (1,033 to 1,324 sq ft) in Woodlands in 2022.
Meanwhile, in Yishun, a similar budget would get the buyer a resale apartment sized between 86 and 112 sq m (926 to 1,206 sq ft) this year.
The same is true at a project level. Looking at the average sizes of resale condos sold in Woodland and Yishun from S$1 million to S$1.1 million in 2022, Parc Rosewood in Woodlands had the largest average size at 120.5 sq m (1,297 sq ft).
For a buyer to get a resale condo that is of a similar size or larger than the HDB executive flat, it would cost substantially more than S$1 million. In 2022, the average transacted price of units sized 180 to 200 sq m at Rosewood in Woodlands was S$1.8 million while that in The Miltonia Residences was S$1.9 million.
Rosewood, Parc Rosewood and The Miltonia Residences are all 99-year leasehold properties. Should the buyer be looking for a freehold development, they would certainly need to fork out more for the apartment. In any case, there are fewer freehold residential properties in the suburbs compared to the central region.
Private home buyers are also not eligible for public housing subsidies. Therefore, if a buyer wants such a sizable home at the S$1 million price point, the HDB resale market would provide more options compared to the private residential one. 
HDB RESALE FLATS LARGELY REMAIN AFFORDABLE
Keeping in mind these considerations of floor space, location and property type, are HDB resale flats still affordable? After all, HDB resale prices have been on the rise for the 23rd consecutive month as of May.
But the rise in prices is also a reflection of demand exceeding supply, as the HDB resale market runs on open market fundamentals.
In the last two years of the pandemic, work-from-home arrangements led some buyers to look for larger flats, while delays in project completion due to construction manpower constraints encouraged others to pick a resale unit instead of a new build. Some people who have been priced out of the private residential market may have bought an HDB resale flat instead.
In Singapore, there are financial safeguards to ensure buyers do not overstretch themselves. For HDB flats, measures such as the Mortgage Servicing Ratio (MSR) – which caps the amount that may be spent on home loan repayments to 30 per cent of the borrower's gross monthly income – help support financial prudence.
Buyers are also less likely to be affected by rising interest rates. For those taking an HDB loan for their flat purchase, the applicable interest rate is still pegged at 0.1 per cent above the prevailing Central Provident Fund (CPF) Ordinary Account interest rate at 2.6 per cent.
Assuming a young couple took an HDB loan to buy a resale flat priced at S$600,000, they would be looking at a monthly loan repayment of S$2,314 based on a loan tenure of 25 years and an interest rate of 2.6 per cent.
This repayment sum can be paid for in a combination of cash and CPF monies, or fully by CPF depending on their CPF Ordinary Account amounts eligible for home financing. Taking a 30 per cent MSR, the couple will need to draw a combined monthly income of S$7,713 (or S$3,856.50 each).
In addition, the Government offers housing grants for resale flats, particularly for first-time buyers and those looking to stay close to their parents or married child.
Taking into account these measures, we believe HDB resale flats generally remain affordable to a large segment of the population.
While million-dollar HDB resale flats grab headlines, the reality is that these are still the exception rather than the norm, accounting for a small fraction of overall transactions. In 2021, the 259 million-dollar flats only made up 0.8 per cent of total resale transactions.
For 2022, PropNex expects overall HDB resale prices to rise at a slower pace of 6 per cent to 8 per cent compared to the 12.7 per cent growth in 2021. This is because price-sensitive buyers would start to resist paying higher and higher prices, especially given rising interest rates, inflationary pressures and economic headwinds.
Ismail Gafoor is CEO of Propnex.