'I feel very fresh': The former gangsters in prison getting their tattoos removed for free
Inmates who renounce their gangs in jail can get their tattoos lasered off at no cost, an initiative that the Singapore Prison Service says will help them reintegrate into society.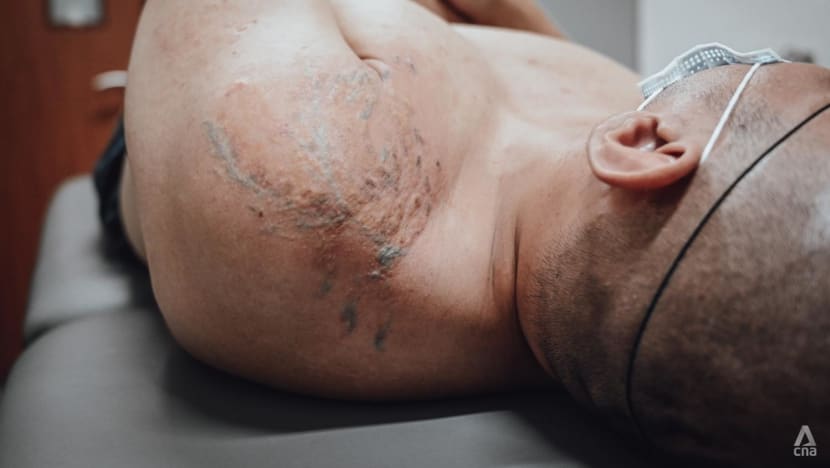 SINGAPORE: In July next year, Sophian (not his real name) will again be a free man.
The 35-year-old inmate renounced his gang in prison in April last year, determined to make this latest seven-year sentence for drug-related offences his last.
He wanted to start afresh, free from the gangster lifestyle that he said influenced him to riot and take drugs, and more importantly, to make amends to his 11-year-old daughter whom he feels guilty about after spending so much time apart.
But there remains an indelible mark - a small black Greek alphabet that is the symbol of his gang - on his left wrist, permanently tying him to the life he is trying to escape.
"I just want to be clean from my tattoo," he told CNA on Sep 14. "I just don't want people to see me (and think) this is a gangster type of person."
This is where the Singapore Prison Service (SPS) offers free tattoo removal for inmates who have gone through its gang renunciation programme, launched in 2009 to help them avoid getting involved with gangs during incarceration and after release.
Inmates renounce their gangs during a ceremony attended by family members, prison management and staff, volunteers, as well as other inmates, a move that SPS said helps "cement" their commitment to leave their gangster life behind.
Likewise, the tattoo removal service helps inmates reinforce their new identity and signal to gang members that they want to move on, said Ms Sarah Lavinia Joseph, a senior psychologist with SPS.
"This could demonstrate an increased agency in pursuing pro-social endeavours, and help them stay away from their gangs and old social circles, both in prison and after their release," she said.
SPS said the service also helps inmates erase labels of gang identity as well as boost their employment prospects and reintegration into society.
"There's still a stigma, especially with tattoos and secret societies, and people with gang backgrounds can recognise these tattoos," said Rehabilitation Officer Kenny Seah, 42, who has worked in the prison for 17 years, including with inmates who were gangsters.
More than 10 volunteer doctors, mostly dermatologists in private practice, take turns to conduct weekly clinics in prison to remove inmates' tattoos. About 600 inmates have taken up the service since its launch, SPS said.
CNA was given exclusive access to witness this procedure.
JOINING A GANG
This move has been years in the making for Sophian, who as a secondary school student in 2002 joined a gang for protection, thinking it was cool.
He soon found himself in a world of crime. A stint in a reformative training centre for rioting soon followed, his first of many brushes with the law.
In 2011, Sophian had his first child, which made him want to change his ways. But the bad company he kept meant he quickly returned to a lifestyle of drugs and, consequently, a life behind bars.
"Inside I realised that it was not good for me to continue this way. If I continue this way, I will end up inside again. So, I need to stop this," he said.
"I've been so close to my daughter and suddenly I'm apart from her. I also sometimes feel lost and feel like I did something bad."
Gangs in prison
Among the inmates who entered prison from 2017 to 2021, an average of 21 per cent each year had gang affiliations.
SPS said the gang renunciation programme was implemented in 2009 to "motivate" inmates to challenge the gang subculture and revoke their affiliations. More than 1,500 inmates have taken part so far.
Rehabilitation Officer (RO) Kenny Seah said inmates with gang backgrounds could disrupt the security in prison if they bring in unresolved gang-related tensions.
But SPS said the decision to renounce gangs is never easy, pointing out that gangs provide people - especially those from less ideal backgrounds - with a false sense of identity and belonging.
Inmates might fear feeling isolated as they have been in a so-called community of a gang and depended on it for survival by earning money through crime, RO Seah said.
Still, inmates are gradually introduced to gang renunciation from the moment they are remanded, and those who are keen will have their concerns addressed and suitability assessed.
"We step in ... to actually shift their mindset that without gangs, you can still move on, you can still survive, you can still change and be a better person," RO Seah said.
After the renunciation ceremony, inmates will be monitored and supported by officers to ensure they do not face reprisal from former members, SPS said.
"We have a dedicated group of officers who actually talk to them to look into their (well-being). If there is any issue, they can look for the officers for help," RO Seah said.
They are also placed on rehabilitation programmes to learn social and coping skills to stay gang-free, including a support group for ex-offenders and family programmes to rebuild ties.
Sophian knew about the gang renunciation programme from his early stints in prison, having witnessed other inmates go through it. But he had concerns about doing it himself. Some gang members in prison were openly against it, and he feared they would beat him up.
But Sophian eventually decided to make a "bold" stand for himself. "It's my decision," he said. "I don't care if they want to approach me. I will just talk to them."
Sophian said he felt liberated after renouncing his gang. "I feel good," he added. "When I'm in a gang, other people's problem is my problem. But now I am alone - my problem is my problem."
MORE PAINFUL THAN GETTING A TATTOO
While Sophian was confident that removing his tattoos would give him a similar feeling of being free, the actual process did not feel as good.
His first session was a few weeks ago - inmates could attend multiple sessions weeks apart depending on the size and type of their tattoos - and he said he did not expect it to be that painful.
"I was quite nervous," he said. "It was very painful. More painful than doing a tattoo, because you need to endure the heat of the laser."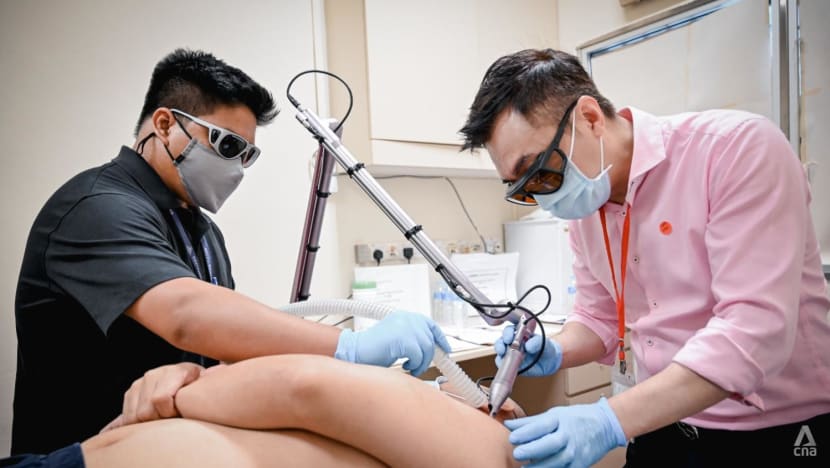 Dr Elias Tam, an aesthetic doctor who has volunteered at the prison for a decade, said tattoos are removed by directing a laser into the skin.
Powerful blasts of energy from the laser break up the tattoo pigments into tiny fragments, which are eventually absorbed into the bloodstream and safely passed out of the body.
"That process, because of the 'explosion', is a little bit uncomfortable," explained Dr Tam, 53.
Inside the Changi Prison medical centre, Sophian and three other inmates prepared for the procedure in a holding room by taking off their white prison-issue shirts and applying numbing cream on their tattoos.
A few doors down past the faded walls, in a room marked for tattoo removal with warnings about laser radiation, Dr Tam familiarised himself with a new S$65,000 laser machine that the SPS had rented to replace an age-worn predecessor.
Sophian felt the first session did not do much as his tattoo was still pretty visible. "It's still dark so they need to up the volume (of the laser)," he said, mentally preparing himself for the pain.
But Dr Tam said a patient's skin colour could affect the strength of the laser used, pointing out that those with darker skin could be more susceptible to discolouration or scarring.
"We don't want that to happen, so you may then therefore have to go lower power and do more sessions," he said.
Other factors include the type of tattoo ink used and how deeply etched it is. Metallic ink embedded deep in the skin will take much longer to remove, Dr Tam said.
He pointed out that patients usually wait six to eight weeks between sessions for their body to remove the broken tattoo pigments in the upper layers of the skin, before the laser can penetrate deeper to hit the rest of the pigments.
The ink colour plays a part too. Dr Tam said that black, blue and red ink is easier to remove, while green and yellow ink needs to be removed using a laser with a different wavelength and power.
CRACKING SOUNDS
It was soon Sophian's turn to go. He entered the room and was greeted by Dr Tam, who confirmed his personal details against an official prison form. Dr Tan checked Sophian's tattoo, asking him about his previous session and how his skin reacted.
"We want to know how they responded to the previous session. Was there a lot of discomfort especially like blisters and infection, so we know if we should use the same power, lower the power or increase the power," he said.
Everyone in the room, including the prison officer escorting Sophian and an SPS assistant helping Dr Tam, put on protective shades against the blinding laser. Sophian himself wore white protective goggles that looked like eyeballs.
The inmate sat on a chair and stretched his arm out, readying himself for the procedure. The door was shut, and a red blinker flashed outside.
From a machine with an extendable arm that would not look out of place in a dental clinic, Dr Tam pulled a probe close to Sophian's tattoo, a red laser pointer on his skin. Dr Tam stepped on a pedal and traced the tattoo's outline as a sharp cracking sound whipped intermittently through the room.
Dr Tam's assistant held a plastic hose near the probe to sweep up any dead skin. Behind the goggles, Sophian closed his eyes and looked away, steeling himself against the pain.
After about five minutes and a series of cracks, Dr Tam was done. Sophian thanked him and left the room escorted by the prison officer. His tattoo was still visible but noticeably lighter.
"The tattoo is a bit faded; I can see the improvement," he said. "I just want to scrape it out."
DRAWING A LINE
Another inmate Brian (not his real name), who attended a session on the same day, was pleased with the results too.
The 39-year-old had a large coloured tattoo, spanning his left chest and shoulder, of gang slogans and symbols from his time as a gang member working in the funeral sector.
Brian was promised more opportunities to earn money after joining the gang, saying that his tattoo signified the strong bond he shared with his "brothers".
"After joining them, I started to know about drugs and all the bad things," he said. "It was fun because there's love. The love is not from family but from my friends outside."
In 2015, Brian was arrested for drug trafficking and sentenced to 19-and-a-half years in jail. The brothers whom he thought cared about him stopped contacting him. They did not even check in with his family.
"I started to realise that I was on the wrong path," he said.
Brian renounced his gang in 2016, eager to sever ties and prove to his family that he could make things right. He is slated for release in 2028.
Before-and-after pictures show a large portion of Brian's tattoo has been wiped off, except for stubborn blotches of green and yellow on his shoulder. He has attended more than 10 tattoo removal sessions in prison since 2016.
"I want to clear my tattoo to draw a line with all my friends that I want to stay clean, and let my family know that I really want to change," he said.
Brian recalled the "terrible" pain he felt during his first session, describing it as a burning sensation on his skin. But he said it was worth it and that he felt rejuvenated looking at the results. "I feel very fresh," he said.
During visits, Brian sometimes shows the progress of his tattoo removal to his mother, adding that she is pleased with it and encouraged him not to mix with the same friends upon release.
"It's a good chance to laser it off and some more it is free. So, I grabbed it," he said.
MILESTONE TO START OVER
Dr Tam said tattoo removal outside could cost between S$50 and S$100 a session for a small tattoo, while a larger tattoo could set patients back more than S$1,000 a session.
A small and easy-to-remove tattoo, such as a mark over the eyebrow, could take three sessions to remove, while larger and more difficult tattoos could take up to 30 sessions.
Beyond the cost and time needed, Dr Tam pointed to a greater significance for inmates who remove their tattoos: A "milestone" for them to start over.
"Whether we completely remove it is one thing, but when the people out there see that they have attempted to remove the tattoos, it actually helps people to realise that they are trying very hard to turn over a new leaf and maybe they deserve a second chance."
Dr Tam said he started removing tattoos in prison 10 years ago after first helping students in Singapore do the same for free. The laser machine supplier he worked with was inspired by the project and decided to look into a similar initiative in prison.
"It is a great opportunity to be able to help the inmates - an extension of what I was already doing. So, that's how I got involved," he said.
Dr Tam usually conducts one session lasting a few hours each month depending on SPS' roster. He has lost count of how many inmates he has treated, only saying that he sometimes sees the same faces again and again because they are serving long sentences.
"WHAT'S IN IT FOR THEM?"
But one particular encounter stood out.
Dr Tam recounted how at his clinic, he attended to a patient who turned out to be a former inmate that had his tattoo removed in prison. The man shared his story, saying that he was angry growing up and committed crime after crime, landing in jail multiple times.
"Until a day when he was asked if he would like to have his tattoo removed, he was very cynical. He asked why are they doing this? What is in it for them? You know, there must be something," he said.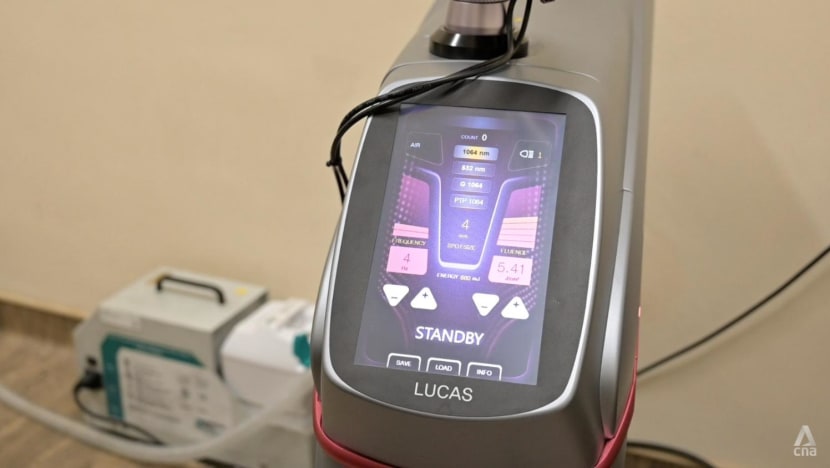 When the man was told that the initiative was purely "pro bono" with the aim of helping inmates, he cried in his cell that night.
"He said why would someone bother to come in to do something for them for nothing in return? He couldn't believe it. After going through it, he actually turned over a new leaf, completed his O-Levels in prison, did well," Dr Tam said.
After release, the man went on to get a diploma, assisted by the Yellow Ribbon Project. He also volunteered at an orphanage, teaching the kids computer programming skills and wanting them to "feel loved" so they would not end up like him.
"Of course, that was very touching," Dr Tam said. "So if nothing else worked, this one case made all our efforts worth it."