Pritam accuses PAP of pattern of engaging in 'half-truths'; PM Lee says opposition chief 'pursuing a red herring'
Mr K Shanmugam and Dr Vivian Balakrishnan also rejected the Workers' Party secretary-general's claims that the PAP obfuscates truth and "selectively applies" sensitivity.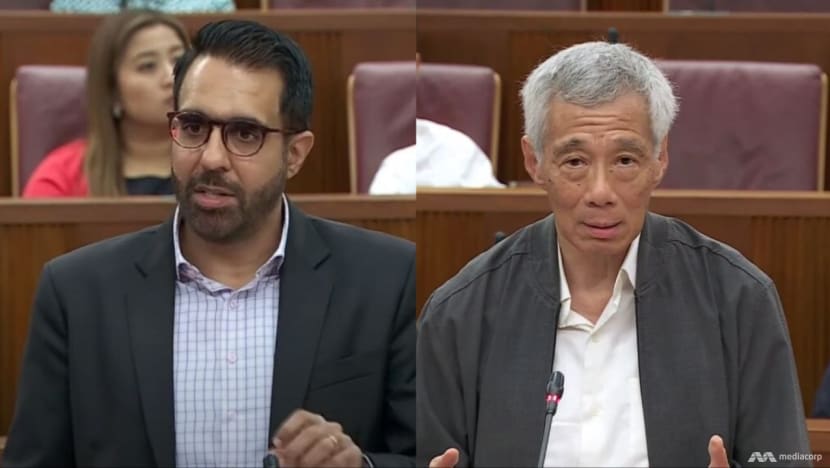 SINGAPORE: Recent political scandals have revealed "a pattern of behaviour" of the People's Action Party (PAP) "engaging in half-truths on matters of significant public interest", charged Leader of the Opposition Pritam Singh on Wednesday (Aug 2). 
In response, Prime Minister Lee Hsien Loong said it would be "pursuing a red herring" to focus on the "transmission of information" about the scandals. "We could equally well ask, for example, when did the Leader of the Opposition know about problems in his party and what did he do about them?" he said. 
"But those are matters which the Workers' Party will have to decide and will have to account to Singaporeans. And the PAP, we establish our own standards and we establish our own practices." 
Earlier, Mr Singh accused the government of either being "slow to clear the air" or "less than upfront" with Singaporeans in dealing with potentially embarrassing issues.
He also referenced the privacy concerns of TraceTogether, the rental of the Ridout Road state properties, former Speaker Tan Chuan-Jin and MP Cheng Li Hui's affair and the corruption probe involving Transport Minister S Iswaran. 
Recent political scandals have revealed "a pattern of behaviour" of the People's Action Party (PAP) "engaging in half-truths on matters of significant public interest", charged Leader of the Opposition Pritam Singh on Wednesday (Aug 2). Tan Si Hui reports.
"Unlike as represented by the PM, these are not events … clustered together, all coming at one go. Instead, they reveal a pattern of behaviour over a period of time of the PAP engaging in half-truths on matters of significant public interest," said Mr Singh.
"I would like to suggest to the Prime Minister, in view of the complexity of government and governance today, it would not be embarrassing for the government to consider the appointment of an ethics adviser." 
During a debate about the Ridout Road review in July, Mr Lee said he "cannot outsource" the responsibility of setting ethical standards to an ethics adviser. 
"READING TOO MUCH INTO TOO LITTLE"
Mr Singh also questioned PAP leaders about Mr Tan and Ms Cheng's affair, which came to light on Jul 17 when they resigned from both parliament and their party.
In a press conference on the same day, Mr Lee told the media that he first found out about the affair after the last General Election held in July 2020. On Wednesday, Mr Lee revealed that he initially learned of the affair in November 2020. 
Mr Singh asked why Mr Tan and Ms Cheng were allowed to be on the same House Committee in 2020 when the Prime Minister was already aware of their affair. 
"Wouldn't their being on the same committee have resulted in more interactions between them than necessary, or given official reasons to be together?" he said. 
He also asked how many overseas trips Mr Tan and Ms Cheng were allowed to take together "at the taxpayers' expense". 
Responding to Mr Singh's question, Leader of the House Indranee Rajah noted that the names for the House Committee were put forward by herself, as the PAP's representative, and Mr Singh was consulted on the nomination of opposition party members.
Since the last General Election, Mr Tan had gone on five official overseas trips and three working trips. Ms Cheng was present on one of the five official overseas trips, to the ASEAN Inter-Parliamentary General Assembly trip to Cambodia in 2022, as one of the 15 MP delegates, said Ms Indranee. 
Ms Cheng did not attend more overseas trips than other MPs, she added. 
During the debate, Mr Lee returned to the topic of the government's disclosure of information in response to Bishan-Toa Payoh GRC MP Saktiandi Supaat who raised questions about Mr Iswaran's arrest.
Stressing again the sequence of events that led to the Corrupt Practices Investigation Bureau's (CPIB) announcement, Mr Lee added that when former Minister for National Development Teh Cheang Wan was investigated by the CPIB three decades ago, it was not announced. 
In this case, CPIB judged that it would be right to announce they were interviewing Mr Iswaran because other people were going to be interviewed as well, said Mr Lee. 
"Therefore, it was not possible for this thing to be kept quiet and it had to be stated upfront. But would they know where the investigation would lead? At that point, no." 
After three days of investigation, CPIB was "comfortable to say" that Mr Iswaran had been arrested alongside property tycoon Ong Beng Seng "because the situation was different", said Mr Lee. 
"I don't think they would know what Mr Ong Beng Seng would say, and it would depend on what had transpired during the three days before Mr Ong put out that statement," he added. "So I think we are reading a lot into very little."
He added: "First of all, nobody knew that Mr Iswaran might or might not have been doing something wrong. CPIB found out, nobody tipped them off. Nobody blew a whistle. Nobody raised a public scandal, no (parliamentary question) ... not even from the Workers' Party.
"But CPIB found out and they told me and they decided to investigate the matter ... and they proceeded. It reached a point where they needed to interview the minister and then they came to tell me and say 'can I have your concurrence', because CPIB reports to somebody. It has to report to somebody. It can't report to God."
THE RAEESAH KHAN CASE
In a debate that lasted nearly three hours, Mr Singh also accused PAP of "selectively" applying standards of sensitivity and expecting Singaporeans to give the party the full benefit of the doubt.
He contrasted how the Prime Minister dealt with Mr Tan and Ms Cheng's affair, but said the Committee of Privileges did not consider sensitivity as a factor in Ms Raeesah Khan's case.
"When former WP MP Raeesah Khan revealed to the WP leaders she was a rape victim, sensitivity was not even considered by the Committee of Privileges in accounting for the delay in addressing Raeesah's lies to parliament," he said.
"The Prime Minister did not bat an eyelid in giving the Leader of the Opposition a sermon on Confucian ethics, morality and shame even though at the material time, he would have been aware of the affair between Speaker Tan Chuan-Jin and MP Cheng Li Hui."
A former MP for Sengkang GRC, Ms Khan resigned from the Workers' Party and as an MP after she lied in parliament that she had accompanied a victim of sexual assault to a police station, alleging that the police mishandled the case. 
Ms Khan said she was a survivor of sexual assault and had heard about the supposed victim's experience at the police station during a support group session she attended.
Minister for Home Affairs K Shanmugam said the committee was "very sensitive" in not describing what exactly happened to Ms Khan, but it was Mr Singh who "insisted" on mentioning "rape".
"When someone stands up here and says: 'We want to be sensitive', I think we need to look back at what each one did. The word 'rape' was insisted upon by Mr Singh. So much for sensitivity," said Mr Shanmugam.
"What was the point in relation to Ms Khan? It was that in August, Mr Singh, Ms Sylvia Lim and Mr (Faisal) Manap were told by her that she had lied in parliament. This is not about rape, this is not about sexual assault. This is about her lying in parliament."
Mr Singh referenced a response by Mr Lee to a question at the press conference about Mr Tan and Ms Cheng, where the Prime Minister said he did not think it was possible to make direct comparisons to former Speaker of Parliament Michael Palmer.
Mr Palmer resigned from his position in 2012 after his affair with a People's Association staff member was revealed.
"I note the PM's reference to such sensitivity, an eminently reasonable approach to take with delicate matters," said Mr Singh, who called upon Mr Lee to explain the differences between both cases.
In response, Mr Lee noted that Mr Palmer's affair involved a staff member with whom he had a "reporting relationship".
"We have to look at how the families respond, what the other circumstances are and that differs in every case. And I do not wish to go into specifics of how the (extramarital affairs) are different, but … suffice to say they are different."
HANDLING OF TRACETOGETHER 
In his speech, Mr Singh also returned to the privacy concerns surrounding contact tracing app TraceTogether.
"During COVID-19, the public was belatedly informed by a minister in this House that his senior Cabinet colleagues were aware by October 2020 that previous government assurances on TraceTogether being solely used for contact tracing were effectively false statements of fact," said the WP chief. 
"Misrepresentations" on the matter were made by the government even before October 2020, and they "stood uncorrected for months", he added. 
On Jun 5, 2020, Foreign Minister Vivian Balakrishnan said in parliament that TraceTogether would strictly be used for contact tracing. He reiterated this point a few days later. 
On Jan 5, 2021, Dr Balakrishnan, who was also the Minister-in-charge of the Smart Nation Initiative, clarified in parliament that while the police can obtain TraceTogether data for criminal investigations, they can only do so by requiring a person involved in the investigation to produce his token or mobile phone. 
The issue of the police being able to obtain such information emerged in parliament two days earlier, when then Minister of State for Home Affairs Desmond Tan told the House that under Section 20 of the Criminal Procedure Code, the police have the power to order anyone to produce any data, including TraceTogether data, for the purposes of a criminal investigation. 
This raised privacy concerns over the national contact tracing tool for COVID-19. 
"The PAP government took almost nine months before it disclosed to Singaporeans that the Singapore Police Force sought to collect TraceTogether data for an investigation in May 2020, even as the PAP continued to assert right through the rest of the year that TraceTogether was only to be used for contact tracing," said Mr Singh. 
Responding to Mr Singh in parliament on Wednesday, Dr Balakrishnan said he takes responsibility for what happened since he was in charge of the programme. 
A member of the public asked him about the matter at the end of October, and he spent November checking on the matter, he added. 
The question was put to Mr Desmond Tan in December, and parliament next sat in January, where it was answered, said Dr Balakrishnan. 
The government then got a certificate of urgency to expedite changes to the legislation in February. "I don't think I delayed or obfuscated, and at all times, I've always been upfront and clean," he added. 
"I have been here long enough. People know the way I operate. So that's why I am objecting to your insinuation that there's any undue delay or any attempt at obfuscation or lack of transparency, that's not the way we do it."