PUB launches S$6.5 million 'carbon zero' challenge to remove emissions from water treatment facilities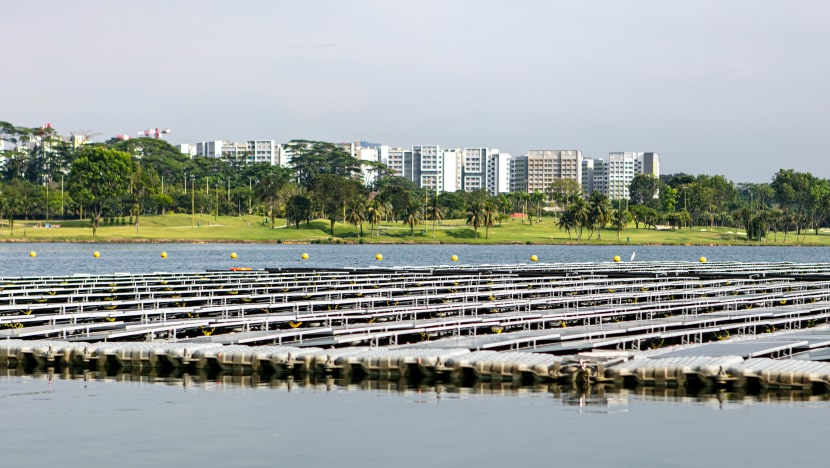 SINGAPORE: As part of its strategy to achieve net-zero emissions by the middle of this century, PUB will award S$6.5 million for "game-changing solutions" that can eliminate carbon emissions from water treatment facilities.
This is the prize purse for the Carbon Zero Grand Challenge, which was launched by PUB on Tuesday (Oct 19).
"The Grand Challenge will seek to incentivise innovative solutions that can help PUB, Singapore's national water agency, achieve net-zero emissions and scale to other water facilities around the globe," it said.
"PUB is seeking carbon capture, utilisation, removal, and other solutions at any technology readiness level that can be integrated with its operations and reach commercial scale within a decade or sooner."
The challenge will be hosted on crowdsourcing platform HeroX, and will seek out solutions from around the world and beyond the water sector, PUB said.
PUB on Tuesday also provided details on its "Replace, Reduce, Remove" strategy to "close the carbon loop". This will involve the implementation of new technologies, the deployment of more floating solar farms and the replacement of diesel-powered vehicles with electric vehicles (EVs).
"As we grapple with the challenges of climate change, it is imperative that we continue to ensure that Singapore's water supply remains resilient but also sustainable," said PUB chief sustainability officer Chong Mien Ling.
"With water demand projected to almost double by 2060, the energy required to produce water is also expected to quadruple if we continue business-as-usual."
The Carbon Zero Grand Challenge is part of PUB's strategy to prevent this from happening.
"Without the luxury of space as a small country, it is important to think creatively and embrace technology," Ms Chong added.
"Through this open innovation challenge, we are inviting researchers and companies from around the world to co-create carbon sequestration and utilisation technologies that can be integrated with PUB's operations."
The challenge will take place over about 45 months, with two phases of competition followed by a pilot-scale demonstration.
In the initial phase, up to six proposals will be awarded S$250,000 each to develop a proof of concept.
"In the proof of concept phase, solvers will showcase how their ideas or solution could be integrated within PUB's operations through a desktop simulation and/or lab-scale study and develop a detailed design for a pilot project," the agency said.
After this phase, up to two proposals will be awarded S$2.5 million each to demonstrate an approximately 1 kilotonne-scale version of their solution at a PUB facility in Singapore.
Proposals can be submitted from Tuesday until Feb 24, 2022, via HeroX.
REPLACE, REDUCE, REMOVE
PUB expects to cut about 60 per cent of its emissions – or 600 kt CO2e/year – by the middle of this century through its ongoing efforts.
These include replacing carbon-based energy sources with solar photovoltaic systems at reservoirs and facility rooftops, and implementing new technologies that can boost energy efficiency and reduce energy use in water treatment processes.
The agency aims to remove the remaining 40 per cent through carbon capture, utilisation, storage and removal solutions that can be integrated with its water treatment facilities.
Following on from the opening of the 60 megawatt-peak (MWp) Sembcorp Tengeh Floating Solar Farm in July, PUB announced on Tuesday that two smaller-scale floating solar farms at Bedok and Lower Seletar reservoirs had begun operations.
"These two floating solar farms, at about 1.8ha in size, are able to generate 1.5MWp each," PUB said.
"PUB currently harvests some 70 MWp solar power from both its land-based installations and floating solar photovoltaic systems which can offset 8 per cent of PUB's annual energy needs."
Feasibility studies for two more large-scale floating solar photovoltaic systems will take place next year, with plans in place to deploy a 100MWp system at Lower Seletar Reservoir and a 44MWp system at Pandan reservoir.
"We will continue to explore and assess suitable sites and facilities to deploy solar photovoltaic systems in an environmentally sensitive manner," PUB said.
On the energy-intensive water treatment front, PUB said that it has been working with industries and research institutes to develop and test next-generation membranes.
These membranes can cut energy requirements in desalination and water recycling by 50 per cent or more.
"We are also constructing energy self-sufficient water reclamation plant (Tuas Nexus) that can utilise rich carbon content in used water to produce more biogas for electricity generation," the agency said.
"On the demand side, we continue to push for water conservation and water recycling among households and industries."
To further reduce carbon emissions, PUB will begin replacing its diesel-powered vehicles with EVs, with the first batch of six to be deployed from next month.
While the Carbon Zero Grand Challenge is aimed at identifying carbon removal solutions, PUB has already begun work in this field with A*STAR's Institute of Chemical and Engineering Sciences (ICES) and the University of California, Los Angeles (UCLA).
"With UCLA, we are exploring the use of electrolysis technology to capture carbon dioxide in seawater to form solid carbonates and hydrogen, as well as a softened stream of seawater that can be desalinated at lower energy," the agency said.
"We are also working with ICES to explore the feasibility of removing carbon dioxide from biogas and carbonising it with waste materials which can potentially be used in the building construction industry or land reclamation applications."