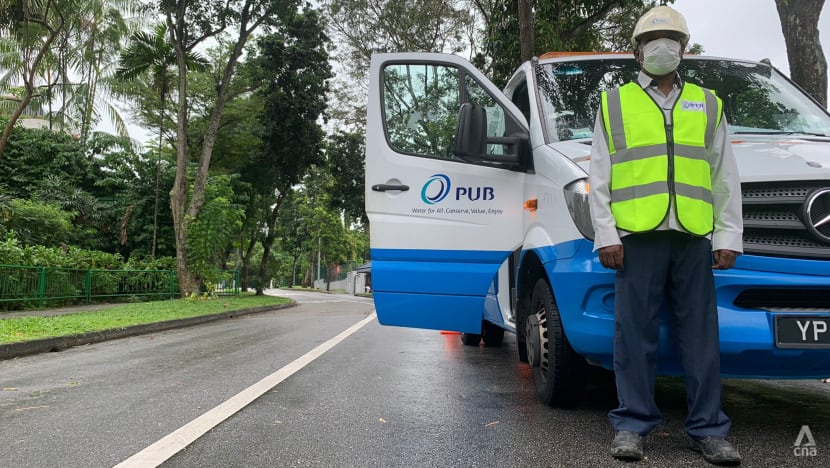 SINGAPORE: The skies were grey and the roads were slick, but Mr Subramaniam Pavaday was on the move.
It was the wettest August in Singapore in more than 40 years. And Aug 30, the day we met Mr Subramaniam, was an exceptionally rainy day.
A higher technician with national water agency PUB's Water Reclamation (Network) department, he had been activated to attend to public feedback. This particular case involved water emerging through a floor trap and flowing into a home. 
"When the owner says (they suspect a) choke, we need to find out and tell them why this happened," explained the 61-year-old.
"If it is a choke, we need to accept that our (sewer) line has been choked. If not choked, we just tell them it's not choked, it's only because of the nonstop heavy rain."
Upon receiving any public feedback, PUB officers like Mr Subramaniam check whether the public sewer is flowing normally, and clear any blockage immediately. If the blockage is in a sanitary pipe within the home, officers will help in stopping the overflow and advise the home owner to hire a plumber to identify the root cause. 
Along with two other workers, Mr Subramaniam spoke to the home owner and examined the floor trap in question. They then lifted the covers of a number of nearby manholes to check for blockages.
The verdict? The particular sewer line was fine – as indicated by the relatively clear water running below. Instead, the overflow could have been caused by excessive rainwater entering the sewerage network through keyholes in manhole covers or unsheltered floor traps.
To allay the concerns of the home owner, Mr Subramaniam promised to do additional checks of the sewer line in future and conduct cleaning if required.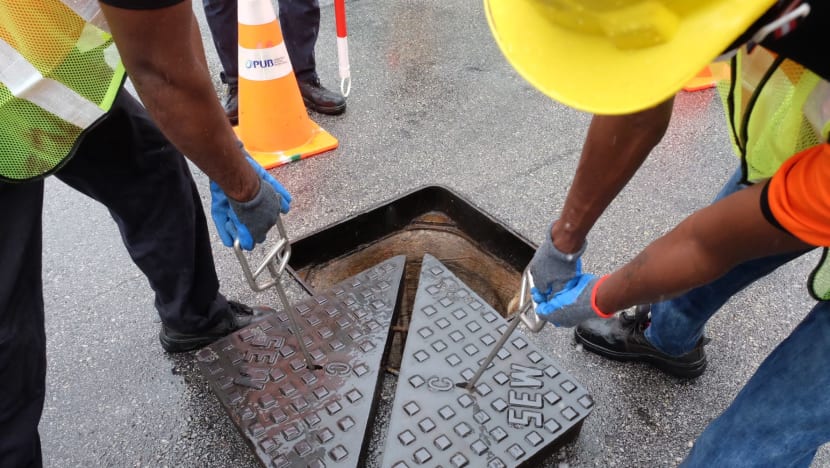 PYTHON IN THE PIPES
A PUB veteran of more than 40 years, Mr Subramaniam joined the company on the urging of his father, who was working for PUB and repaired pipes.
Mr Subramaniam started off with the inspection team, crawling down manholes to check and clean sewers. Armed with torchlights, mirrors and buckets, the tools to carry out the job were rudimentary.
"Open up, just go inside. Just use the rope or use the ladder with the torch," he recalled.
"At first it was very difficult. Last time the (manhole) covers were heavier. And last time we didn't have phones, we just stood there and (used) hand signals.
And there would be all sorts of items in the sewers, ranging from condoms and underwear to mops and tissues.
And while cockroaches, lizards and moths were and still are a common sight, what stuck in Mr Subramaniam's memory is the time he ran into a python.
"We opened up the manhole near the Mustafa (Centre). We needed to clear the grease, and we saw the python sleeping there. We immediately closed it up, called up our officers in the office and told them there is a python there in the manhole.
"Even if it is small, I can tell you it will break you into two pieces. So the police came and carried out the snake, then after that we just did our job."
Mr Subramaniam would later move on to the maintenance side of the job and has been in his current role for 20 years.
In his current job, Mr Subramaniam is involved primarily in the maintenance and inspection of sewers.
Among other tasks, he supervises sewer cleaning, repair operations as well as inflow and infiltration detection. If there is an emergency or a surge in public feedback, he also attends to these cases.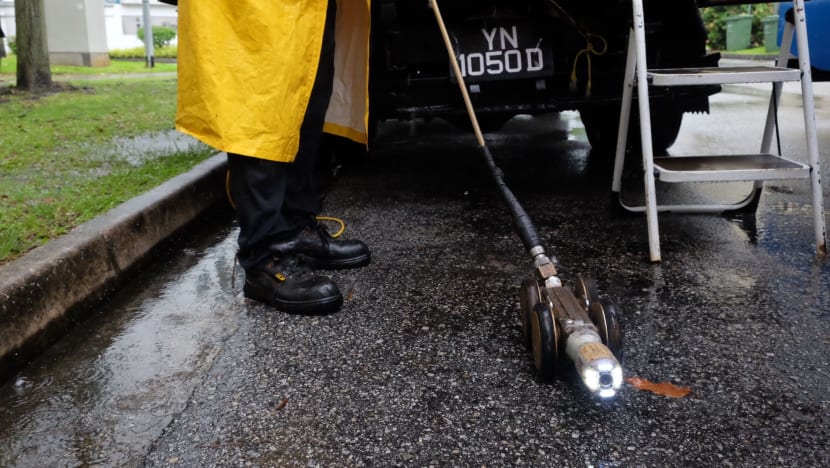 The tools used for the cleaning and maintenance of sewers are now far more advanced. To inspect sewers, workers use equipment such as borescopes which are inserted through keyholes. The borescope works like a pinhole camera to inspect the sewer flow without opening the manhole and to check if there are potential chokes.
Ultrasonic sensors have also been installed inside some manholes to monitor the sewerage network. The sensor uses sound waves to measure the water level in the sewer in real-time and sends the reading back to PUB. 
If there is a sewer blockage causing the water level to rise, the system will alert operations centre staff, who will then dispatch a team to check on the sewer.
Other tools include CCTV robots which inspect the inside of sewers remotely. This is done to assess the condition of the sewer to decide what maintenance needs to be done, and after maintenance to ensure that the sewer is cleared and in good working order.
Should a blockage be detected, hydraulic jetters – tools that use high-pressure water jets to dislodge accumulated grease, debris and sediments inside the sewer – are used. The water jet cleans the sewer of debris and flushes it down to the next manhole, where the debris is collected in a grit catcher net and pulled to the surface.
KEEPING HIS COOL
A typical day for Mr Subramaniam is usually spent on the go. Along with his crew, he has a list of sewers to inspect. When the need arises, he is dispatched to handle public feedback cases.
While the job is usually during office hours, overtime is required on occasion.
"I'm not married so it's okay," he said with a laugh. "Coming down and doing work, it is good for your body to exercise."
While the job is not for the faint of heart, the toughest part is dealing with people, said Mr Subramaniam.
"Dealing with people is really difficult. If people understand, it is okay. Sometimes they don't understand.
"The public will ask why you open up manhole covers, (that) you are wasting public money … They stand at the side, they will ask: 'You know it is very smelly? What are you all trying to do? I cannot walk, you know.'"
Other times, he has to deal with irritated homeowners.
"I've been scolded how many times you know? At night when there are complaints, we go and do (the work on manholes along the road) (We are asked): 'At night you all no need to sleep? You all have no brain and come now to do work?'.
"Then I explain to them: 'Aunty give us 20 minutes, 30 minutes. We will finish up and go.'"
It is important to keep calm, he said.
"You must be very cool in this job … Keep calm and listen to what they are saying … Listen to them first, let them finish talking then we talk to them then they understand then you explain to them why this is all happening."
When he speaks to acquaintances and friends, Mr Subramaniam is sometimes questioned about his choice of career.
"They ask me: '(It is) so smelly, how do you go back, how do you sleep?' Then I say go back, take a shower with Dettol soap, clean myself and sleep."
"Everybody needs to do a job. I like this job, (so) I do it." 
Above all, Mr Subramaniam wants to remind the public to watch what they flush down the toilet.
"People will just throw anything. It is easy to throw, no need to go outside and throw. Just flush it down and get the job done," he said.
"Please use your toilet, your washing basin properly. Don't throw anything unnecessarily in our sewers, throw it where it needs to be thrown."