Own room but shared kitchen and toilet: Public rental tenants have mixed reactions to new scheme
An upcoming public rental housing scheme for singles will offer tenants their own room but shared kitchen and bathroom facilities. 
SINGAPORE: Madam Doreen Chan is interested in a new public rental housing scheme for singles due to its central location in Ang Mo Kio, but said she has reservations about the practicalities of a communal kitchen.
Mdm Chan, 76, who shares her one-room flat in Bukit Batok with a housemate, is renting under the Joint Singles Scheme Operator-Run pilot.
Under this scheme, singles are matched with another single applicant by the site operator. The living spaces are partitioned, but they do not have rooms of their own.
There are three sites for such flats now – Bukit Batok, Bedok North and Buangkok Crescent. An operator is appointed to manage the rental flats at each site, match applicants and mediate if necessary. 
One common complaint was that it can be hard to get along with housemates with different backgrounds and living habits. 
On Monday (Mar 13), Minister for National Development Desmond Lee announced that the Housing and Development Board (HDB) will pilot a new public rental scheme for singles by repurposing a former student hostel in Ang Mo Kio. It will open for applications towards the end of the year.
Unlike the Joint Singles Scheme and other schemes for singles, tenants will have their own bedroom – 9 sq m that comes with basic furnishings, including a bed frame, small wardrobe, table, chair and mini fridge.
The catch is that they will share kitchen and bathroom facilities with other tenants. There will be about 12 people to one bathroom, which will have three to four toilet cubicles and three shower cubicles, and 24 to a communal kitchen with five cooking stoves.
Mdm Chan thinks having a communal kitchen is "not practical" and was worried about sharing a kitchen with 23 other people.
"If I put the fridge in the communal kitchen, any Tom, Dick and Harry will just simply take the things … even though you tag your name there, people will still pilfer," she said. 
"If you are talking about 24 tenants in one row, how are you going to segregate the timing for each person's cooking or each person's timing of eating?"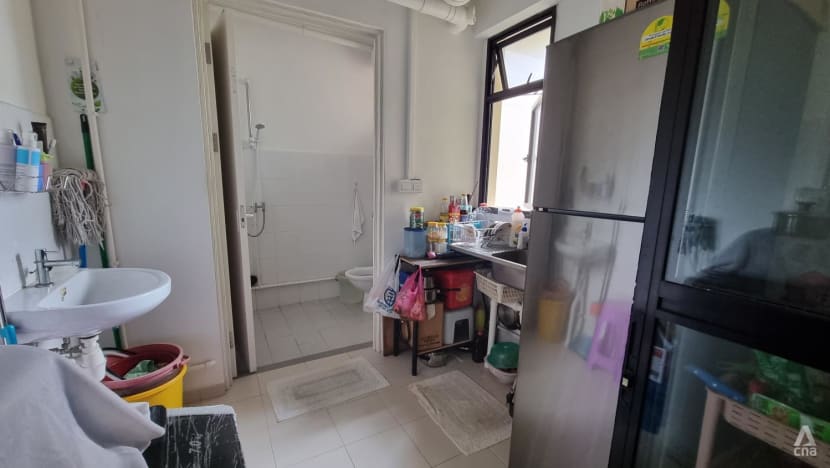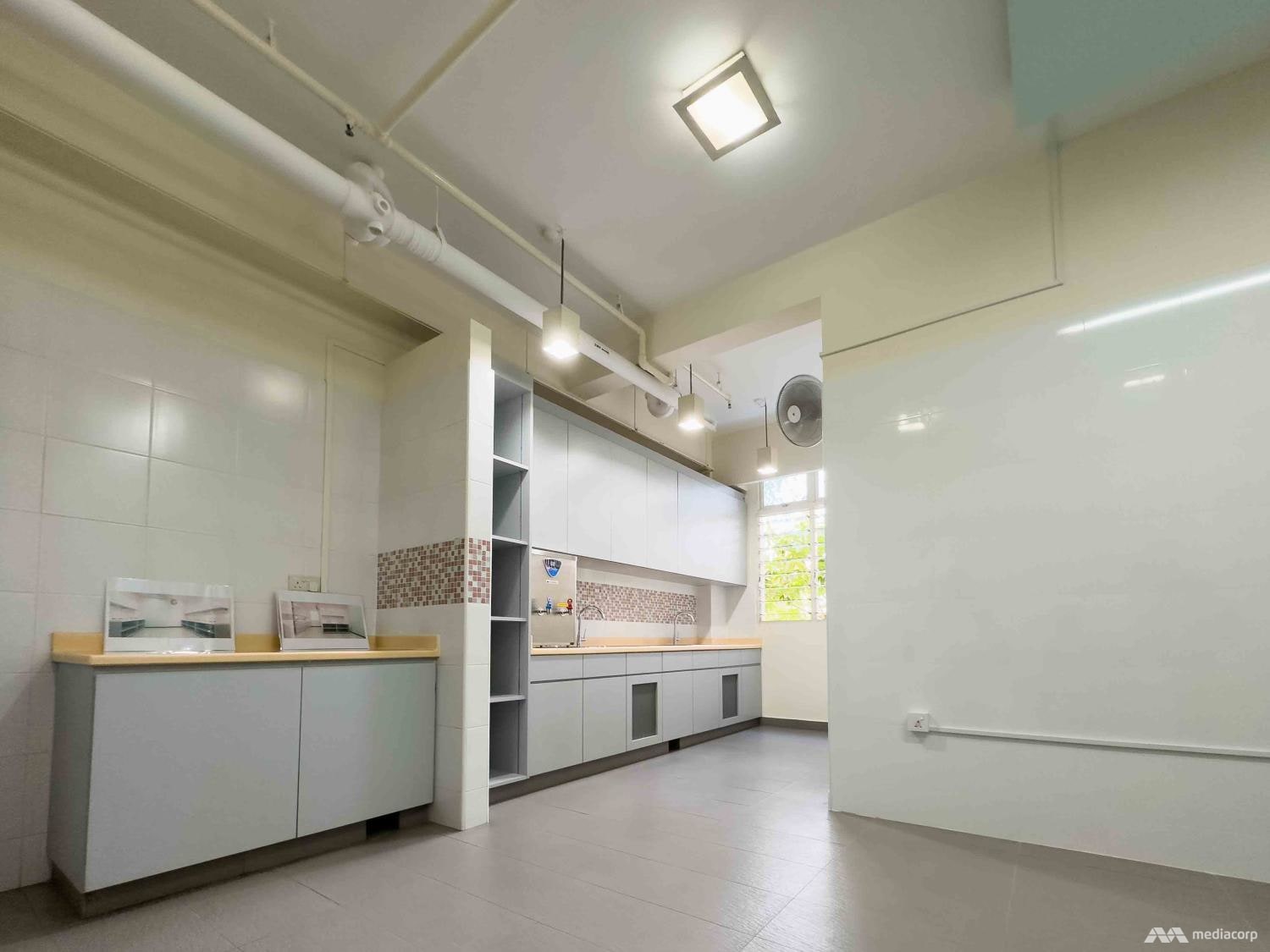 She pointed out that she now shares her kitchen with one other person and they can always "give and take", but this would be much harder with 24 tenants.
WE HAVE TO "TAHAN" EACH OTHER
However, other Joint Singles Scheme tenants CNA spoke to did find the idea of having their own room attractive.
For example, Mdm Chan, a telemarketer, said that she and her housemate have different waking times due to their jobs, and it can be disruptive.
Mr Teo was nursing a cold when CNA visited his flat in Bedok North. Wearing a mask, the 40-year-old, who only wanted to use his surname, said that he found himself falling sick each time his housemate was ill.
He also shared that his next-door neighbours had fought so badly that the police had to intervene. While relations in his flat were amiable, their habits are very different.
"There's a big age gap, he is 75 years old. A lot of things, we have to tahan (tolerate) each other – it's totally different. We grew up with different backgrounds, different education," he said.
Mr Teo, who is currently unemployed, suggested that having a mix of tenants with similar backgrounds could help them get along better. He also said that he had no Wi-Fi in his unit and that internet should be one of the basic amenities provided.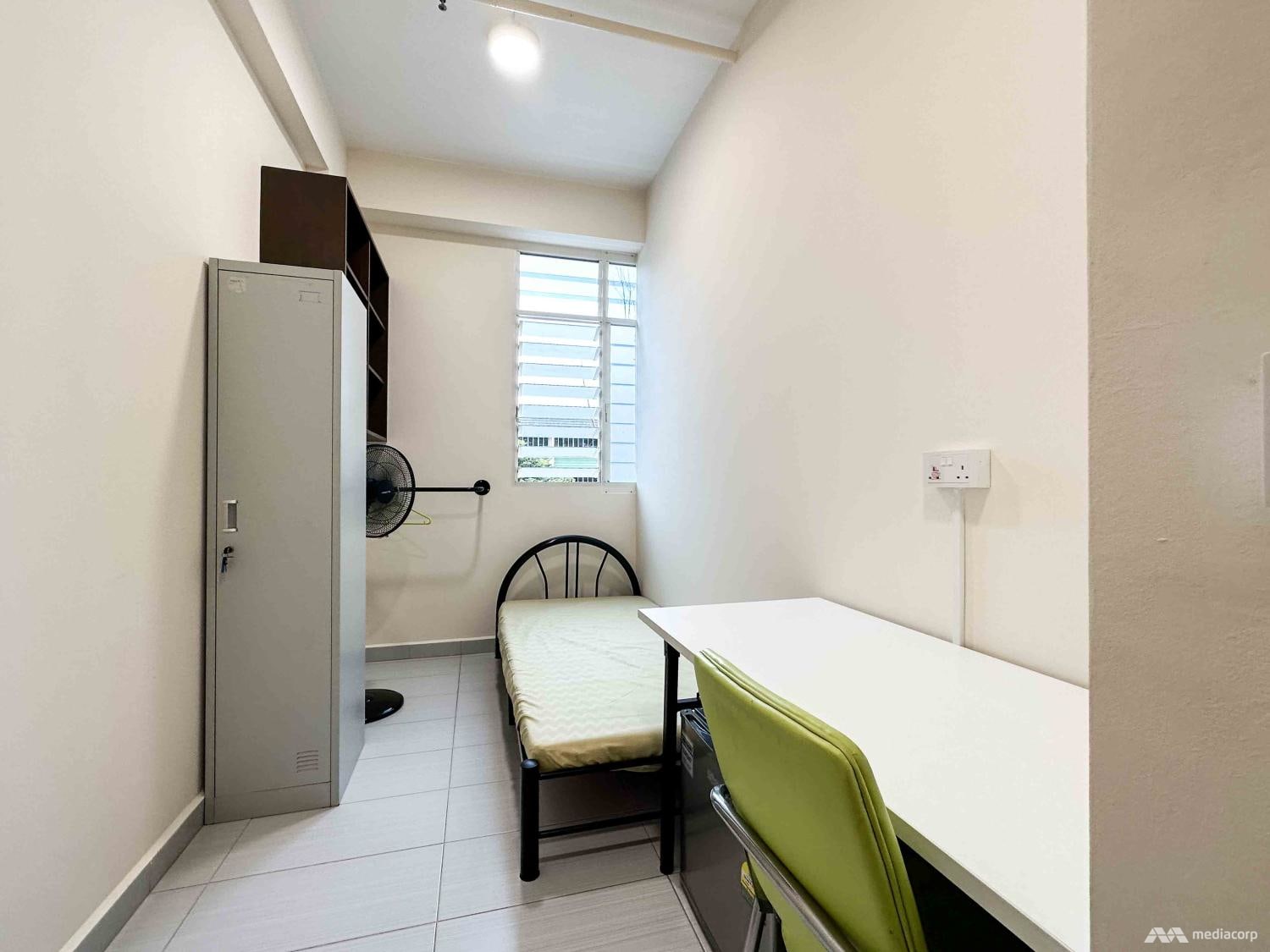 Some tenants asked about the rent at the new facility, and said that this would be a key consideration.
Authorities had said that rental rates are still under review. Currently, public rental housing rates are tiered according to one's income. The monthly rent for a one-room flat can range from S$26 to S$205 (US$19 to US$152), not including conservancy charges or utilities.
Applicants also have to be above the age of 35 and single, divorced or legally separated. Those who are widowed or orphaned and at least 21 years old can also apply.
HDB's website states that most applicants have a household income below S$1,500 but those with higher incomes can still apply for an evaluation of their eligibility.
When asked if he would be keen to move to the new facility, Mr See Tien Chong, 80, said that he would have to look at the rent to decide.
But the retiree pointed out that the Joint Singles Scheme flats he lives in now is near the hospital, and right opposite the office of the site's operator, Good News Community Services. A nurse comes in to check on them periodically and he has support from social services, he said.
The new Single Room Shared Facilities scheme does give the tenants more privacy, said Professor of Economics Phang Sock Yong, one of the experts consulted by MND for the new scheme. There is no public rental housing option for singles now that offers a private room.
"This will especially be welcomed by low-income singles who prefer more privacy or who are unable to find someone they are comfortable to share a flat with under the existing schemes," said Prof Phang.
She added that the shared facilities and communal spaces will allow residents to build their social networks and for the operator to curate programmes for the residents. 
The trade-off for residents is the need to comply with the rules and regulations to ensure a harmonious, safe and clean environment for everyone, she said.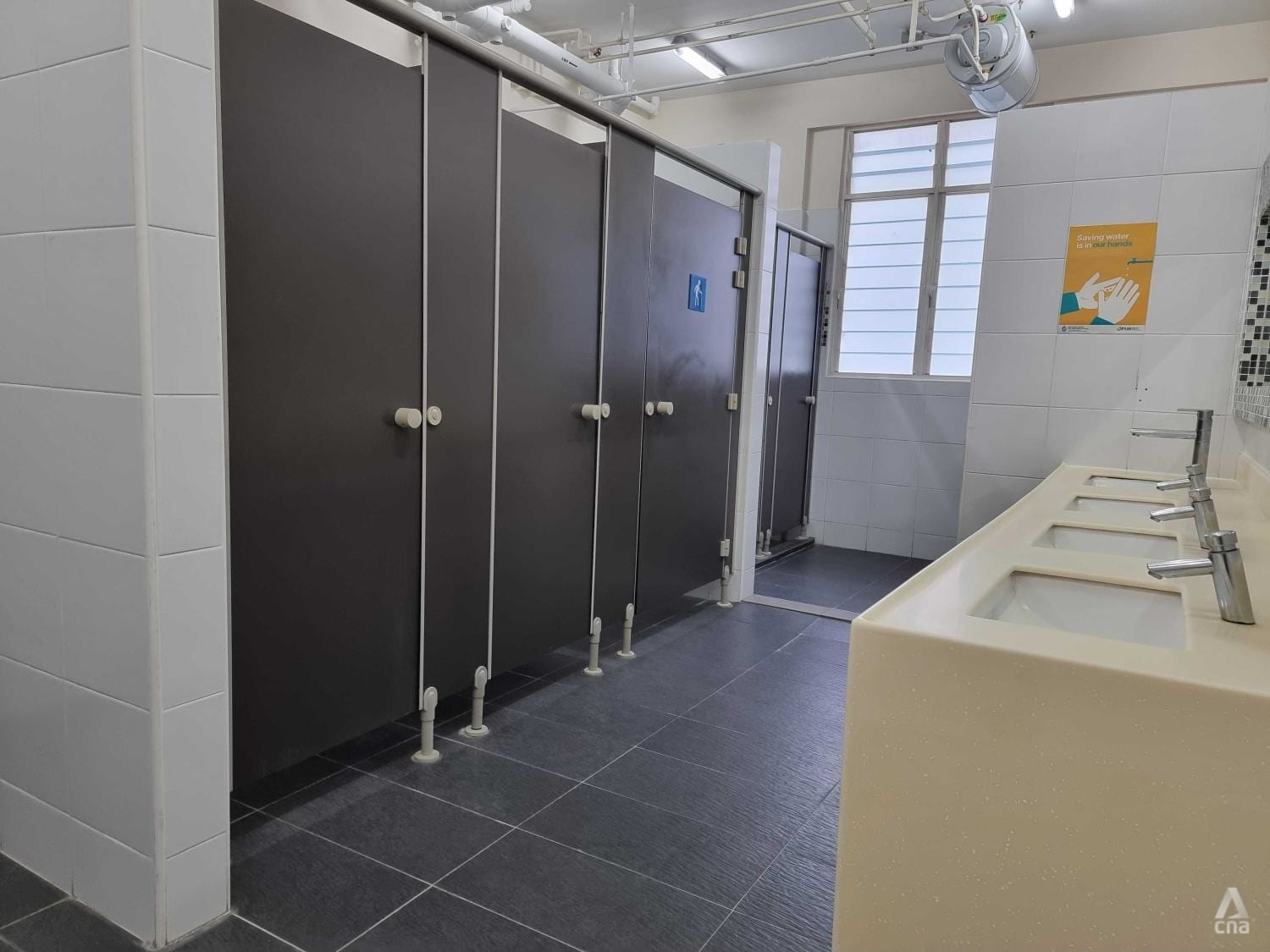 LOWER INCOME GUIDELINES, LESS RIGID HOUSING RULES
Ms Lee Yean Wun, executive director of Kampong Kapoor Community Services, which works with rough sleepers, said that the scheme is targeted at a specific group: Low-income singles who cannot afford open market rental, but have difficulty residing with or getting another person to share a rental flat with them.
The new scheme is comparable to hostels that some of the people in this group resort to when they can afford it, she said. 
"This has the advantage of being more stable and affordable. The presence of a social service agency as the operator allows for better outreach to support them."
She pointed out that the new option may not be as suitable for those who are older and less mobile as the toilets are a distance away.
"This current project is adapted from an existing hostel, hence there are limits to the facilities and structure. Conceptually the idea of allowing for private space and yet some shared facilities with an operator to support the needs of the residents is well worth exploring."
She also thinks that less rigid housing rules would help support people with diverse needs.
"If the scheme can allow for some flexibility to include people who do not so neatly fall into the criteria, like those who may have their names tied up in 'homes' that they cannot return to or people who are separated but not divorced … it might extend the impact of this project," she said.
Dr Ng Kok Hoe, senior research fellow at the Lee Kuan Yew School of Public Policy, said that the new scheme, as well as other changes in recent years, reflect awareness that there are inadequacies in the public rental housing system. 
"They are small steps in the right direction and should be welcomed," said the researcher, who has conducted nationwide studies on homelessness. 
He noted that other concerns with public rental housing still need to be addressed and that eligibility rules should prioritise those at risk of becoming or who are already homeless. 
He also suggested that the income guideline of S$1,500 be raised in line with living costs, "especially in the current context of high inflation".
"The evaluation of the pilot will hopefully define effectiveness not just in terms of rate of exit to more permanent housing, but also whether this facility meets basic housing needs and allows peace of mind while tenants are residing in it," he said.
The pilot will run for a year or two before MND decides whether to make the scheme permanent.