NDP skydiving displays can challenge even the best of parachutists, say former commandos
Parachutists can struggle with unpredictable wind conditions during touch down, former commandos told CNA after Red Lion member 3rd Warrant Officer Jeffrey Heng made a hard landing at this year's National Day Parade.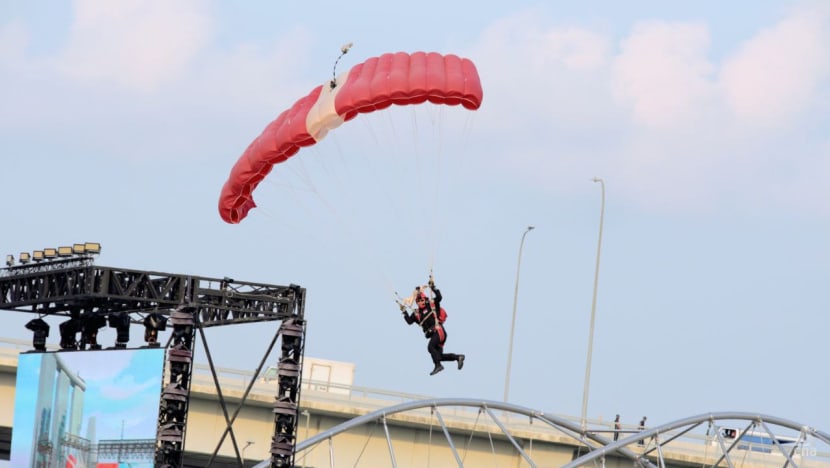 SINGAPORE: Even the most experienced parachutists can get into trouble during a skydiving display like those at National Day Parades (NDP), former Singapore Armed Forces (SAF) commandos said, citing factors like wind conditions and tiny drop zones.
Parachutists could struggle to steer into the small landing area as their relatively smaller canopies are buffeted by strong crosswinds moments before landing.
This is in contrast with military jumps, where soldiers use bigger canopies that can support their combat load and better withstand strong gusts to land in much larger drop zones, the former commandos told CNA.
Their accounts come after a Red Lion made a hard landing during the NDP on Tuesday (Aug 9). The last of 10 parachutists to land, 3rd Warrant Officer (3WO) Jeffrey Heng tumbled to the ground and had to be stretchered off.
Defence Minister Ng Eng Hen later said in a Facebook post that 3WO Heng suffered some injuries but would not require surgery, and that he is expected to make a full recovery.
Former commando Joseph Leow, who jumped at more than 10 NDPs in the 1980s as part of the SAF parachute team before it was called the Red Lions, said crosswinds likely affected 3WO Heng's final approach.
"When the wind comes sideways, it makes your canopy wobble," the 67-year-old told CNA. "You can tell me you've got 10,000 jumps, but the crosswinds will affect your control, definitely."
Mr Leow, who has clocked about 4,200 jumps across his military and commercial career - he now runs a company selling military-grade parachutes - said parachutists landing in crosswinds "must be very careful" during their final approach.
"Your approach must be high, your turning must be accurate," he said. "You have to control your steering ... you have to turn your canopy slightly into the wind direction so you don't get that kind of heavy or rough canopy wobbling during the approach."
SMALL LANDING ZONES
Mr Dave Tan, another former commando who executed more than 100 jumps during a 16-year military career in the 1990s, agreed that unpredictable changes in wind direction could affect display skydivers.
"Especially for NDP jumps, I think the biggest worry is how the airflow is deflected by the buildings. Normally, this kind of turbulence is very difficult even for experienced persons," said the 49-year-old, who now runs a business selling sports equipment.
"I also didn't have a chance to do it, because you need a certain number of jumps before performing for the Red Lions."
Mr Tan observed that 3WO Heng's canopy appeared to be "a bit lopsided" - an indication that it was affected by crosswinds - during his final approach, saying that this could be "very dangerous".
Parachutists landing in crosswinds should immediately slow down, avoid changing direction and brace for landing by adopting the "feet knee lock tight" position, he said, adding that they should break their fall by rolling.
"You are unable to change direction because it's too low. But it all happens in a split second. There's very little time (to react)," he stated.
However, Mr Tan acknowledged that display parachutists often have to land in small areas, like centre stage at The Float. Mr Leow said he has jumped into the pool at the former Big Splash, the Chinese Garden and other smaller stadiums as part of skydiving displays.
"The distance of landing is so short, so they are trying their best to land within that distance. So I think a lot of factors need to be adjusted accordingly," Mr Tan said.
"It's different from like an airfield where the drop zone is really huge. So you can manoeuvre (and land farther away), just that you need to walk longer."
The Ministry of Defence said in a Facebook post in 2019 that the Red Lions have to land close to the centre of the stage so that everyone can get a good view regardless of where they sit.
"Landing at the Padang is no easy feat," the ministry said of that year's NDP display. "The challenges include the sudden wind rush when the Red Lions enter the designated drop zone and the need to steer away from nearby trees and buildings."
Furthermore, Mr Tan said the Red Lions are using sport chutes that are smaller than conventional military chutes. While these sport chutes are more manoeuvrable, they are also more susceptible to strong winds, he said.
The heat from the asphalt in the landing zone - significantly warmer than the air above - could also rise and create currents, leading to turbulent conditions at low altitudes, Mr Tan said.
"EVERY JUMP IS A NEW JUMP"
It is difficult to realise these complexities when seeing the Red Lions pull off successful jumps year after year, and Mr Tan said this is also why the SAF places a lot of emphasis on training its parachutists and ensuring their skills are up to date.
"Sometimes you just do your best, and hope nothing will surface," he said.
"I think most of the people there (in the Red Lions) are experienced enough to know what is going on, but just that s*** happens. These are external factors that nobody can predict."
In a 2009 essay on the Red Lions, Mr Lam Shiu Tong, who was the chief commando officer from 2006 to 2011, said the parachutists often jump in "seldom favourable" environments with strong winds and urban obstacles.
"Once the Red Lion opens his canopy, he will have to follow the 'stack' sequence and pilot his own parachute to land within 10m of the landing strip," he wrote.
"In this case, the difference between a good landing and a broken limb may be metres or inches away. Everything at this stage is purely dependent on the parachutist's assessment and decision-making skills. No help can be provided at this point!"
Mr Leow said he has attended world skydiving meets and seen experienced parachutists with more than 6,000 jumps botch their landings and break their legs.
"There is a risk," he added. "It can never be the same jump; every jump is a new jump."