Rice and the Climate Crisis: The significance of reducing food waste as climate change hits rice production
In the final part of a four-part series on Earth Day looking at how climate change is impacting rice production and trade, CNA examines the importance of reducing food waste against the backdrop of fluctuating output from exporting countries.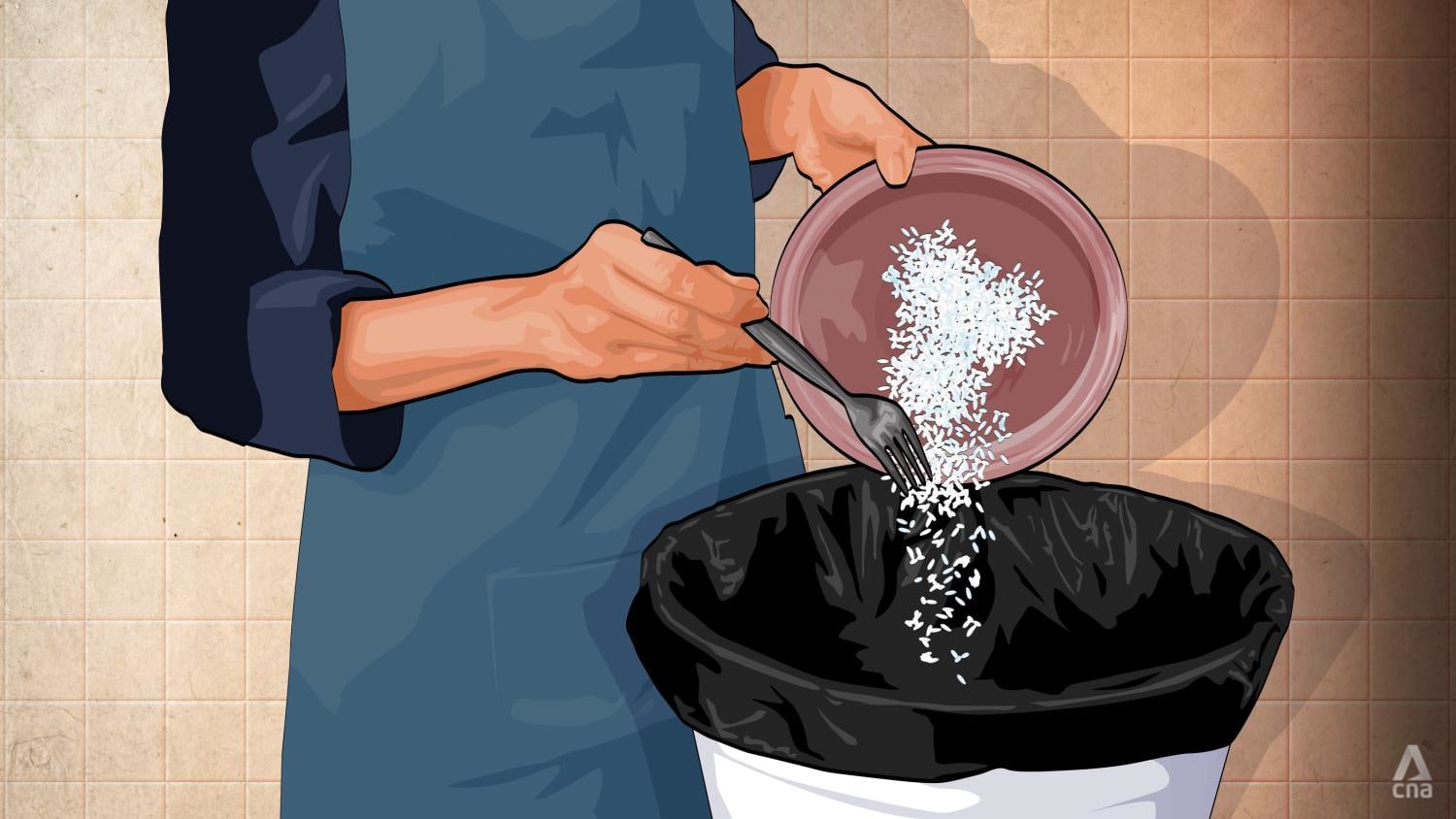 SINGAPORE: Food wastage has been in the crosshairs over the past few years, amid Singapore's broader ambitions to become zero-waste.
And it's an issue that will become more salient as climate change continues to hit global food production.
In 2021, Singapore generated 817,000 tonnes of food waste, a jump from the 665,000 tonnes in 2020, according to data released by the National Environment Agency this week.
Despite years of campaigns, more public education is still needed, said Professor Paul Teng, Adjunct Senior Fellow (Food Security) in the S Rajaratnam School of International Studies.
"The proposed saving techniques are already well known and rolled out – buy and cook only what you need, reduce helping size, and so on. But the mindset changes are still not widespread."
"FINISH THE INGREDIENTS, LEAVE THE RICE ALONE"
David Chen, the co-founder of Golden Sunland, a local rice company, agreed that "the mindset is not there yet", particularly for rice.
"A lot of times, our communication about food waste is tied to the value of the food. It's very tough for rice because rice is cheap, in terms of dollars and cents."
"You still hear (your elders) telling you to finish the ingredients, leave the rice alone. It's passed along."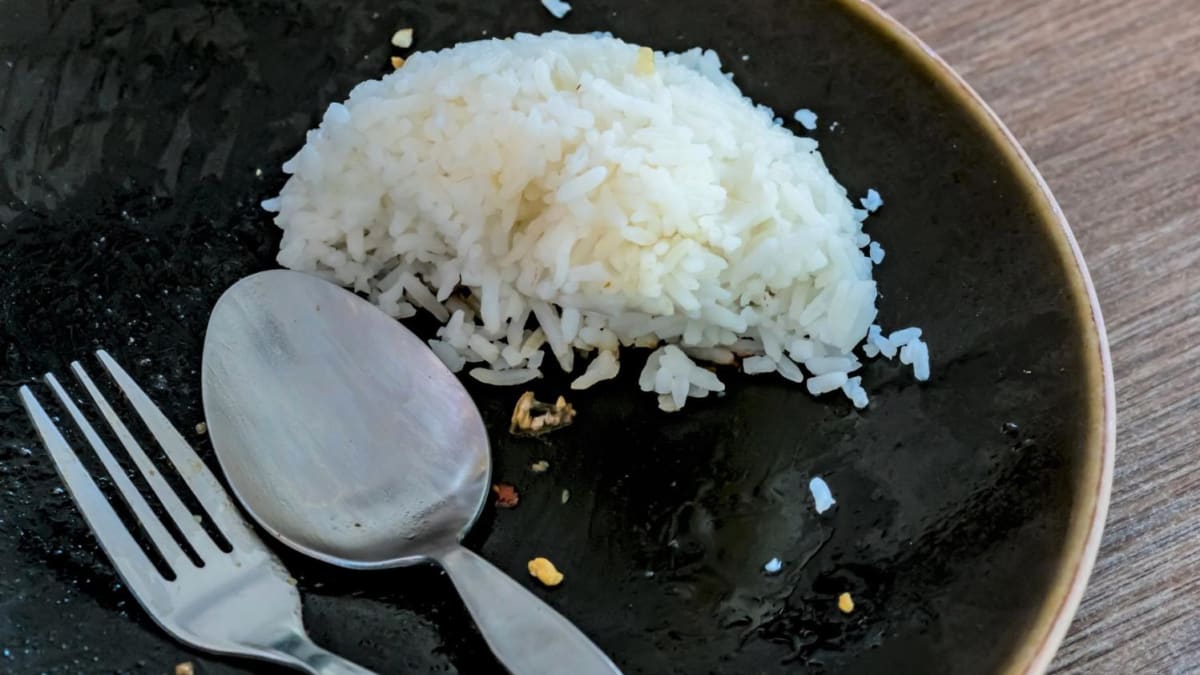 He added that consumers are "detached" from where the rice came from and who grew it, but a connection can be formed by letting them experience growing it themselves.
"When consumers are educated … they would know that the plate of rice is not just the $1 they paid, but also a summation of water and carbon emissions."
It is why the company currently holds rice-growing programmes at four schools – with the hope of expanding these further.
"You'd want to develop and ingrain the mindset in the next generation, and since school is where they spend most of their days, it seems the most logical place to start these conversations."
"The interesting thing is it doesn't have to be successful to have an impact … and to give them a real-life lesson on experiences that your food producers go through on a daily basis while they provide for us," said Mr Chen.
HOW DO I CUT MY RICE WASTAGE?
1. Buy only what you need
Households that do not consume a lot of rice can consider buying rice in smaller quantities, said the Singapore Food Agency (SFA). For example, a two-person household that seldom cooks rice can buy 1kg packets of rice, rather than 5kg or 10kg bags.
Only open the rice pack when you need to, and do not open multiple packs at once. You should also try to finish the bag of rice within a month.
2. Store your rice properly
While uncooked rice has a long shelf life, you should still store it properly – ideally in a tightly sealed container in a cool dry place.
After finishing your existing stock of rice, wash and dry the container before re-filling with a new pack of rice.
3. Be careful with brown rice
One should note that brown rice has a shorter shelf life than white rice, said Tong Seng Produce (TSP), which distributes several rice brands.
"What makes brown rice not only more nutritious than white rice, but also extra nutty and flavourful, is that its bran and germ are still attached, which contain oils that are full of good, unsaturated fats."
But these oils can cause brown rice go bad more quickly than white rice. To avoid this, one should buy smaller quantities, it said.
It should ideally be stored in a cool, dark space, and if stored in an airtight container, it can remain good for about six to nine months, TSP added.
4. Beware of weevils
You should also regularly check your rice to make sure little beetles, known as rice weevils, are not present.
"The presence of weevils can be identified through signs such as round holes in the kernels of rice grains, and increased moisture levels where grains may feel damp," said SFA.
But it added that weevils are not harmful to humans as they are not known to spread any diseases or bite people. If they are present, they should be quickly removed by washing the rice – which can still be consumed after, said SFA.
TSP advised keeping stored rice in the freezer for four to five days.
"This process will kill the already existing insects, such as the weevil, that might have just started attacking your grains. This method will also (prevent) any insect eggs from hatching."
To get rid of them, it also recommended rinsing the rice, during which "weevils will naturally stay afloat and you can simply pour them away before filling in water to cook the rice".
"Another method will be to put (the rice) on a large tray and keep it out in the sun for about three to four hours."
After this, for portions that "you think are okay", put the rice in sealed plastic bags. You can add a few dried red chillies for good measure, as the "pungent smell of chillies will keep the pests away", it said.
5. Use leftovers for another meal
Hanwell Holdings, which distributes Royal Umbrella rice, also recommended several ways of using leftover rice.
One can use it to make arancini, which are fried, stuffed Italian rice balls coated with breadcrumbs. Other recipes include using it for fried rice, or as rice patties for Japanese rice burgers.
You could also try using leftover rice to form a pizza crust, or put it in mango pudding, according to recipes contributed by local households to a guide on cutting food waste.