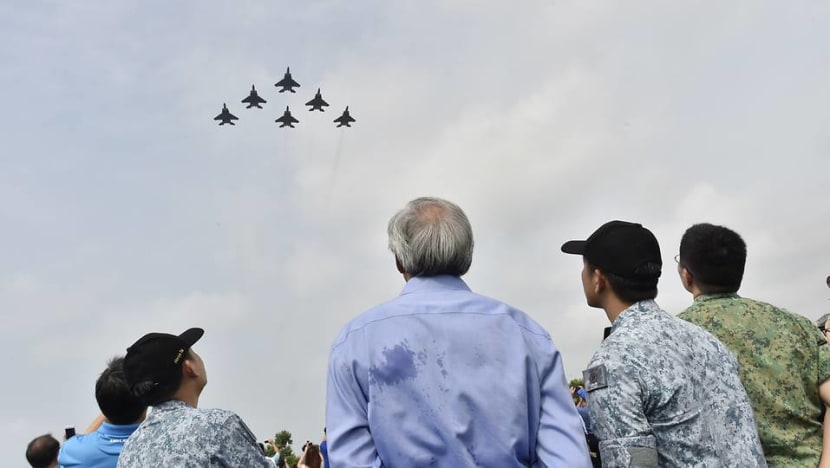 SINGAPORE: Buckle up aviation buffs – 29 aircraft will take to the skies for a special aerial display at the Marina Barrage on Aug 11 and 12.
This is the largest number of aircraft in an aerial display this year and is held as part of the Republic of Singapore Air Force's (RSAF) 50th anniversary.
There will be three segments to the aerial display, which will be conducted over the waters off Marina South.
It will involve helicopters and fighter jets such as the F-15SG, as well as the Heron 1 Unmanned Aerial Vehicle – the first time an unmanned aircraft is participating in such a show.
For the purpose of the aerial display, the Heron 1 will fly as low as 300m – parallel to the waters at Marina Barrage – for the public to get a better view.

There will be two shows per day over the weekend at 10am and 2.30pm, each lasting about 30 minutes.
Defence Minister Ng Eng Hen attended the media preview on Tuesday (Aug 7), where he interacted with past and present RSAF personnel and their families.
Chief of Air Force MG Tan, who was also at the preview, said that the event was among many – such as the Singapore Airshow and RSAF50@Heartlands – held to thank Singaporeans for their support over the years.
"We hope that Singaporeans will enjoy the show and continue to give their fullest support to our airmen and women who are committed to defend our home above all," he said.
NATIONAL DAY PARADE 2018 | Watch the parade live on channelnewsasia.com starting from 5.30pm on Aug 9.

Our livestream is also available on twitter.com/channelnewsasia and facebook.com/channelnewsasia.