DARWIN: As Republic of Singapore Air Force (RSAF) fighter jets take to the sky, they know they can rely on an extra set of "eyes" to help them sense danger well ahead of time.
The eyes refer to the Gulfstream 550 airborne early warning aircraft, a regular-looking plane - Gulfstream makes private jets too - that tells fighter pilots where their enemies are.
"It's an air surveillance aircraft so we get to detect aircraft at a much further range, which allows our own fighter aircraft to have good situational awareness prior to effecting the response against those aircraft," said Captain (CPT) Kalai Selvan, one of six air warfare officers - in addition to two pilots - on board the G550.
The aircraft can detect threats at a range of more than 200 nautical miles (370km), and CPT Selvan's job is to handle a multitude of systems, including an active electronically scanned array radar, to find, identify and track these aerial targets.
"You can see a lot of things at 200 nautical miles," the 30-year-old told reporters on Thursday (Sep 1) at Darwin Air Base, where the G550 is participating in Exercise Pitch Black 2022. The aircraft is rarely featured in the media for reasons of operational security.
During the exercise, the G550 flies with fighter jets from different participating countries and gives them an extra edge when they take part in simulated battles against each other.
And because 17 nations are involved, the G550 has to work with more types and numbers of aircraft, compared to training missions that are carried out in Singapore. In particular, CPT Selvan highlighted his interactions with the F-35s, which are making their debut at the exercise.
"They make use of our onboard sensors to be able to respond to the adversaries that they come across during the exercise construct in the scenarios, so we offer them the eyes in the sky and early detection of adversaries," he said.
TRAINING JUNIOR OFFICERS
CPT Selvan said the sheer number of aircraft involved means the skills of all the air warfare officers onboard are tested to the limit. "We exercise our full competency," he said. "It's a very exciting experience."
There are six such officers to ensure that nothing slips under the radar.
"While airborne surveillance might sound like a one-person job, we have to manage the airborne systems and sensors on board. So, we do need the full suite of operators," he said. "You don't want to miss out anything ... you don't want a single point of failure."
CPT Selvan also trains newer air warfare officers during flights. He focuses on one officer to give them fuller attention, with the aim of getting them as competent and efficient as possible.
"Obviously when you first start learning about surveillance, your capacity is limited in terms of utilising the sensors and resources on board to detect the aircraft," he said.
"As you get more competent, you are able to do that role much quicker and more efficiently. If you want to mount the earlier response, you want them to be competent enough to detect those guys earlier to allow our fighter jets to respond to those guys quicker."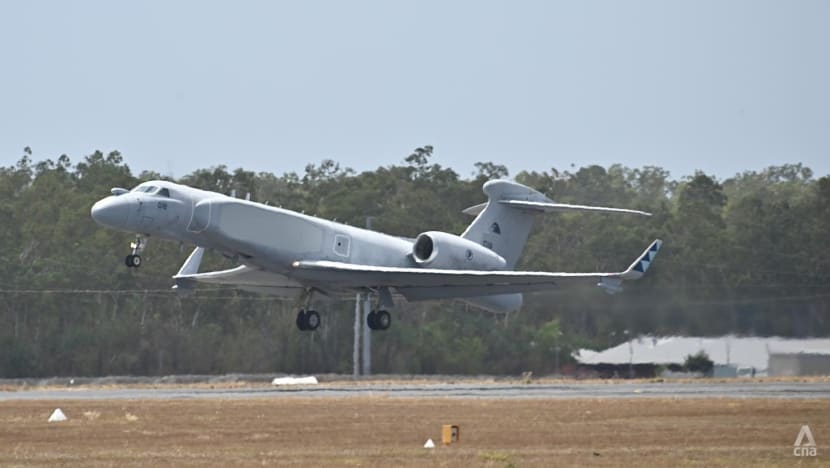 DEFENSIVE MEASURES
This capability that makes the G550 such a valuable asset during an offensive push also helps the plane defend itself.
"Our radar is obviously our biggest defensive mechanism because we're able to see further," CPT Selvan said. "If we don't use it for our own advantage, then what's the point?"
In other words, the G550 avoids enemies even before they can get close enough to do damage. If they do encounter hostile planes, the G550 can use what CPT Selvan called a "self-protection suite" to dispense chaff and flares.
Chaff refers to millions of tiny aluminium or zinc coated fibres ejected by the aircraft to confuse radar-tracking missiles, while flares - commonly seen during aerial displays for aesthetic effect - are released to divert infrared-guided missiles.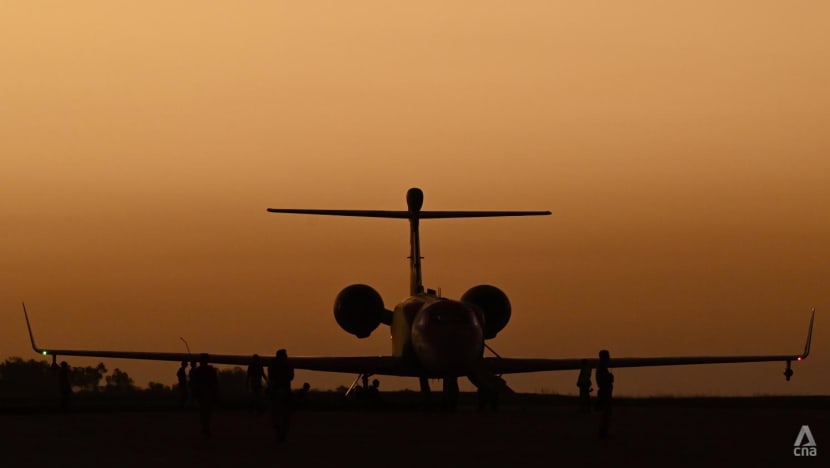 The G550 also has a radar warning receiver, missile warning system and weather radar - the latter to look out for bad weather along its flight path. "Nobody likes being in turbulent weather," CPT Selvan said.
Ultimately, the G550 takes note of what is out there from afar, and pre-empts danger for allies and itself.
"Basically, I could see all of you guys yesterday," CPT Selvan said, referring to how the G550 was airborne on Wednesday and knew where the RSAF's multi-role tanker transport was refuelling fighter jets.
"We really do live up to our name."