NSman fighter pilot clocks almost 40 in-camp training days a year, says family and employer support is important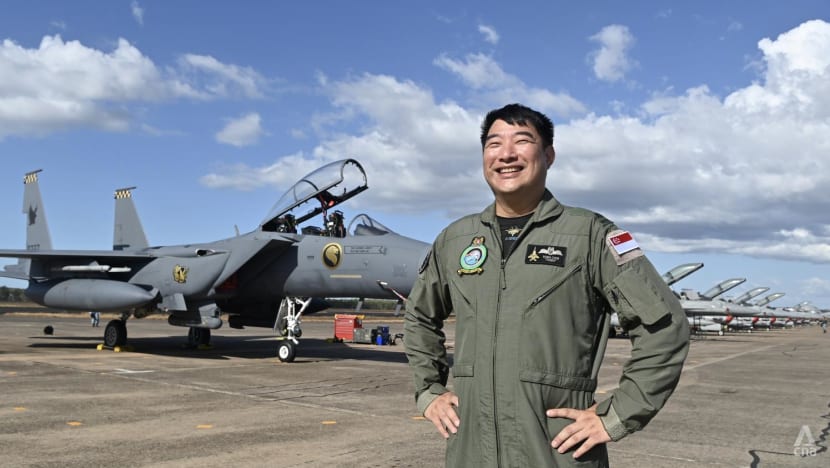 DARWIN: Major (NS) Robin Chew, 43, is not your average operationally-ready national serviceman (NSman).
While many NSmen chalk up around 14 days of in-camp training (ICT) a year, MAJ (NS) Chew completes close to 40 days - the maximum allowed without a signed agreement with an employer.
NSmen are notified three months in advance for ICTs shorter than six days in duration, but MAJ (NS) Chew can be called up with far shorter notice. In fact, he goes for a one-day ICT an average of once every two weeks.
And while many NSmen spend their ICTs in a camp, MAJ (NS) Chew does it in the air - in an F-15SG fighter jet to be exact.
MAJ (NS) Chew was speaking to reporters on Thursday (Sep 1) on the sidelines of Exercise Pitch Black in Darwin, his third voluntary stint at the multi-nation air combat exercise.
He chose to participate in the exercise - involving up to 100 aircraft from 17 countries - for the "better" training opportunities, pointing to the larger training area and the chance to test himself against foreign air forces.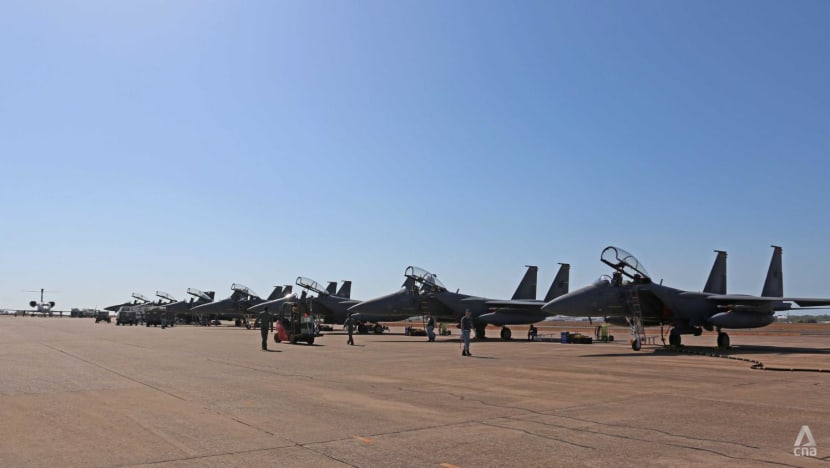 "NS is not just about showing numbers. We are going to be a credible force out there, so we need to be able to come here and upkeep our skills," he said.
"It's not just me. I mean, we have different NSmen cycling through the exercises that we do overseas all the time."
"HECTIC" COMMITMENT
But this opportunity comes at a price. The father of two said he will be away from home for two-and-a-half weeks, something that would not have been possible without the support of his family and employer.
"Without their support, it's very hard to get overseas," he said.
In Singapore, he reports to an air base once every fortnight to fly a sortie and keep his skills current. Then he goes home for the day. 
"The commitment is, on a usual year, we are doing near to 40 days (of ICT) - near to the limit - just because of our requirements for currencies and all that," he said, referring to the prerequisites pilots have to meet to continue flying.
"If you put it to a day, it's probably like every two weeks I go back at least once, just to keep my currency going as well. Sounds like a lot, right?" he added with a laugh.
But MAJ (NS) Chew said his children - his daughter and son are 14 and 11 years old respectively - are fine with the frequency of his local ICTs.
"We still go back to base and then we still go home at the end of the day. It's not like we're away per se. So it's not as bad as exercises like this when we are away for two or three weeks," he said.
MAJ (NS) Chew said his employer has no problem with his ICT schedule as well. He left the Republic of Singapore Air Force (RSAF) in 2013 and now works as an outsourced F-15SG flight simulator instructor.
"Currently with my immediate bosses, there's no issues because we also work closely with the squadron. So, we know how the schedule is going to work," he said.
However, he acknowledged that there could be issues with his "hectic" ICT commitments if he switched jobs. "That really depends on employers," he said.
GIVING BACK
MAJ (NS) Chew said it is "not that rare" to come across NSmen pilots or air crew, adding that only a minority of regulars stay on until they are 50 years, the mandatory retirement age. One of the F-16 pilots who flew at this year's National Day Parade is also an NSman.
"My current job is like still in but not in, you know, so it's actually a pretty good mix," he said of his decision to leave the force.
"And I'm still contributing back to the system itself, teaching what I know back to the younger folks so that they have the experience as well."
That is not to say MAJ (NS) Chew does not have more to learn.
He described his experience at Exercise Pitch Black as "very interesting", saying that he had the chance to fly with different air forces and types of planes, including the US and Australian F-35 fighter jets making their debut at the exercise.
"Obviously the F-35s are the new kids on the block," he said of the fifth-generation stealth fighters that the RSAF will buy. "Everyone's looking at them and seeing how their capabilities are, which is pretty impressive right now."
According to MAJ (NS) Chew, a typical day at the exercise is usually 12 hours long, including "many hours" planning for a large-scale mission involving all countries, and a three-hour debrief after the fighters land.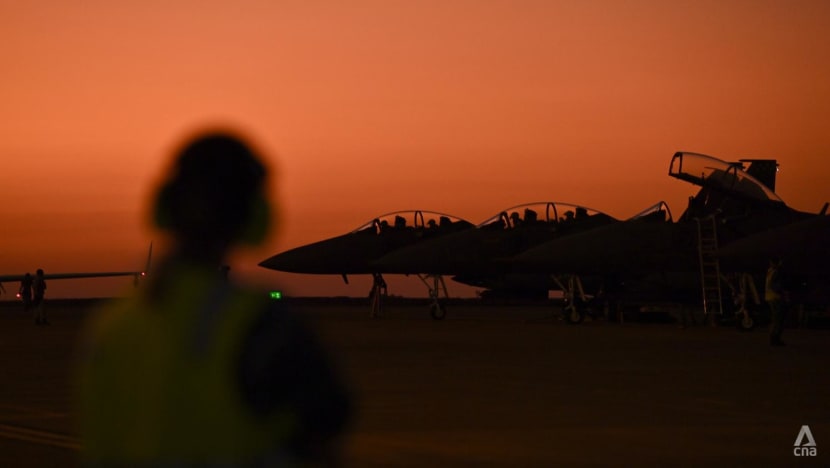 In fact, before the interview, he had just landed after flying a three-hour mission on the F-15SG. Recounting the mission, he said he took off, refuelled with an RSAF tanker and then played the "enemy" against the F-35 and other fighters. 
"We got the gas and just trucked south and waited for the 'good guys' to start marshalling, and then we had the fight going on," he said.
"So the exercise got on, and we did like a 3.2-hour flight, so that's almost as good as going back home (to Singapore). In fact, we can go back home in a shorter time," he added with another laugh.
TAKING ON THE F-35
MAJ (NS) Chew said it was hard to win as the "bad guy", joking that it was "just like the movies". On a more serious note, he praised the F-35s and their "great" their stealth capability.
"The sensors and integration help a lot in their awareness and how they can get shots in there. Can't go into too many specifics, I guess," he added. "But it's (the F-35's capabilities) good."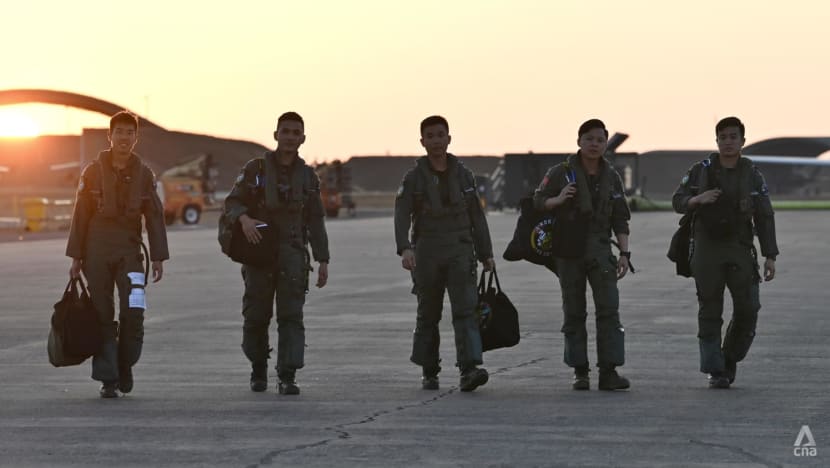 When MAJ (NS) Chew was asked if his skills were as good as those of regular RSAF fighter pilots, he replied with a chuckle: "I would like to say yes."
"It won't be that hard to go back up to that state, but obviously there'll be some bad stuff. I won't say we are as good as the regulars, but obviously there will be some work up required," he said.
MAJ (NS) Chew reiterated that it is important for NSmen to continue honing their skills, repeating an earlier message.
"It's not just being there as a number, but being credible as a force. So, we definitely need to keep our skill level up for this," he added.

Editor's note: A previous version of this article said that Robin Chew is an F-16 simulator instructor. It should have said F-15. We apologise for the error.