Singapore's upgraded F-16 fighter jets now armed with Python-5 missiles
The Israeli-made short-range air-to-air missiles have an "exceptional kill probability and excellent resistance to countermeasures".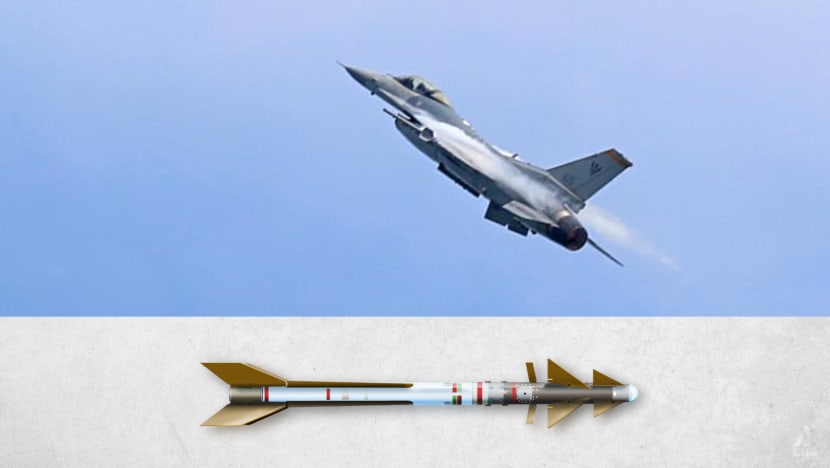 SINGAPORE: The Republic of Singapore Air Force (RSAF) has publicly revealed that its newly upgraded F-16 fighter jets have been armed with one of the most advanced guided missiles in the world.
An information board at the Paya Lebar Air Base – where the RSAF's 55th-anniversary open house will be held on Saturday (Sep 9) and Sunday – shows that its upgraded Lockheed Martin F-16 C/D/D+ fighter aircraft now carry the Python-5 missiles, according to a report by security intelligence firm Janes.
These short-range air-to-air missiles, manufactured by Israeli defence firm Rafael Advanced Defense Systems, are capable of destroying airborne threats within a 20km radius.
The missiles also come with a modern feature that allows pilots to lock onto enemy aircraft and press fire without having to change direction.
The RSAF's deployment of the Python-5 missiles was reported by some defence publications some months ago, but the RSAF did not go fully public with it till now.
It first began taking delivery of its upgraded F-16s in June 2021. They will remain in operation for at least another decade, having been in service since 1998.
Mid-life upgrades began in 2016 and the RSAF has plans to eventually replace its fleet of F-16s as they face obsolescence globally beyond 2030. Defence Minister Ng Eng Hen announced earlier this year that it will acquire 12 F-35Bs and take delivery of them by the end of this decade.
'EXCEPTIONAL KILL PROBABILITY'
Meanwhile, the addition of Python-5 missiles to the upgraded F-16s is one way to ensure the fighter jets are on par with more modern aircraft, said Mr Chen Chuanren, Asia-Pacific correspondent at aerospace publication AviationWeek.
As a dual-purpose missile, the Python-5 is suitable for air-to-air and surface-to-air missions. It is also the Israeli Air Force's most accurate air-to-air missile with the ability to engage enemy aircraft from very short ranges.
Development began in the 1990s and the Python-5 was unveiled for the first time in 2003. It is currently used by the armed forces of more than a dozen countries.
According to Rafael's website, the Python-5 has an "exceptional kill probability and excellent resistance to countermeasures, irrespective of evasive target manoeuvres".
It features a new electro-optical and imaging infrared seeker with high off-boresight capability, meaning they are weapons that can fired at an extreme angle away from the aircraft's line of sight. This is "very common" in modern fighter jets, Mr Chen told CNA.
Pilots of the upgraded F-16s will make use of another feature on the aircraft – the Joint Helmet Mounted Cueing System, which allows them to turn their heads to look at the enemy and fire from any angle or distance.
Mr Chen explained: "If you watch movies, you see planes going behind the enemy aircraft before firing the missile. That is the more traditional kind of missile.
"The more modern ones, you just have to look at the target, and the missile will just steer towards the target. You don't really have to be behind the enemy aircraft ... It can be next to you."
The Python-5's dual waveband infrared seeker also enables pilots to acquire even small, low-signature targets in adverse weather conditions, day or night.
Its "lock-on after launch" feature enables missiles to lock on to a target even after it has been launched.
According to the information board at the open house, other capabilities of the RSAF's upgraded F-16s include US-made air-to-air missiles like the AIM-9 Sidewinder and AIM-120. 
Mr Chen said these are slightly older than the AIM-9X Sidewinder, which has been said to be comparable to the Python-5.
A 20-minute aerial display and Augmented Reality (AR) flight formations are some of the things visitors can expect during the Republic of Singapore Air Force (RSAF) Open House from Sep 9 to Sep 10. Alif Amsyar with more.