'I could be the last person to speak with her': Meet the man leading a team that saved 143 people from suicide
The Samaritans of Singapore's Crisis Support Team, which makes calls to suicidal people, has saved 143 people from taking their own lives.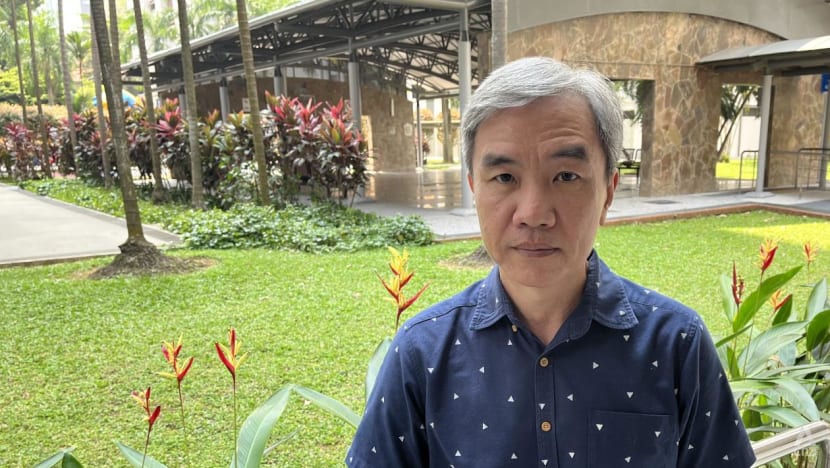 SINGAPORE: All calls that John Lam receives or makes on the suicide prevention hotline are hard to forget. But one in particular stayed with him.
"She was at very high risk and at that particular time, she was very intent on killing herself," he said.
"She told me when and how, and I stayed on the line with her for a very long time – I think it was close to two hours.
"Then she decided to end the call, and I have to live thinking that I could be the last person to speak with her. You have to learn to be able to manage those kinds of feelings and still continue to do this work."
John is a deputy director with the Samaritans of Singapore (SOS), an organisation that focuses on suicide prevention.
He leads the Crisis Support Team, which started its work in earnest last April after months of training and preparation. In the last 12 months, they have saved 143 people from taking their own lives.
This team is different from the volunteers taking incoming calls to SOS' 1767 hotline. The Crisis Support Team, made up of 20 staff members, makes outgoing calls to acute cases. 
These include people at imminent risk of suicide, which means they have both the intent and means to take their own life.
John is one of the four supervisors on the team, which runs 24 hours a day, seven days a week. He does most of the overnight shifts – the hours when most crisis calls happen. This team makes an average of 100 calls a month.
A MAN'S ANGUISH AND A NEED FOR A NEW TEAM
John started taking calls on the SOS 1767 helpline in April 2020, when Singapore started its COVID-19 "circuit breaker". 
With millions of people told to stay at home, the number of calls to SOS' helpline shot up. It was not just the number of cases, but also their complexity.
He recalled a call he received: A man had rung in, crying, and could barely talk.
"You could only start to hear bits and pieces … because it took a long time, he was just crying," John recalled. "It was only after some time that he finally managed to converse, but … he was conversing in Mandarin, which I was not capable of."
The man was on the ledge – he was intoxicated, he had debt and marital problems, and he was about to kill himself.
John stayed on the phone with him for more than an hour and the man started to open up.
"You really have to hear out his anguish. It took a while, but finally, he got to a stage where he's prepared to tell you what his problem was," John said. "I think that is the hurdle that once you cross … you can make progress."
But not all calls end on a good note – the man wouldn't keep himself safe and the police were called.
They only knew an approximate location, and for days after, John checked the news regularly and hoped there was none.
He said: "It's clearly not a nice feeling that we all have to go through. In a sense that you have to live with the fact that you really don't know. You will ask yourself, 'Have I done the best I could? Could I have done it better?' 
"That stays with you for quite a while, and the thing is, there's no answer. You won't know."
At that time the active rescue team "wasn't very mature yet", and John started recruiting and training to expand the team.
A NEW APPROACH
The Crisis Support Team initially had only five people, and that was not enough to run a unit round-the-clock to help acute cases.
As the team grew in numbers, they also started training to make outgoing calls to the most serious cases – people who were close to taking their own lives.
But before they did so, the team members had to spend time manning the 1767 helpline and CareText. Both services receive thousands of calls and texts a month. 
They also had to undergo training focusing on crisis intervention with the American Association of Suicidology and the International Critical Incident Stress Foundation.
After the training is completed, they start work in the hotline room. 
When volunteers receive a difficult call, they will turn to the Crisis Support Team members on duty.
Because every call to SOS is anonymous, these volunteers will ask the person on the line if someone can call them back, especially if they are at high risk of suicide.
Once consent has been given, the crisis team member calls the person and guides them to safety. If they need more help, they will call a supervisor before contacting the emergency services.
John's own background is not in the social sector. An accountant by trade, he ran his own business in the day while helping out at SOS, taking overnight calls five days a week.
His experience on the helpline triggered him to hand over his business, take a pay cut and move into SOS full time to manage the Crisis Support Team.
"I reached a stage in my life where I wanted to not so much focus on business, but give back to the community," he said.
"To discover an area where people are suffering so much that they will actually take their life, the extent of that pain tells me that there's really a need … this was an area that I felt very motivated (to get into)."
LAST PERSON TO SPEAK TO THEM
Working in the Crisis Support Team is not easy. Sometimes, you are the last person a caller will speak to before they take their own life.
It's a stark – although rare – scenario that his team has faced. There is an immediate debrief for the crisis worker.
"Quite often, they will break down. For those cases, you need more than one session and … we have our own counselling team. For such cases, we would ask one of our counsellors to do a direct session with that person," John explained.
Usually, after the debrief, most people can recover, but some may need more support. If necessary, the team member may be taken off duty for a couple of days. 
"Because if you're not ready to take another call, because those can trigger you, then you shouldn't. Meanwhile, you go for the counselling sessions. There's no timeline."
MEETING FAMILIES WHO LOST A LOVED ONE
The Crisis Support Team doesn't only call people – they also have the harrowing job of meeting family members hours after a suicide.
After a death and when the police officers leave the scene, a team steps in to support those bereaved. It normally includes a crisis team member and a counsellor or volunteer.
John hasn't forgotten the first visit he made – a young man who just started working had killed himself in the family flat one morning.
When he met the father hours later, the man had a "very visible" bruise on his forehead. 
"He had been hitting himself on the wall in anguish before I arrived. He was in a very bad (state) … initially he was very reserved. 
"But later on he started talking and he broke down. It was very vivid because his emotion was uncontrolled. He was crying … he basically didn't care about his body condition.
"That was the kind of anguish he was going through – when a person cries until he doesn't care about his appearance or what's happening.
"When you see such raw emotions, then you realise whatever I'm feeling there and then is nowhere near the pain, the suffering that the father is going through. You begin to see how much hurt a death by suicide causes to a loved one.
"In a sense, we will almost never truly be able to feel what it means to lose someone like that. When you see the emotions, then you realise it's very hard."
For every suicide, SOS estimates that at least six people are left behind in grief.
WHY KEEP COMING BACK?
There is a feeling of calm when you look into the hotline room at SOS' headquarters – despite the very raw emotions – as volunteers work to keep people safe.
The crisis team sits among the volunteers, providing help and support. At times, they are on the phone with someone thinking of taking their own life. 
Most of the volunteers or staff will not find out what happens after a call ends, because every caller is anonymous, but they still come back for another shift.
Sometimes, team members will get thank you notes from a person whose life they saved. "How does it feel to save a life?" I asked John.
"When you hear success, it encourages you … the Crisis Support Team are human beings. They are young people trying to do good - it matters when they feel they made a difference."
He said he'll never get tired of receiving such notes or reports. 
He added: "It validates that you've really helped another human being and that is probably one of the best feelings you can get. It brings a smile to your face. It's heartfelt encouragement to your soul."