'Could I have prevented it?': When the ripple effect of a suicide extends beyond the family
When someone dies by suicide, their immediate family are the obvious ones impacted. But what about their wider network? CNA hears from teachers, youths and doctors on the far-reaching effects of knowing someone who lost their life to suicide.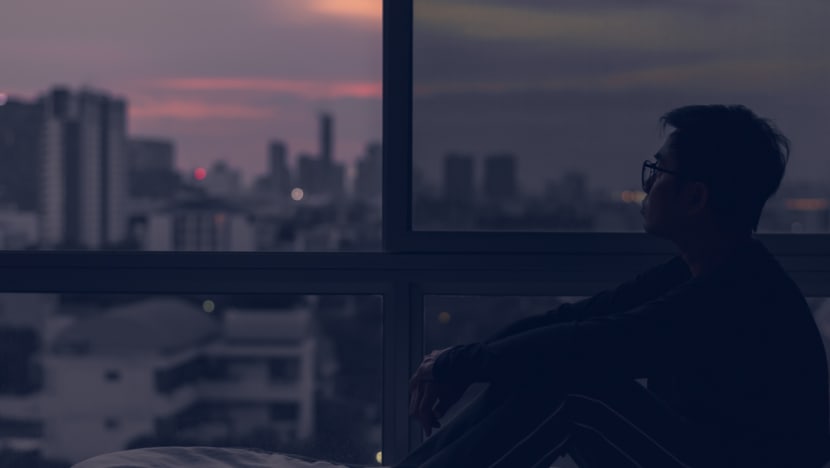 SINGAPORE: Science teacher Grace Das knows it is a myth that lightning does not strike the same place twice.  
After all, in her 20-year teaching career, she has known two students who died by suicide – a tragedy she believes is more common than people assume. 
The first, aged 13 then, died seven years ago when she taught in an international school in Hong Kong. The second, who died just over a year ago, was a 17-year-old in Singapore. 
"It's been seven years (since the first incident), I can't believe it. It's still just so raw. … For us, it's like why? What could we have done better as teachers?" the 46-year-old who teaches at an international school opened up in an emotional conversation. 
"The restoration process doesn't need to happen if we know how to prevent it in the first place. That's the bigger pain I go through: Could I have prevented it? What could I do to prevent the next one?"
Mrs Das had been close to the student in Hong Kong, remembering his mother and three older siblings "vividly". But while she didn't teach the second student, her husband did. 
"She used to sit right in the front, and for several days, she was missing, but I had no clue. … And then when I saw some of her assignments missing, that was when I began to wonder what was happening. In the submissions I found, she had written one paragraph only," recalled 49-year-old Sachin Das, who works in the same school as his wife.
Mr Das, who also taught at the school in Hong Kong, remembered the second student's death hit him differently. 
"The first incident in Hong Kong was shocking. But the second incident was like, oh my God, this is happening again. There's no end to this. It's the fear, really. … I don't know about (my wife), but I'm scared," he said. 
Mr and Mrs Das were visibly affected recalling the incidents, revealing the grip that suicide can have on those beyond an individual's immediate family.
IMPACT ON WIDER COMMUNITY 
Suicide is the leading cause of death for those aged 10 to 29 in Singapore, according to the Samaritans of Singapore. 
Since the early 1970s, suicide researchers have asserted that six people are greatly affected by each suicide – a statistic based on the average size of an immediate family.
But a new study in the US has found that each suicide affects up to 135 people, said Dr Jared Ng, chief of the emergency and crisis care department at the Institute of Mental Health (IMH). 
The higher figure represents all the people who knew the deceased, according to the 2018 study by researchers from the University of Kentucky. The study highlighted the importance of supporting a broader group of people to reduce harm from suicide.  
"Usually what we do when we encounter (a suicide) is that we might draw Circles of Vulnerability. The centre, where the deceased is, is where we think they're most affected," explained Dr Ng, referring to a research model that identifies vulnerable groups who are most at risk of "suicide contagion".
"Students and classmates, especially for youth suicides, are important. Teachers, or even school principals, friends, acquaintances, distant relatives … all these people will certainly be affected in some way or another."
In the wake of a suicide, survivors can be saddled with a debilitating amount of guilt, which can quickly turn into depression if left untreated, said IMH's doctors.
"They are quite upset about it, especially if they have … just seen the person before. I have heard from virtually everybody who talks to us that they wish they had done more. And they have really done a lot, but there is still that guilt," said Dr Mythily Subramaniam, assistant chairman of the medical board (research) at IMH.
This guilt can take years to overcome, she added. Her colleague interviewed a person who lost someone to suicide and still carried the feeling of guilt many years later.  
Dr Mythily is part of a team of IMH researchers seeking next-of-kin and close friends of those who died by suicide for a study titled Seeking Answers: A Psychological Autopsy of Exploring and Analysing Risk Factors in Singapore.
Conducting a psychological autopsy
Dr Mythily explains what the IMH study hopes to achieve. 
What is a psychological autopsy? 
A psychological autopsy is an examination of the state of mind, to determine what the deceased person might have been thinking about, what was going on in their lives, before the suicide. 
Why is IMH conducting this study? 
Most of the studies done on suicide in Singapore have relied on data that was available from the coroner's court or medical records.
No studies so far involve interviews conducted with people who know the deceased person intimately, like family members and close friends, to understand the circumstances that could have contributed to the suicide.
Through interviews with suicide survivors in this study, we hope to gain a deeper understanding of risk and protective factors in those who die by suicide. We are also looking to identify barriers, as well as medical and social enablers of help-seeking among those in distress.
Interested parties can email imhresearch [at] imh.com.sg.
Why wasn't it done previously? 
The main reason is because it is not an easy process. It involves very in-depth interviews where researchers talk to a person about their loved one who has died by suicide.
But most participants so far have said that they were glad, because they were able to present a side of the person that perhaps they didn't have an opportunity to talk about before. 
As researchers, it is also not easy. Some of the interviews stay with me for a very long time. Whether you like it or not, you cannot distance yourself completely from the person who is being described.
After a suicide, there may also be a fear of blame in an organisation, added Dr Ng. 
"Imagine if you are the superior in the office, the armed forces, the police; maybe you're a senior doctor. You'll be scared and wonder: 'Hey did I say something? Is the organisation going to come after me?'" 
And for many who have lost a close friend to suicide, they "suddenly don't want to form close friendships anymore" and "never want to trust people and form a close bond because of how painful that bond was when it ended", said Dr Ng about some of his patients. 
LOSING A BEST FRIEND TO SUICIDE
Sang Liqiao, a 17-year-old student, knows how that feels. She remembers the day she received the news that her best friend was gone. 
"It's just like the world turned white. You can't actually hear anything or see anything. You're just frozen there, and thinking about how it's not real," she told CNA, fighting back tears. 
"At the beginning, I was thinking I would never make new friends in my life, like she would be my best friend forever." 
Liqiao was hit hard by her best friend's suicide. Yet, when she was approached by her schoolmate Arshi Das – Mr and Mrs Das' youngest daughter – to star in a short film on suicide to raise awareness about its prevalence among youth her age, she readily agreed. 
"When one person dies, there's no way you can change that. But the people who stay, from that moment, they're the people who actually need help. I wanted to support them, because I've been through it personally," she said.
Earlier this year, 15-year-old Arshi had an opportunity to produce a film for the Short Film Youth Competition under the Mental Health Film Festival 2022. She decided to channel the intense emotions from others that she had witnessed growing up into a film on the aftermath of suicide.  
"I was too young to understand what suicide meant (during the Hong Kong incident), but I did see the way it impacted (my parents) who knew him. I remember thinking at that moment that I felt naive and helpless," she told CNA. 
Arshi wanted to make "something that represented what the mourning process looks like" rather than just talk about suicide or suicide prevention, "because I've seen it impact a lot of those near and dear to me", she said.    
The film, titled Whispers, eventually won the Special Youth Mention award at the festival. 
The story centres around three best friends who navigate life after losing Daffodil, the fourth member of their group, to suicide. It explores their individual long-term fight, flight and freeze responses to the subsequent grief and trauma.
In the opening scene, Daffodil, played by Liqiao, sits on a bench, looking upset. When she sees a friend in the distance, she instantly plasters on a smile and waves back. 
This, too, was how her best friend used to behave, Liqiao recalled.
"Because I was really close to her, sometimes I can actually see the upset from her eyes, even when she's telling me, okay, I'm doing fine, I'm doing good, I'm doing great. You can tell it is not like that," she said. 
"I think that (beginning scene) shows how people need to be more aware. Even your friends who look fine on the surface … if they really need help, maybe you should talk more to them."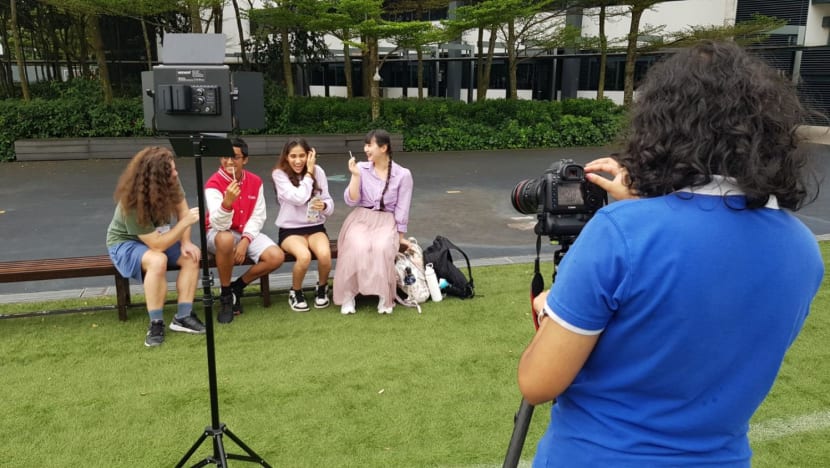 YOUTH EXPERIENCES WITH SUICIDAL TENDENCIES
Prior to making her film, Arshi remembers speaking to her friends about "how (suicide) impacts us, as children who also have friends who tend to have suicidal tendencies". 
"So that was really important to me – making sure the film was from the perspective of youth, portrayed by youth, for youth," she said. 
The other cast members, who are also Arshi's schoolmates, agreed that the film resonated because depression and suicidal tendencies "happen very regularly in this generation especially", said 17-year-old Mihika Sharma who plays one of the three friends. 
Some of them have friends who attempted suicide more than once and are still alive, while others know friends who engage in self-harm behaviours. And when such occurrences aren't rare, they have learnt to spot the signs. 
When Arshi's own best friend "was not doing great" recently, Arshi made sure she knew that she was sticking around.
"I could tell that something was off in the way that she would isolate herself from her friends. She would pick fights with me in a way that didn't seem characteristic of her. I think you just have to be objective; if someone is not acting how they usually do, you just have to make sure that they understand you're not going anywhere," she said. 
"I currently have a close friend who's going through not a very nice situation. You can really see that it's affecting their mental health, and it's kind of sad to see because they were so happy and they were the life of the party," added 15-year-old Madhav Sabu, another cast member. 
So how can someone be there for their friends without imposing or trying to "fix" the problem? It helps to "have a very accepting personality", so you can give these friends support and make sure that they "feel safe around you", said Mihika.
FINDING SUPPORT IN SCHOOL  
Experts noted the importance of talking through one's feelings – including about the deceased.
Dr Ng recalled a patient years ago who was "very angry" at his mother for not saying anything after his father's suicide, not realising his mother wanted to appear "strong" for him as "the only parent left". After the mother and son talked things through with a third party present, the boy's symptoms almost immediately resolved.   
He also had a patient who expressed guilt for feeling relief that her father had ended his suffering. 
"Her father was suffering from a very painful terminal illness. He took his own life and she felt relieved because she no longer had to fulfil caregiving duties. It's a religious family, so she knew the father was in a better place. But then she felt guilty for feeling relief: 'Am I supposed to feel that?'" he said.
However, it is easier for social services to reach out to immediate family members after a suicide. Friends or acquaintances "are likely to fall through the net", said Dr Mythily. 
"It can only be done when it happens in a school or in a workplace, where you're able to have more universal approaches to talk to people, to debrief people, to get them to share their emotions and also some of their own challenges and vulnerabilities."
In Mrs Das' school, she said a counsellor's room is treated as "a safe haven", so students and teachers alike feel comfortable walking in and out of her office. 
"The school brought in counsellors from outside for a period of time. ... In-house we have about three counsellors. Anyone could walk in and get help anytime," she recounted.
"We were told to watch out for signs of distress. The school was very, very supportive. That's where healing began." 
On regular days, teachers can take the lead in normalising such conversations on mental health, added Mr and Mrs Das, although they acknowledge that some might be unsure about whether they are saying the right thing. 
Sometimes, teachers might better understand and know what's going on in students' lives than their parents, as they spend more time with students, said Mr Das about his experience of having students turn to him.   
"As part of the teaching pedagogy and training, we're taught to look out for learning difficulties and all those things, but mental health is never part of the curriculum. So we deal with it as individuals," added Mrs Das.
"All curriculums nationally and internationally should have mental health at the forefront. I feel like it should not cause stress to anyone and we should be able to discuss it openly.
"If such conversations happen in every classroom, it becomes easier. It becomes normalised. That's what needs to happen instead of sweeping stuff under the carpet."
DISCUSSING SUICIDE AS A FAMILY 
Mr and Mrs Das also walk the talk at home as parents, discussing "everything" as a family since their two daughters were young.
When Mrs Das received the news about the suicide in Hong Kong in the middle of the night back then, she remembered waking up her children. 
"I sat with them and we talked. We all cried together. … That's where I feel a lot of kids miss out – that discussion and that talking. I want to encourage that in families," she said. 
"I realised how important that is, and I feel it should begin at a very young age. Even when we think they're not listening, they are. Begin young, and it will continue." 
"There is no reason why you should keep things to yourself, why you cannot seek help. The first line of help should be us or if you don't think you can discuss with us, there are other avenues. … Definitely the second incident has shaken us in the sense that even our kids might consider this at some point," added Mr Das. 
"I can well understand how parents could think this is not really something that they think is an issue. They think you're making it up or it's a non-issue. And that's where the problem starts."
In the immediate aftermath of her best friend's death, Liqiao ignored her feelings, convinced things were "fine" and "normal". She believes that if she had sought help instead, she would be in a "much better" place today. Since then, she has been in counselling and currently takes medication for depression. 
When her pain was still raw, it was even difficult for her to be around schoolmates. But over the last year, she has started to remember her best friend in a different light. 
"When I go to school and see other people making plans with their friends, I realise how lucky we were and to be grateful for the friendship we had," she said.
Where to get help:
Samaritans of Singapore Hotline: 1767
Institute of Mental Health's Helpline: 6389 2222
Singapore Association for Mental Health Helpline: 1800 283 7019
You can also find a list of international helplines here. If someone you know is at immediate risk, call 24-hour emergency medical services.