IN FOCUS: From SARS to COVID - how the sacrifices of healthcare workers 20 years ago helped guide Singapore's pandemic response
On May 31, 2003, Singapore was declared SARS-free by the World Health Organization. CNA explores how the virus impacted those on the frontline and eventually shaped Singapore's COVID-19 response.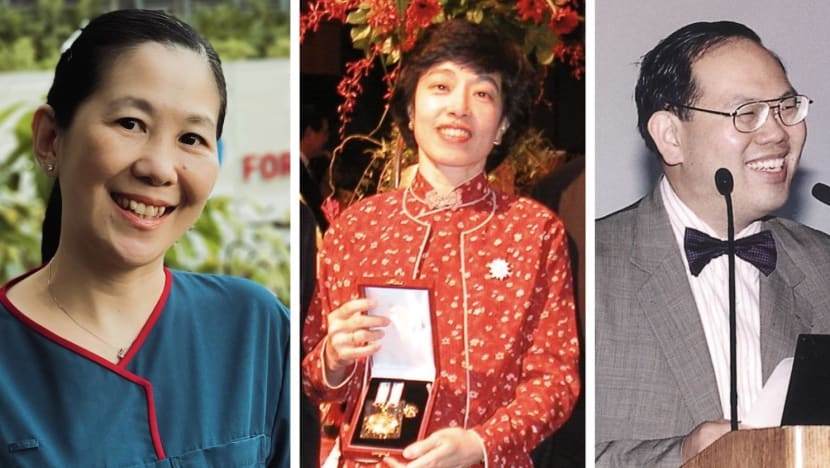 SINGAPORE: Perched on the couch and sandwiched between her two daughters, Koh Woon Puay pulls out her old family albums and starts flipping the pages.
Every now and then, the 55-year-old pauses to squint at a particular picture, before asking her daughters excitedly: "Do you remember when I brought you here? This is where Papa and I went when we were younger!"
If they have heard the stories before, her daughters - Beatrice and Berenice - show no signs of it. 
Instead, they lean in, eager to soak in everything they can about their father - a man they never had a chance to know.
Minutes pass before Dr Koh suddenly spots the picture she had been searching for. "I found it! It's here!" she exclaims, as she points to a photo of her late husband smiling widely for the camera while holding a fork and knife above a plate of lobster and mussels.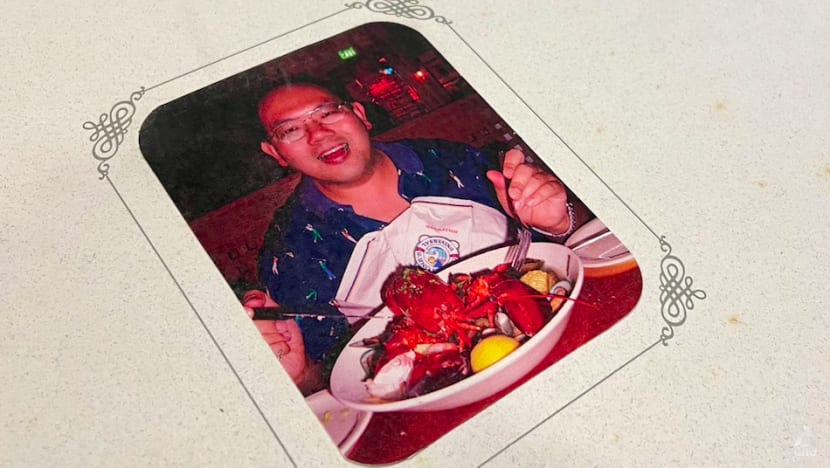 Looking up, she sees her daughters grinning at their father's expression and laughs.
"That is how he used to smile," Dr Koh chuckled, while also dabbing away tears.
It has been 20 years since her husband Dr Alexandre Chao, who was a cardiovascular surgeon at the Singapore General Hospital, died from severe acute respiratory syndrome (SARS).
But her memories of their final days together remain vivid.
It was the last week of March 2003 and Dr Koh's six-month post-doctorate stint in Pasadena, California was coming to an end.
Her husband, whom she had not seen in a month, had taken time off work to go on a two-week vacation with her before they returned to Singapore together.
But their plans were scuppered when the hospital asked if Dr Chao could return to Singapore as soon as possible.
At the time, Singapore - like several places including Hong Kong and Toronto - was in the midst of the SARS outbreak. By Mar 22, 2003, the number of SARS cases had grown to 44.
"More patients were getting infected with SARS and infecting healthcare workers. So doctors and nurses had to be quarantined, meaning the hospital was becoming increasingly short-staffed," said Dr Koh.
"They knew my husband was 'clean' because he had been away, so they asked if he could come back earlier, as soon as possible, so that he could run the medical surgery."
Recognising the urgency of the situation, Dr Chao decided to cut his trip short.
What happened during the 2003 SARS outbreak?
SARS was a type of coronavirus that first emerged in China's Guangdong province in November 2002.
From there, it began to spread through China but the World Health Organization (WHO) was only notified of the outbreak in February the following year.
In March, WHO issued a global alert for outbreaks of "a severe form of atypical pneumonia" in Vietnam, Hong Kong, and Guangdong province in China.
The Chinese government's delay in sharing information was later blamed for allowing the disease to spread unchecked.
The SARS outbreak in Singapore began in early March 2003 when a 23-year-old woman who had returned from a vacation in Hong Kong was admitted to Tan Tock Seng Hospital for treatment of atypical pneumonia.
During her admission, the patient infected 24 close contacts who subsequently developed SARS, including healthcare workers at TTSH.
The outbreak later spread to two other hospitals - Singapore General Hospital and National University Hospital.
Between March and May 2003, Singapore reported a total of 238 SARS cases. Of these, 33 people died. On May 31, WHO declared Singapore SARS-free.
By the time the outbreak ended in July 2003, SARS had spread to more than two dozen countries including in Asia, Europe, North America and South America. More than 8,000 people worldwide were infected during the outbreak, 774 of whom died.
While SARS infected fewer people than COVID-19, it had a higher fatality rate of around 9.5 per cent.
In comparison, COVID-19 - which has infected more than 766 million people worldwide and killed nearly 7 million as of May 24 according to WHO - has a fatality rate of about 0.9 per cent.
"He told me that he had to go back because his patients and his colleagues needed him. Singapore needed him," said Dr Koh.
"I was very anxious, because at that time, Singapore had never gone through a medical crisis like SARS and the virus had already claimed the life of a doctor working in a hospital," she said.
"But even though I was anxious and a little disappointed, I didn't want to say anything that would make him feel that he didn't have my complete understanding and support. Duty called and he responded and wanted to stand in.
"I just told him to be very, very careful and he assured me that he would be very careful because he would not put our family, especially our two young daughters, at risk," she added.
As she waved goodbye to her husband on Apr 5, 2003, it never crossed her mind that it would be the last time she would see him alive.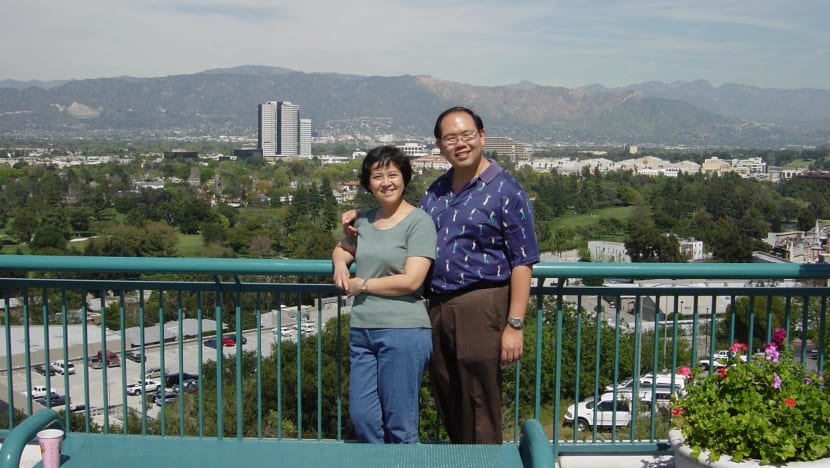 THE MYSTERIOUS VIRUS
Just a month before Dr Chao rushed back to Singapore, a nurse by the name of Lim Voon Ping was going about her usual routine at Tan Tock Seng Hospital (TTSH).
A senior staff nurse, she had been working the night shift when a young patient was brought into the intensive care unit.
"She had been admitted to the hospital (earlier) and had been diagnosed with atypical pneumonia," recalled Ms Lim, who is now a senior nurse clinician at the National Centre for Infectious Diseases (NCID).
Little did she know that she had come face-to-face with a deadly virus that would end up infecting 238 people in Singapore and killing 33 people. The patient would later be identified as the country's first SARS case.
The woman had fallen ill after returning from a trip to Hong Kong, and had reportedly stayed in the same hotel in Kowloon as a doctor from China who had treated SARS patients in Guangdong.
"At the time, we didn't know this patient had SARS and so, the only personal protective equipment most of us in the ICU wore was just a basic surgical mask when coming in contact with the patient," said Ms Lim.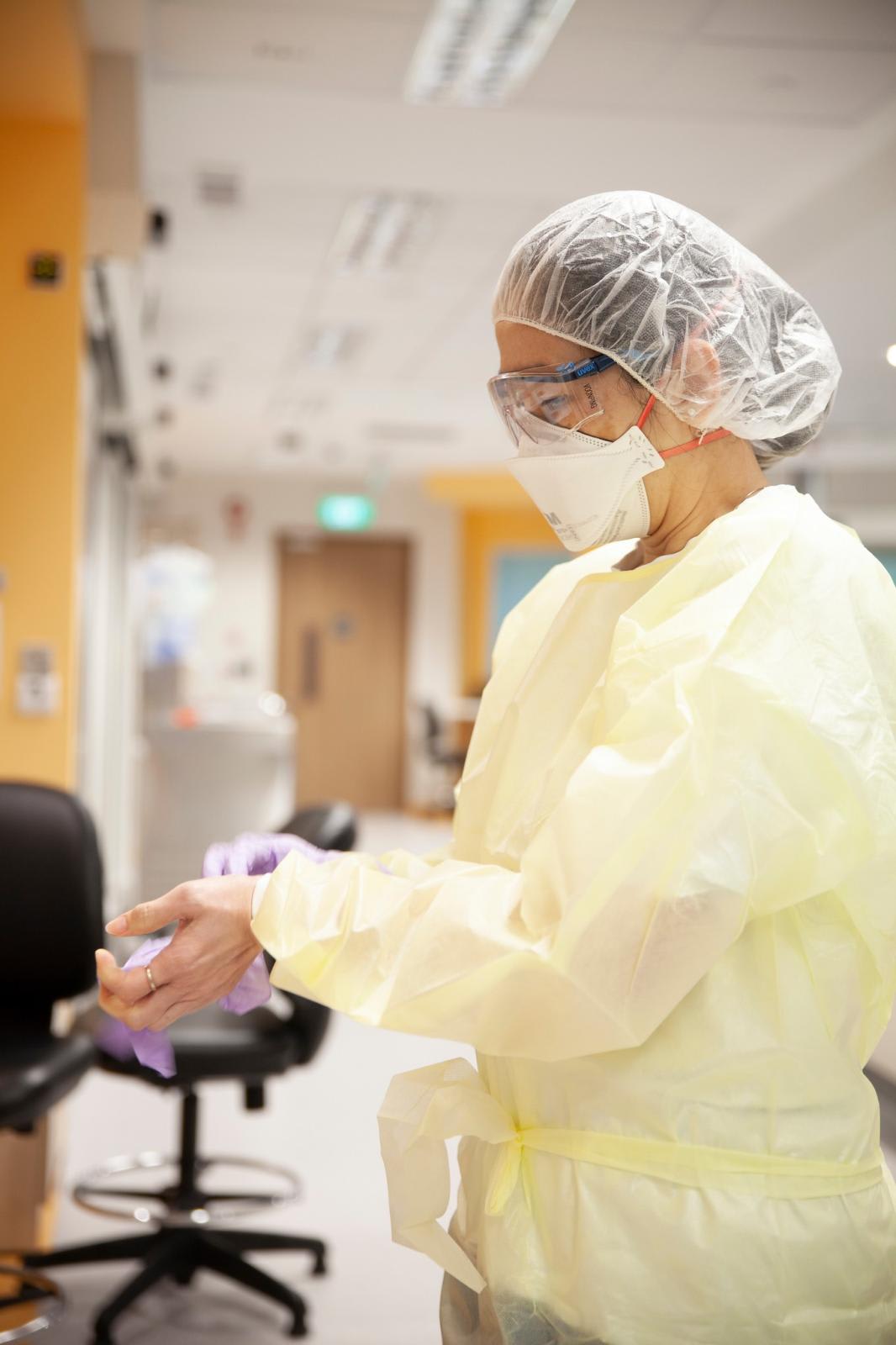 This had been the norm back then, according to Dr Brenda Ang, who is currently the clinical director of TTSH's department of infection prevention and control as well as a senior consultant at NCID.
"We didn't wear anything unless we thought the person had an infectious disease or if we were doing a procedure," said Dr Ang, who was the chairman of TTSH's infection control committee at the time.
"(In this case), she was just a young person with pneumonia so we managed her the usual way."
Dr Ang said she also did not wear any protective gear such as a surgical mask or latex gloves.
But when the young woman's parents fell ill and started developing similar symptoms, Dr Ang began to suspect that something larger was at play.
"We had some early warnings from our colleagues in Hong Kong who said something was going on there and to please watch out for it," she recalled.
"I was the clinician who had seen the first patient who came back from Hong Kong and after hearing this phone call, we sort of put things together."
Singapore's Ministry of Health had also sent out a circular to hospitals, warning them to look out for people who had come back from Hong Kong with pneumonia.
"In the second week (after the first patient had been admitted), one of the ward nursing officers told me that a few of his staff were sick and that's when we really started to worry that something was going on because not only were patients coming in sick, some of our staff were too," said Dr Ang.
On Mar 12, 2003, the World Health Organization (WHO) issued a global alert for a severe form of pneumonia of unknown origin in persons from China, Vietnam and Hong Kong - which was later named SARS.
Faced with a deadly virus that had already breached Singapore's shores, healthcare workers scrambled to deal with the outbreak.
"There was a lot of uncertainty on the ground because it was a new disease and nobody knew much about it," said Ms Lim. "It was actually very scary, especially with colleagues around us falling sick and a few of them actually ending up in the ICU."
Ms Lim was living with her sister in a rented apartment at the time, but decided to move out with a colleague to protect her sister. 
"It was very lonely," she said. "I would talk to my family on the phone and my father did say that if it was too much, I could just go home," she said. "But I told him that I was okay, it's just that I missed the family.
"I also said I can't just walk out because I am a nurse and I have an obligation too."
Numerous stories of sacrifice such as this were what made SARS such a defining moment, said Dr Ang.
Sharing stories of colleagues who volunteered to go beyond their call of duty despite working with a completely unknown disease, she said there were many untold tales of bravery among healthcare workers.
"I remember an intensivist (a doctor who specialises in treating critically ill patients) who is actually a consultant but said 'don't worry, I'll be the first one to do my duty and I will go to the ICU'," she said.
"There were many people, doctors, nurses, therapists who were all here working together … Nobody in TTSH ran away from their duties during that time.
"It was not an easy thing to happen. It would have been understandable if people were scared and decided to quit or resign but the majority of people didn't," she added proudly.
IN THE LINE OF DUTY
On Apr 11, about a week after he left, Dr Koh received a call from her husband that filled her with dread.
"He told me that he had a fever and that he was going to drive himself to the hospital and admit himself," said Dr Koh, who was still in the US at the time.
"I remember very clearly that he said 'I'm so glad you're coming back so that the kids won't be alone', joking that the children won't be orphaned, and I told him not to say that.
"Later, my domestic helper told me that he had waved goodbye to my two young daughters who were aged one and three at the time. That was the last time my two daughters ever saw their father," she said.
Though Dr Koh flew back quickly, she never had a chance to see him alive again.
"We would talk on the phone and he would update me on how he was feeling, also trying to put my mind at ease," she said, adding that his symptoms had not been typical of SARS.
"He had a bad sore throat and bad bone ache but he never had a cough and was not breathless," she recalled.
Just a day before he died, it seemed like he was on the mend and could be discharged.
But the next morning, as she spoke on the phone with her husband, Dr Koh noticed that his voice was very soft and faint.
"I kept asking if he was breathless and that if he was, he had to tell me," she said, as her voice started to crack.
"He said he wasn't breathless but he found it hard to speak because his throat was hurting. I still remember telling him this: 'You must come home. Beatrice is very naughty, please come home, she wants someone to read to her.'"
With tears rolling down her cheeks, she shared what the doctors had told her about her husband's final moments.
Dr Chao's condition had deteriorated rapidly after their call and had to be put on a ventilator as he had difficulty breathing.
But despite the situation, he remained stoic and never showed fear.
"The only thing he took with him was his Bible and the nurses told me later that he was smiling and waving to them as he was pushed into the ICU," she said.
Over the course of that afternoon, she said his doctors tried their best to save him, asking for her permission to try all sorts of treatments but nothing worked.
In the evening of Apr 22, 2003, Dr Chao died from SARS at the age of 37 at SGH, leaving behind his wife and two young daughters.
"I think he knew that it was time for him to go and he was prepared," said Dr Koh.
"Looking back, it was good that he didn't suffer too much and didn't have to be put on a respirator for days or even weeks. To my best knowledge, he also never infected anybody else," she said. 
"I took some comfort in this."
Eventually, the scourge of SARS passed and Singapore returned to normality, but 17 years later a new virus emerged.
THE VIRUS THAT UPENDED THE WORLD
On Mar 17, 2020, as governments around the world rushed to design and implement measures to combat the rapidly spreading coronavirus, Dr Chao's and Dr Koh's eldest daughter Beatrice contemplated her options.
COVID-19 had already hit Chicago, where she was a student at Northwestern University, and her school had just announced it would be shutting down the campus soon. 
Meanwhile, Singapore had more than 260 cases and already implemented border restrictions for some countries in Europe and Asia, which had very high numbers of cases, as well as social distancing measures.
Worried about her safety as well as her family, who were all based in Singapore, she decided against staying in the US and booked her flight home that very afternoon.
"I was scared, my friends were scared. But I've always remembered how my mother told me that when my father was called back to Singapore to serve during SARS, he went without hesitation and with unwavering courage. That was very impactful for me," said Mrs Beatrice Chao Sanders, who is now 23 years old, recently married, and working as a civil servant.
"I decided to come home so early and so quickly ... partly because of what happened to my father, I thought it was really important that we stayed together during this time."
But despite all the uncertainty and having once lost someone to a virus, the family was determined not to live in fear.
"I did wonder at the start if my mum would be extra sensitive and take additional precautions but she never did that," said Mrs Sanders.
"She always told us to just follow what the prevailing government regulations were whether it was wearing a mask or keeping to the group size limits for social gathering.
"This is one thing that has really always impressed me about my mum. That she doesn't allow the fear of what happened to my father control her life," she said.
She ended up staying in Singapore for nearly one-and-a-half years, doing her university studies remotely.
During this period, the country imposed a lockdown after being faced with a surge in unlinked COVID-19 cases.
The two-month-long "circuit breaker" saw most workplaces being closed and schools shifting to home-based learning.
The public was advised to remain at home and avoid socialising with others. Soon after, masks became mandatory and group size limits were placed on social gatherings.
When Dr Koh's family came down with COVID-19 one by one between 2021 and 2022, they still remained calm.
"By then, we had all taken our COVID-19 vaccinations and booster shots, so we weren't that worried," said Dr Koh. "It was just like a flu."
LEARNING FROM SARS
While SARS was a painful chapter for many, the lessons learnt proved to be crucial in preparing for subsequent infectious disease outbreaks including COVID-19.
Infectious diseases expert Leong Hoe Nam said the 2003 outbreak was a wake-up call for Singapore, catalysing the government's efforts to develop a disease outbreak response plan - also known as DORSCON (Disease Outbreak Response System Condition) - and ramp up healthcare capacity.
This paved the way for infrastructure such as NCID, a 330-bed purpose-built facility designed to respond to outbreaks of new and emerging infections. 
"In Singapore, there was always a desire to build up a centre for infectious diseases but there was no impetus or foresight to plan it and no funding to go and do it," said Dr Leong.
"But after SARS, there was this awareness that an outbreak of a viral disease or pandemic could decimate an entire economy and the government realised that this is a real threat to Singapore," he said, adding that plans to build NCID were tabled soon after.
The deployment of contact tracing tools such as TraceTogether and diagnostic tests during COVID-19 also changed the game, said experts.
"The rollout for our Bluetooth contact tracing app far exceeded that of any other app or services provided in other countries," said Dr Leong, adding that it played a major role in controlling the spread of the virus, especially in the first half of the pandemic.
Comparing COVID-19 to SARS, Dr Ang said one of the biggest challenges during the 2003 outbreak was the lack of diagnostic capabilities.
"The first few weeks of managing SARS, we were going strictly by clinical criteria or looking at whether a person had some travel history to Hong Kong or was exposed to someone who had SARS," she said.
"There was no diagnostic test, no polymerase chain reaction (PCR), nothing. And that was the dangerous part."
"With COVID, it was very, very different because very soon after the disease was recognised, the people who first picked it up in China actually released the structure, then people could actually go on to make that diagnostic test."
Having been through SARS and COVID-19, Dr Leong said Singapore is much more prepared to handle future outbreaks, noting that the country has also taken steps to fortify its vaccine resilience with local manufacturing capability.
However, he cautioned against complacency.
"If we think that COVID-19 is the worst thing that nature could do to us, I wouldn't be surprised if we're proven wrong because I think that the next pandemic won't be so kind as COVID."
MOVING ON, BUT NEVER FORGETTING
As the dust from COVID-19 begins to settle and the world returns to normalcy, Dr Koh and her daughters continue to hold onto memories of their past.
Over the years, the 55-year-old has agreed to numerous interviews with reporters and event organisers to talk about her late husband. Her aim is to remind people of the sacrifices of those who continue to fight bravely and selflessly every day, in the line of duty.
"I feel it's important for me to keep telling Alex's story because it really epitomizes the courage and sacrifice of healthcare workers," said Dr Koh.
"Just because he died in his line of duty doesn't make him any more courageous than any other doctor, nurse or healthcare worker, who remain committed to their colleagues in looking after the sick especially when the danger of actually catching the infection and dying from it is so real.
"In telling his story, I hope to honour our doctors, nurses and our healthcare workers and also the values and courage that Alex showed in the face of danger," she added.
While revisiting the past is painful, she finds closure in looking through their old photos and the memories behind them. 
"We were married for only seven years but there's a saying in Chinese that goes 'it doesn't matter how long you have love, it just matters that you once had love'," said, smiling through her tears.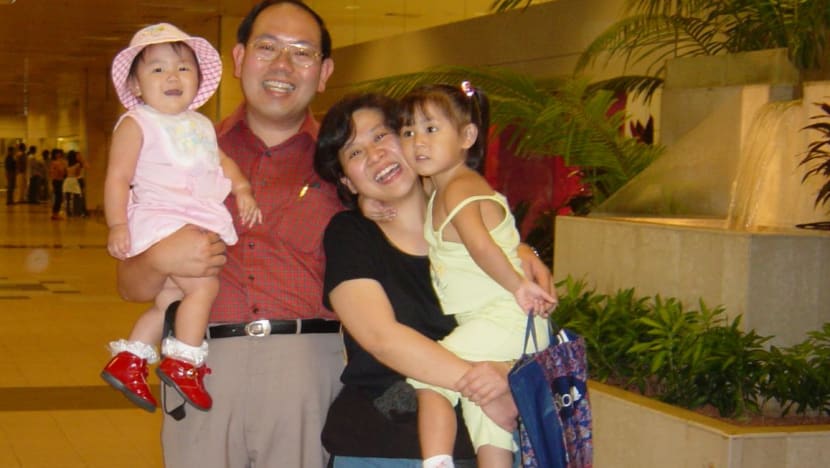 Holding a tissue in her hands, she said: "Till today, even in telling his story and looking through lots of photographs and memories, I still feel very loved by him.
"I definitely had married a husband who really loved me and loved the family."