IN FOCUS: From military base to leisure island - tracing 50 years of Sentosa and beyond
Fifty years ago, in March 1972, plans were unveiled to turn Sentosa into a world-class resort. CNA explores the island's ups and downs as a tourist destination as it prepares to renew its offerings once again.
SINGAPORE: Mr Alan Choe's office in Telok Ayer feels like an interior designer's dream.
The retired architect and urban planner, 91, sat behind a large wooden desk, facing a grand Chinese painting that hangs beside flowing wooden sculptures. Past a glass door is a little koi pond, surrounded by decorative vases and a wall of plants.
But the clearest indication of Mr Choe's illustrious career is a more modestly sized frame on the wall behind him. It shows his gold medal award in 2004 from the Singapore Institute of Architects. It is the institute's highest honour, given to respected architects who have made "sustained and substantial" contributions to the profession. 
Mr Choe was the Housing and Development Board's first architect-planner and founder of the Urban Redevelopment Authority (URA). He played a key role in master plans for the Old Raffles Institution and the Kallang Sports Complex.
He is also the man who was instrumental in turning Sentosa from defunct British military base into popular tourist attraction.
In fact, if it was not for him, Sentosa could have looked starkly different today: Instead of golf courses, resorts and a theme park, picture a tangled mess of pipes, tanks and industry.
In the middle of 1967, Mr Choe prepared a paper that helped convince then-finance minister Goh Keng Swee that Pulau Blakang Mati – as Sentosa was known then – should remain as a "green lung", or an area of parkland within a city.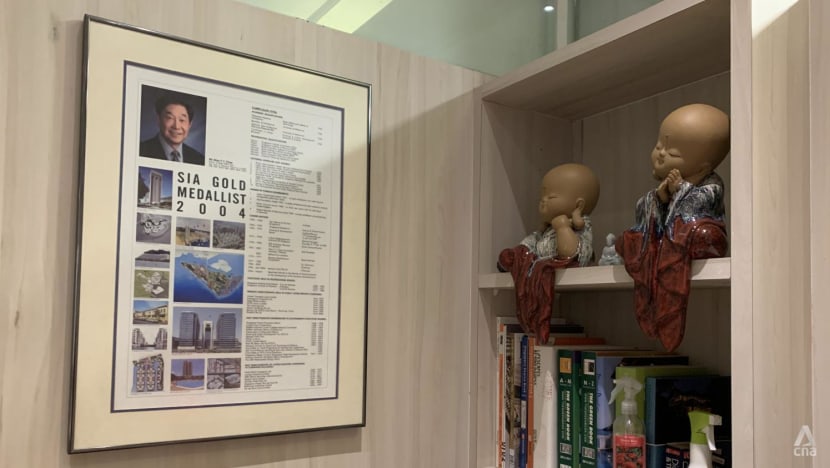 Before that, the Government had reached an agreement with energy company Esso on the construction of an oil refinery on the island with a planned expansion into a petrochemical complex.
Dr Albert Winsemius, then-economic advisor to the Government, believed this would be a mistake, considering the island's proximity to the mainland. So he asked Mr Choe, then-head of URA's predecessor the Urban Renewal Unit, for help.
"The problem was that he told me, 'How are we going to stop it? Can we show something else?'" Mr Choe recalled.
"I told him I can't think of anything else. The only thing the island can do – we know it's the only green lung we have – is we turn it into a tourism island. He agreed with that, but he said we have to whip up a plan to go and show to Dr Goh."
In the "limited time" that he had, Mr Choe sketched a "very basic" plan for the island's transformation, complete with an iconic ferry terminal, resorts and attractions. "We tried to follow Disneyland, where people can imagine it as a holiday island," he said.
Despite the decades gone by, Mr Choe's memory of that time period remains vivid. His passion for the project still shines through, not least when he recounted the moment Dr Winsemius came back with some news: "Alan, we succeeded!"
"I was very surprised, because I thought that was to just stop Dr Goh from taking action to put the tank farm there," Mr Choe said.
"But instead of that – I don't know whether Dr Goh brought the idea to (then-prime minister) Lee Kuan Yew – they liked the idea of our green lung. Because I said that's the nearest green island for Singaporeans to feel they've gone overseas.
"They laughed at the idea but it took off. So, I was very happy."
Esso agreed to move the refinery to Jurong, and in January 1969, plans were announced to transform Blakang Mati into a "tropical island resort and a South Sea Island paradise", according to official accounts cited in a Singapore infopedia article.
A contest to rename the island was launched in November 1969, and the name Sentosa, meaning tranquility in Malay, was selected as the winning entry. The name was said to be aligned with Singapore's image as a tourist attraction and came into effect from September 1970.
In March 1971, the Government announced it would develop Sentosa into a resort destination that would entice tourists to spend longer holidays in Singapore.
Then in March 1972, it unveiled a S$124 million plan for this purpose.
Sentosa and its attractions have gone through several facelifts to become what it is today, as it celebrates its Golden Jubilee this year.
"I can only say one thing. I started the ball rolling, subsequent management teams and chairmen added a lot of spin to it," Mr Choe said, insisting it is thanks to Dr Winsemius that Sentosa did not become a refinery in the first place. 
 "So, it's now glowing brighter and brighter."
BEFORE SENTOSA WAS TRANQUIL
Mr Choe's and Dr Winsemius' intervention could be considered a turning point for Sentosa, which by then had gone through some tumultuous times.
In the early colonial era, the island was swept by a mysterious epidemic, now thought to be malaria, that killed most of the staff at a British signal station. By 1848, its population of around 60 people was reduced to two Bugis households.
During the Japanese occupation, a beach on the island was used as a killing site for numerous Chinese as part of Operation Sook Ching. Part of the island was also turned into a prisoner-of-war camp, with about 400 allied troops and gunners held in the artillery barracks.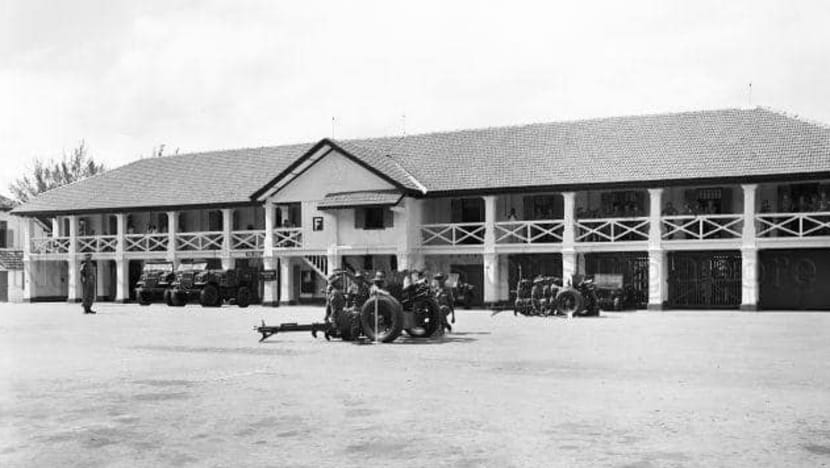 In 1947, the island became the base for a regiment of the Royal Artillery – comprising local enlistees – and also hosted basic military training for other enlisted men. The regiment was disbanded a decade later before Gurkha infantry units moved to the island.
In 1963, the British War Department handed over Pulau Blakang Mati to Singapore as part of the formation of the Federation of Malaysia. From 1967, with the near-complete withdrawal of the Gurkha units, the island came under the jurisdiction of independent Singapore.
During the latter period, a number of government ministries and agencies sought the island for various proposed uses, including as a port and industrial complex, a tourist resort with a casino, as well as for military installations.
This was when it emerged the Government had reached that agreement with Esso. The rest, as they say, is history.
"Not many people know this today, but if history had taken a different turn, Sentosa could well be celebrating our anniversary as an oil refinery," Sentosa Development Corporation (SDC) chief executive Thien Kwee Eng told CNA.
EARLY DAYS
In September 1970, an American firm that was approached to do a feasibility study on Sentosa's transformation released findings that confirmed the project was viable and would increase tourist arrivals.
The Dillingham master plan, named after the firm, was drawn up to transform the island into an international-standard vacation complex, with proposed attractions including a golf course, open air theatre, gun museum, coralarium, aquarium and a "pirates cove".
The S$124 million budget, comprising state investment and private sector contribution, would be used to develop the island with those attractions in mind.
In September 1972, the SDC was established as a statutory board, and Mr Choe joined its board of directors.
He immediately recognised the enormous task ahead, highlighting that while several landmarks on the mainland handed over by the British could be easily turned into attractions, Sentosa was a "different animal".
"It's always been a military island. When we took over, there was no money, no causeway. So, we started by adapting a lot of the old buildings used by the British for military garrisons," he said.
Mr Choe suggested repurposing some of these empty structures into attractions, noting that they were still clean with proper sewage and greenery. Some were eventually used for the coralarium and a wax museum near the ferry terminal. Others were preserved for their historical value.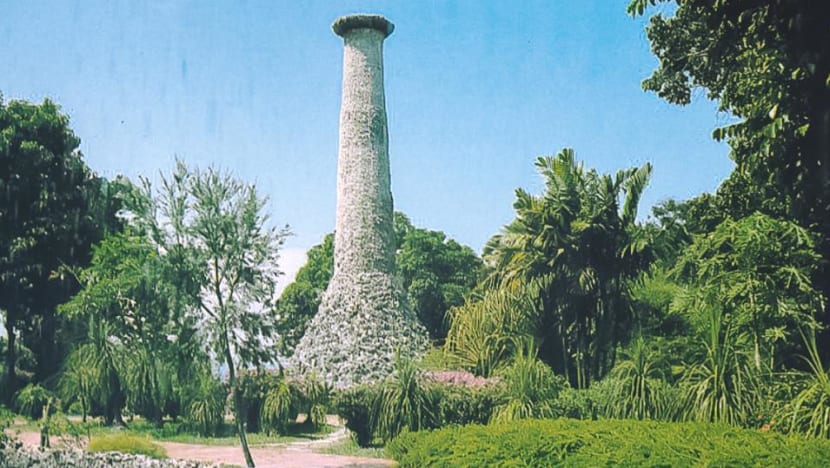 As the plans intensified, Mr Choe set up an office on Sentosa so that he and his team could be "hands on" in determining what could be done for the island.
"Sometimes, we went at night to see if we could take advantage of the area (for evening activities) also," he said. "Not many people got to go to Sentosa those days because of the difficulty of getting a ferry."
Mr Choe proposed that some of the S$124 million go towards building a causeway that connected Sentosa with the mainland. He pointed out that the ferry terminal on the mainland was built on land owned by the former Port of Singapore Authority, and that this could mean extra fees.
While Mr Choe did not immediately get his wish for a causeway, Sentosa unveiled its first major project in February 1974: The cable car system linking it to Mount Faber on the mainland.
It was then hailed as the world's first cable car system spanning a harbour, and attracted an average of 50,000 passengers a month. By November the same year, eight additional cars were ordered to cope with demand.
PICKING UP STEAM
A month later in March 1974, Sentosa Golf Club opened to popular reception despite having the most expensive entrance and membership fees in Southeast Asia at the time, the infopedia article said.
Other attractions completed in the decade include the coralarium, maritime museum, Palawan beach lagoon, and the popular musical fountain, which officially opened in June 1982 and featured synchronised water sprays "dancing" to music.
"The fountain was the only attraction we had at night, and it did succeed because we played popular tunes. So, it was something quite novel," Mr Choe said.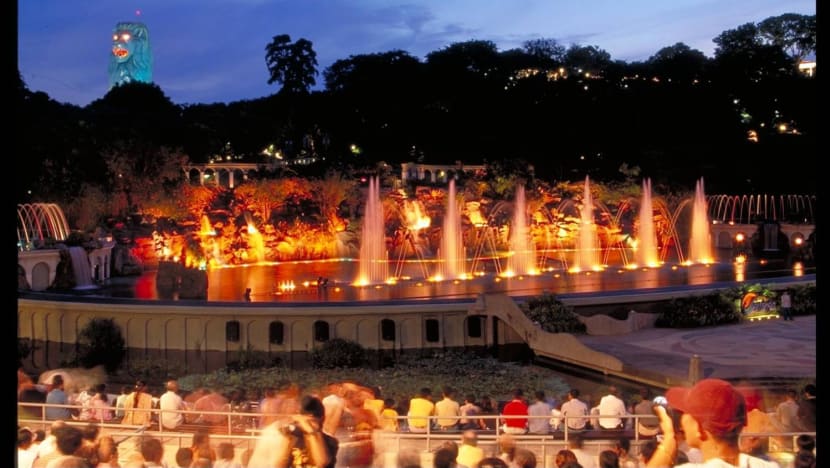 There was also Fort Siloso, which was primed as a historical attraction following the preservation of its underground tunnels, ammunition bunkers, gun emplacements and searchlight posts.
Sentosa's connectivity was further improved with the opening of its monorail system in 1982, another project credited to Mr Choe.
"Our early planners envisioned a resort island that offers a unique range of leisure experiences  –such as hotels, restaurants, golf courses – while leveraging our island charm and assets including beaches, nature trails and scenic views," Ms Thien said.
Indeed, Mr Choe emphasised throughout the interview that he always wanted to retain Sentosa's image as a green lung, calling it a school of thought that "we should leave it as natural as possible".
Still, commercial pressures and other challenges were around the corner.
CABLE CAR TRAGEDY
Despite attracting 850,000 visitors in 1979, Sentosa struggled to attract private investment and received complaints about the poor condition of the facilities and infrastructure, according to a March 1980 editorial in The Straits Times.
Nonetheless, visitorship grew steadily, crossing the 1 million mark for the first time in the financial year 1979/80.
Then in 1983, tragedy struck. In the evening of Jan 29, the derrick – or steel lattice tower – of an oil drillship struck the Sentosa cableway, dislodging two cable cars and violently shaking another. Seven people died and 13 others were trapped.
The possibility of scrapping the cable car system was raised afterwards, but the system was eventually declared sound and the cause of the accident established as an ignorance that the ship's height had exceeded the cableway's clearance.
Following the disaster, visitor numbers to Sentosa declined significantly, with Mr Choe calling the incident tragic. "We never thought about these oil rigs and there was a very bad accident," he said.
Ms Thien said this was a "difficult moment" for Singaporeans, adding that lessons were learnt and measures put in place to ensure everyone's safety. "At Sentosa, we will continue to ensure our guests' wellbeing and create good guest experiences," she added.
MORE HICCUPS
In 1985, Mr Choe was appointed chairman of SDC, noting that he was already "spending a lot of time" on Sentosa. 
To attract private investment, he proposed tax incentives for developers and devised a scheme where they paid a portion of the land value as a lump sum and an ongoing 20 per cent of the project's gross earnings.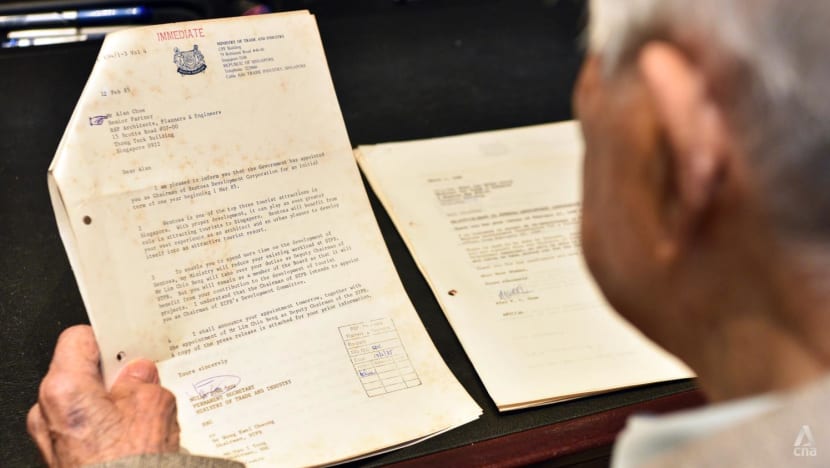 Mr Choe also made it easier for Sentosa projects to get planning approval as long as guidelines were followed. He personally pitched the island to the business community, and set up a showroom to woo investors.
"We had a big glass building full of big pictures of the things that we hoped to see (on Sentosa), and we opened it to the public for about one month for them to see the opportunities as well as the incentives," he said.
Smaller islands around Sentosa were reclaimed to add to the latter's land mass, eventually housing various attractions and recreational facilities, including what would eventually be Sentosa Cove, another of Mr Choe's pet projects.
In the 1990s, a S$750 million plan was launched to add more resort hotels and major attractions alongside infrastructural improvements. A causeway link opened in 1992.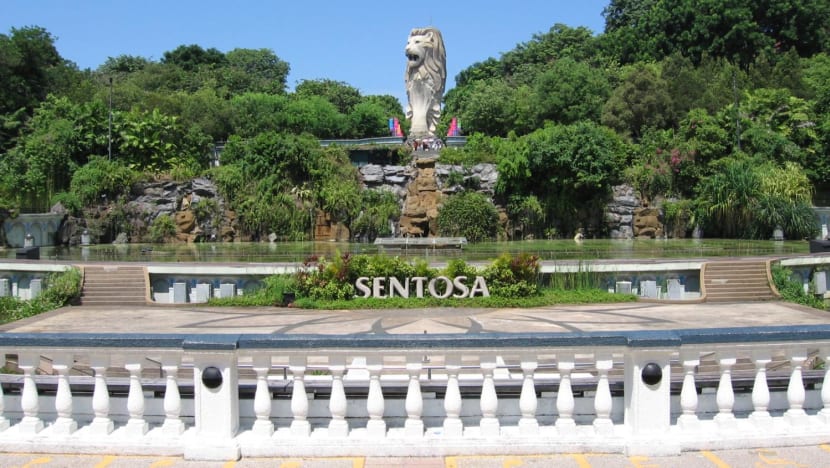 Existing attractions like Fort Siloso were given extensive makeovers with interactive exhibits, while the popular oceanarium Underwater World Singapore was opened in 1991 and the Sentosa Merlion tower unveiled in 1996.
"The biggest attraction we built was the Merlion ... We built it very tall; people could take a lift up to the top, and we made its eyes like radar lights, flashing all over with smoke coming out and sound roaring out," Mr Choe said.
Still, some attractions launched in the 1990s were criticised for being expensive, dated and lacking appeal, and were eventually shut down due to poor visitorship.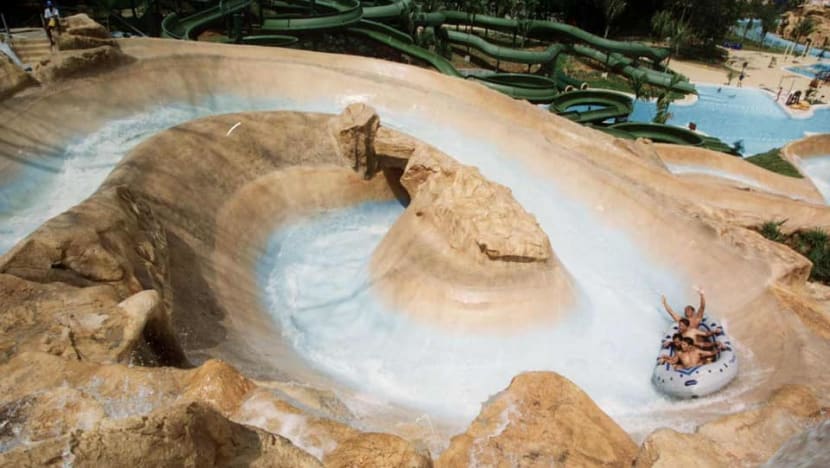 These include the S$60 million Asian Village (1993 to 2001), the S$20 million Volcano Land (1995 to 2002), and the S$52 million water theme park Fantasy Island (1994 to 2001), which saw a number of guest accidents and two deaths.
"Those days, it was just trying to feel your way. We know that with tourism, even if you have something successful, it's got a limited life," Mr Choe said, telling how a strip of sheltered beach near the golf course used for skinny dipping also had to be shut down following complaints.
"You'll have to revise it within maybe one or two years. We tried to keep it as long as two years and then renew it, rebuild it or do something."
Mr Christopher Khoo, managing director at tourism consultancy MasterConsult, said there were certainly years in the past when "Sentosa evoked the feeling of old or stale attractions".
"But the constant rejuvenation of the island meant that the island was always on the look out for newer and better attractions," he told CNA.
BILLION-DOLLAR OVERHAUL
To reduce Sentosa's reliance on tourism for revenue, Mr Choe mooted in 1996 a residential waterfront project to attract permanent residents to the island. This would eventually be known as Sentosa Cove.
But the project was put on hold in the wake of the 1990s property slump and the 1997/1998 Asian financial crisis, the infopedia article said.
In 2000, the Government commissioned an international advisory council to help SDC make Sentosa a "millennium lifestyle destination". The panel recommended a complete overhaul of the island and a consolidation of attractions under a sole operator.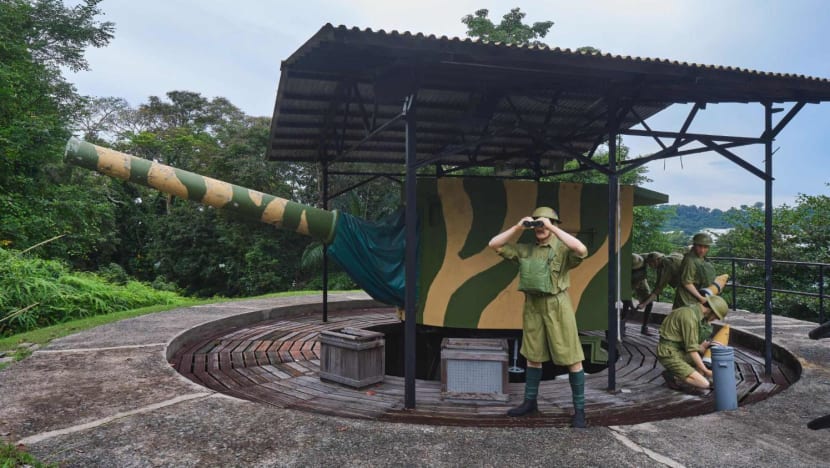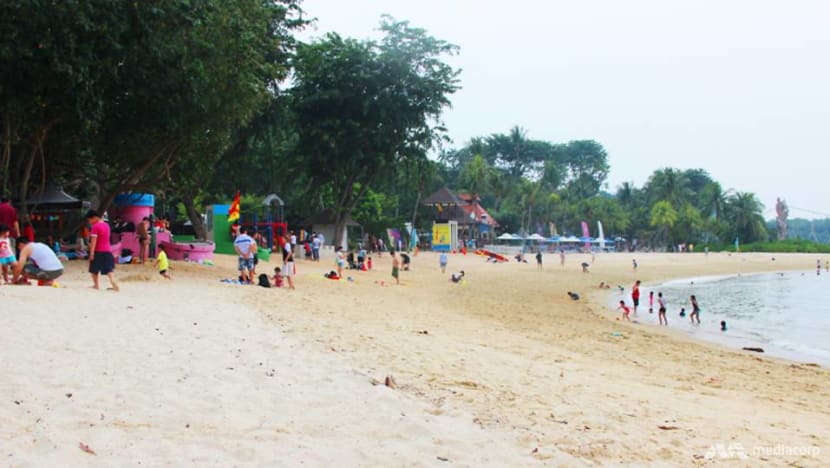 Following that in June 2002, a S$3 billion, 10-year overhaul of Sentosa was announced. The plan included better attractions, lower entry fees, new hotels and better transport options to improve Sentosa's visitorship.
Over the next few years, existing attractions were upgraded even as new ones were developed. Fort Siloso's and the Images of Singapore museum's refurbishment were completed in 2004 and 2005 respectively.
The musical fountain was demolished, replaced by the S$30 million Songs of the Sea pyrotechnics production. Palawan Beach underwent a S$20 million makeover that expanded its food, retail and entertainment options, and reopened in 2006.
New attractions that sprang up that decade include surfing simulator Wavehouse, the MegaZip outdoor adventure park and skydiving simulator iFLY. The first ZoukOut beach dance party was held on Sentosa in 2000, with subsequent editions attracting tens of thousands of revellers.
"An important pillar of this journey is the continual rejuvenation and refresh of our island's various offerings to address changing guest preferences and needs of both international and domestic visitors," Ms Thien said.
"Business establishments on our island also need to be adaptable and agile amid such changes."
TURNING THE TIDE
Mr Choe retired as chairman of SDC in 2001, with the Government saying Sentosa had benefited from his vision, dynamism and personal attention to details during more than three decades of distinguished service.
"Before I left, I told my successor that every tree anybody cuts down, they must build 100 trees to replace," he said.
"Number two, I said that all buildings cannot be higher than the treetops, and I told them Shangri-La hotel agreed with me."
Mr Choe then saw Sentosa Cove launched in 2003. The 117-hectare gated enclave featured a total of 2,600 homes comprising oceanfront villas, mansions and condominiums.
"It's a great satisfaction," he said of seeing the project come to fruition.
"When we did it at the start it was very difficult. We put a lot of money to build channels, waterfront homes. The idea was for the rich to park the car in the front and the yacht behind. We did that deliberately hoping we would succeed.
"So finally when it took off, it was a very happy situation. We were able to sell to the rich people."
In fact, he had envisioned Sentosa Cove to be bigger, as he wanted to reclaim another long strip of land south of the enclave to create an extensive, double-sided waterfront.
But his plans were resisted by then-defence minister Yeo Ning Hong, who said this would extend the time it took for Singapore's naval ships to sail from Jurong naval base to the other end of the mainland in Changi.
"In defence, half an hour longer makes a world of difference," Mr Choe said. "So, Lee Kuan Yew wrote to me and said, 'Sorry, one fine day we will do it.'"
CROWN JEWEL BECKONS
March 2010 saw the opening of an attraction that would make a world of difference for Sentosa in the years to come: Resorts World Sentosa (RWS), featuring Southeast Asia's first Universal Studios theme park and Singapore's first casino.
RWS helped boost Sentosa's annual visitorship to 19.1 million in 2011, more than double the 7.8 million visitors the previous year.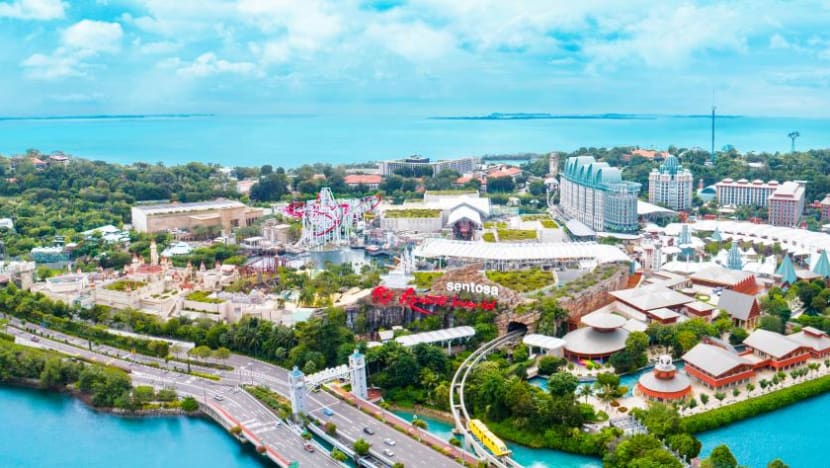 In November 2012, RWS unveiled the SEA Aquarium – what it billed the world's largest oceanarium – and Adventure Cove Waterpark, an aquatic adventure park.
"Resorts World Sentosa has been a very key addition to Sentosa's ecosystem," Ms Thien said, calling it a stable of "world-class attractions".
"These are in addition to their MICE (meetings, incentives, conferences, and exhibitions) facilities, award-winning dining experiences, array of accommodation options and other entertainment offerings."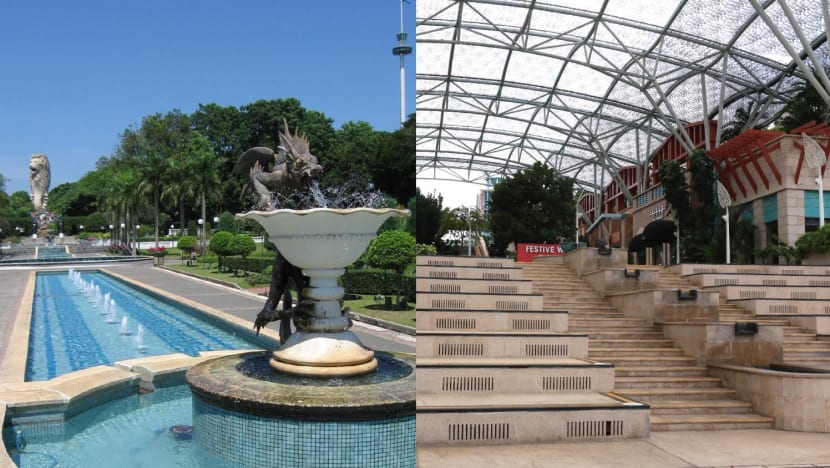 When asked why it was convinced that coming to Sentosa was the right decision, an RWS spokesperson told CNA that the island was just a short drive from the Central Business District but offered a "completely different atmosphere".
"In the 1990s, Sentosa had few attractions. But the opportunity to call the beautiful island home and be surrounded by lush tropical forests, the sea and a rich array of flora and fauna was hard to come by, especially in Singapore," the spokesperson said.
After being awarded the project, RWS said the challenge was to bring to reality a lifestyle destination resort with large-scale iconic developments and must-visit attractions that will draw millions of international and local visitors.
"Juggling a multitude of challenges from sand supply restriction to escalating steel prices, we overcame the odds and kept to our completion schedule and budget," the spokesperson said, highlighting that RWS was built in 34 months when it was supposed to take six years.
'We upgraded the road network to RWS and other offerings on Sentosa. In addition, power, water, sewage, gas and telecommunications services were upgraded at the same time to future proof Sentosa's infrastructure."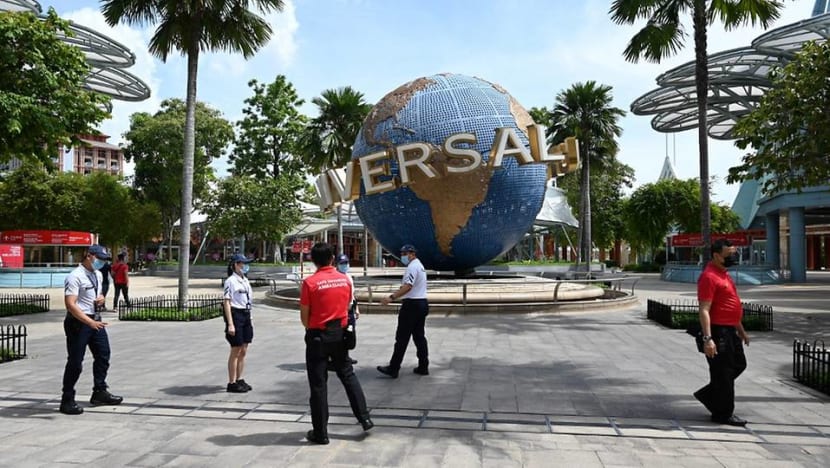 Despite that, Mr Choe felt the addition of such a large-scale attraction changed Sentosa's concept "completely".
"RWS is such a powerful attraction; people make a beeline for it and go there by the busloads," he said. "The atmosphere of an idyllic island with natural vegetation and all that seemed to have been blurred by RWS."
When asked if he would have allowed the development of RWS, Mr Choe admitted it was a "difficult question, because financially, they generate the most income for Sentosa".
"I would have given them another island," he said after some thought.
RWS said it reclaimed almost seven hectares of water, changing Singapore's coastline and adding a vibrant waterfront area. It also preserved three hectares of forest, replanted trees and relocated coral to minimise the environmental impact.
"Many attractions, hotels and residential developments have opened in Sentosa following RWS's opening. Together, we have uplifted Sentosa's value offerings, helping to make the island a lot more vibrant and colourful," the spokesperson said.
"Now, it will take more than a day to fully experience the island."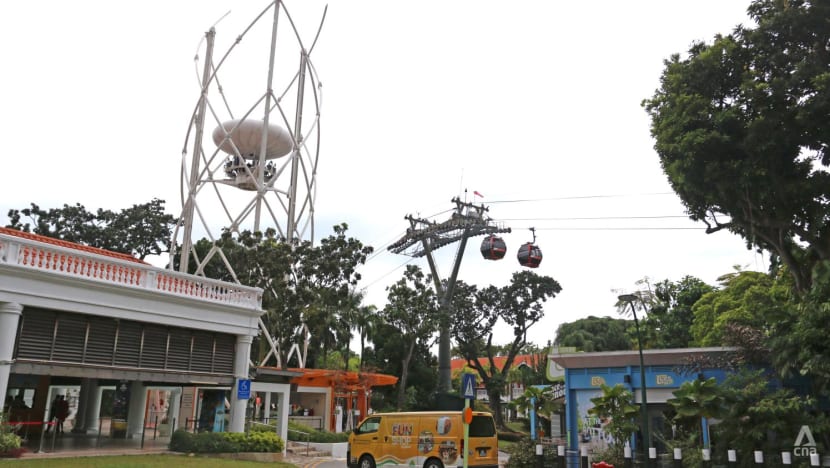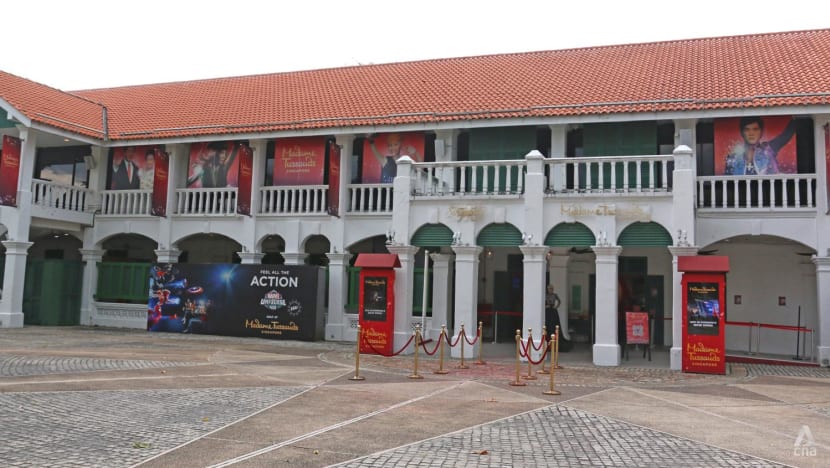 The world-famous Madame Tussauds wax museum opened in 2014 and incorporated the revamped Images of Singapore. More recent additions include the aquatic playground Hydrodash, and Skypark Sentosa by AJ Hackett, featuring a giant swing and bungy jumping.
Until COVID-19 hit Singapore, Sentosa had seen a 17 to 19 per cent growth in local visitorship, SDC said in 2020. Nevertheless in January, the Singapore Tourism Board pointed to signs of recovery in the tourism sector, with year-on-year growth in the last three quarters of 2021.
THE FUTURE AND BEYOND
While tourism experts CNA spoke to agreed that Sentosa has played a key role in Singapore's tourism sector over the years, they cautioned that it cannot rest on its laurels.
"Sentosa may want to rejuvenate some of its existing infrastructure and improve the connectivity among the attractions in the different parts of the resort island," said Dr Michael Chiam, deputy director of Ngee Ann Polytechnic's School of Business & Accountancy.
"The island could also introduce more night activities suitable for all segments of the market."
Mr Kevin Wee, senior lecturer at Nanyang Polytechnic's (NYP) School of Business Management, said increased competition from other attractions in the region has made it harder for Sentosa to market itself to new visitors, and "particularly challenging" to attract repeat visitors.
"That being said, I believe Sentosa's upcoming expansion and rejuvenation works will definitely keep it ahead of competitors in the tourism industry," he said.
One of these plans is RWS 2.0, which the resort said will include a mix of all-new attraction, entertainment and lifestyle options that will take its offerings to "another level".
It includes expanding and rebranding the SEA Aquarium as a Singapore Oceanarium focused on marine education and environmental protection, as well as a new Minion Land in Universal Studios featuring a ride exclusive to the theme park.
The major expansion will be delivered in phases, with construction starting in the second quarter of this year until a projected completion of around 2025.
Beyond that, the Sentosa-Brani master plan aims to redevelop Sentosa and Pulau Brani into a "game-changing leisure and tourism destination", with new spaces and concepts as well as rejuvenated beaches.
A "multi-sensory walkway" about the size of 5.5 football fields will connect RWS in the north to Sentosa's southern beaches. The two islands will also be redeveloped according to five zones, each with their own character and unique experience for visitors.
Announced in 2019, SDC said the master plan is expected to be implemented in phases over the next two to three decades, although construction on the walkway has already begun and is expected to be completed this year.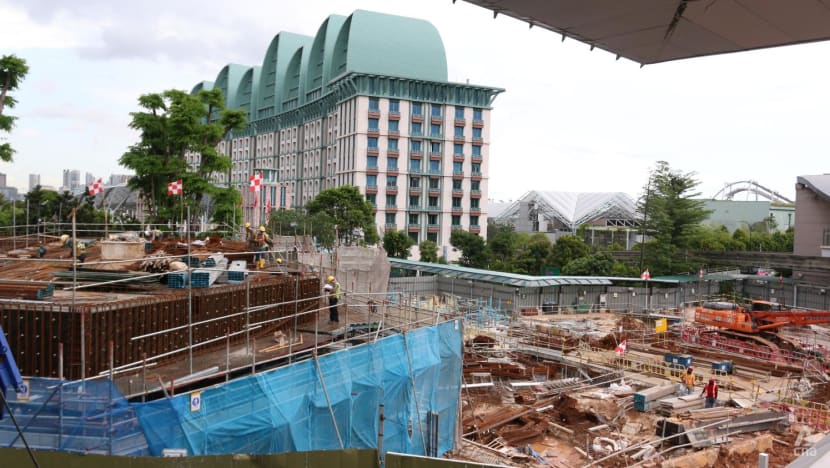 But Mr Choe bristled at how the Merlion had to be demolished to make way for the walkway, saying that the new Sentosa management wanted the path to go in a straight line with nothing in between.
"That was very sad because we spent a lot of money and that was a major attraction for us for a long, long time," he said.
MasterConsult's Mr Khoo said the master plan will take Sentosa "even further" and help Singapore project an even more positive image as a tourist destination, while NYP's Mr Wee said it will ensure the island continues to be a "big brother" to other tourism attractions in Singapore.
Mr Wee believes Sentosa will become a test bed for sustainability innovation in the tourism sector, a resource for hospitality projects, and a site for rolling out large-scale initiatives to attract more visitors to Singapore.
Mr Khoo said Singapore visitors are today "equally sophisticated", meaning there is "very little need" to have separate types of attractions for local and foreign visitors.
"We should however bear in mind that entry prices to attractions have been steadily rising over the years, and this has contributed to the perceived high cost of leisure and holidays in Singapore," he said.
FOCUS ON SUSTAINABILITY
SDC's Ms Thien said the Sentosa-Brani master plan will cater to an expected increase in footfall.
"This year, we will conduct a series of feasibility studies to look into the potential for new and sustainable tourism opportunities that may have arisen from the pandemic, as part of the development of the Sentosa-Brani master plan," she said.
"We are also looking into the potential to extend the Sentosa getaway for our guests into the nearby Southern islands, through low-carbon leisure experiences."
RWS said it will support SDC in boosting Singapore's eco-tourism by playing a key role in achieving carbon neutrality for Sentosa by 2030. The initiative is also supported by major businesses in Sentosa accounting for more than 90 per cent of the island's carbon profile.
"This could therefore potentially bring about the largest reductions in Sentosa's carbon emissions," Ms Thien said.
Mr Choe praised the broader programmes in Singapore to create more green spaces, and called the Government's plans for the Greater Southern Waterfront – which includes the Sentosa-Brani master plan – "quite ambitious".
Again, he stressed the importance of balancing commercial needs with retaining Sentosa's identity as the early planners envisioned it to be.
"For us to make money, there are so many things we can do. We are a financial centre, we have geographic location, we have good governance, we have law and order. So for us to give up something like a green lung, you cannot recreate it," he added.