Fewer than 4 in 10 Singapore respondents optimistic of better lives in 5 years, all-time low in global survey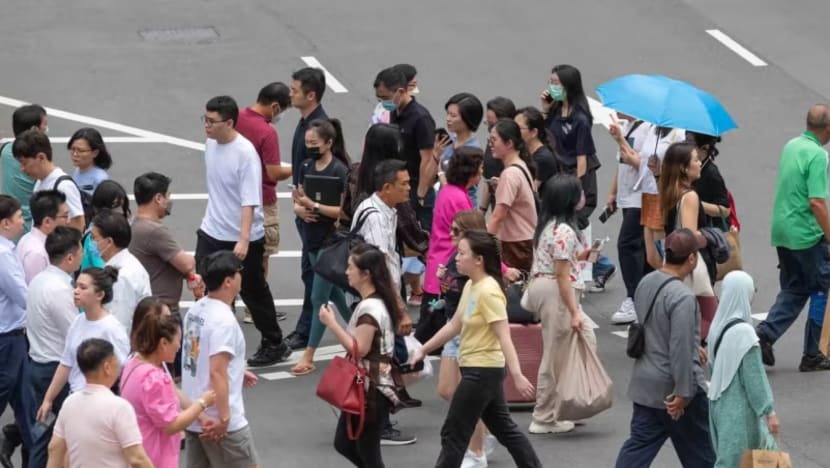 Only 36 per cent of respondents in Singapore felt that their families will be better off economically in five years' time, according to the latest Edelman Trust Barometer survey
This is the lowest level for this measure, said Edelman, which has conducted the annual survey for 23 years
The sentiment here was in line with a global "collapse" in economic optimism, the firm added
This is happening as the income-based gap in trust towards societal institutions widened, with the more well-off indicating much higher trust in such institutions compared to low-income earners  
SINGAPORE: 
Fewer than four in 10 people in Singapore believe that they and their families will be better off economically in five years' time, according to a survey conducted by consultancy Edelman. This is the lowest level of economic optimism in the 23 years that the firm has conducted the annual global survey.
Only about 36 per cent of respondents in Singapore felt that way, down seven percentage points from a year ago, according to the 2023 Edelman Trust Barometer report released on Wednesday (Mar 15).

This was roughly in line with what the survey described as a "collapse" in economic optimism around the world, with the global average dropping by 10 percentage points over the same period to 40 per cent.
"Nearly half of the countries surveyed (showed) a year-over-year double-digit decline in the belief that their families will be better off in five years' time," said Edelman in a statement on the 2023 report.
The firm noted that respondents in developed countries were less optimistic than those in developing ones.
This trend is occurring against the backdrop of a wider spread of income-based trust gap in governments, businesses, the media and non-governmental organisations (NGOs), or what is collectively referred to by the report as "societal institutions".
The survey found that respondents from the higher income group have greater trust in these societal institutions compared to respondents with low-income.
The 2023 Edelman Trust Barometer is the 23rd annual trust and credibility survey by the Edelman Trust Institute. Conducted last November, more than 32,000 respondents across 28 countries were surveyed via online interviews. 
A total of 1,135 individuals aged 18 or older residing in Singapore were interviewed.
Besides the low level of economic optimism, the survey also found that nearly half of respondents here felt that the social fabric here is weakening and over three-quarters expect business leaders here to take a public stand over issues such as discrimination, climate change and the treatment of workers.
"COLLAPSE" OF GLOBAL ECONOMIC OPTIMISM
Respondents were asked how they thought they and their family will be doing in five years' time in terms of economic prospects, selecting their answer from a five-point scale.

For the 2023 report, 36 per cent of the respondents in Singapore picked either of the top two alternatives, indicating optimism. This was down from 43 per cent in 2022, and 44 per cent in 2021. 
This compares with 40 per cent global average across 24 markets, down from 50 per cent in 2022 and 53 per cent five years ago in 2019.
"For some time now, experts have been predicting that the global economy is headed towards a recession," said Ms Julia Wei, chief executive officer of Edelman Singapore.
"Combined with the mass layoffs that have been taking place around the world since late last year, this could be reinforcing the perception that our financial prospects have never been worse."
The survey found that developing countries showed more optimism than developed countries. The following are the top three and bottom three countries in terms of percentage of respondents indicating an optimistic economic outlook:
Kenya (80 per cent),
Indonesia (73 per cent), 
India (73 per cent); compared to
Japan (9 per cent), 
France (12 per cent)
Germany (15 per cent)
"A potential consequence of this lack of economic optimism is a deepening of economic fears," said Ms Wei.

"Already, job loss and inflation are top of mind for most people and a worsening of these fears could foster distrust, which could in turn lead to greater polarisation – creating a vicious cycle where polarisation deepens fears and distrust, and these fears and distrust in turn lead to greater polarisation."
GROWING INCOME-BASED DIVIDE IN TRUST
According to Edelman, this decline in optimism has occurred "alongside a metastasising of the mass-class divide".
"There is now a double-digit trust gap in three quarters of the countries surveyed where those with a high-income are more trusting, on average, of the four main societal institutions than low-income respondents," it said.
Among top 25 per cent earners, the average trust in institutions globally has soared to 62 per cent from 50 per cent in 2012. Among low-income earners, the bottom 25 per cent, the trust index inched up from 44 per cent to 48 per cent over the same period.
Thailand and the United States demonstrated the largest divides in 2023, at 37 points and 23 points difference respectively, according to Edelman.
"Singapore also registered a sizeable income-based trust gap of 18-points, tied for the seventh largest gap among all countries surveyed," according to Edelman.
High income earners in Singapore registered an average of 73 per cent level of trust in NGOs, business, the Government and the media. In comparison, the bottom 25 per cent earners in Singapore indicated a 55 per cent level of trust, which falls under the 'neutral' range of the trust index.
Edelman said the income-based trust gap has remained roughly the same at 19 per cent in 2021 and 2022, and 18 per cent this year.
Meanwhile, the income-based trust inequalities have grown from a four-point divide to 19-points in China and from 10 percentage points to 19 in the United Arab Emirates over the same period.
This story was originally published in TODAY.