Singapore to review housing policies, leave measures to encourage more people to have children: DPM Wong
Deputy Prime Minister Lawrence Wong also said the Government will look into retirement adequacy for seniors and make it a key priority to reduce income inequality.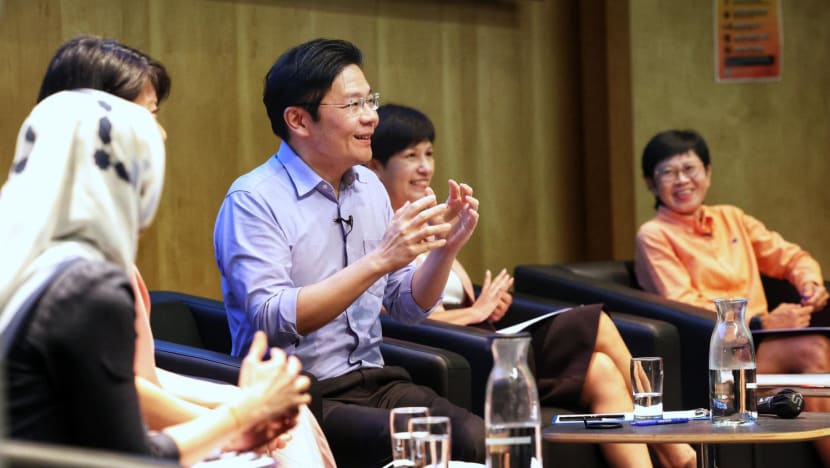 SINGAPORE: The Government will review housing policies and leave measures to better support Singaporeans in starting families, Deputy Prime Minister Lawrence Wong said on Monday (Oct 10).
Speaking at a Forward Singapore conversation for social service practitioners, Mr Wong set out the direction for social policies on strengthening families, supporting seniors and improving social mobility in Singapore.
He also promised to look into retirement adequacy for the elderly and to make narrowing income inequality a key priority.
On the issue of encouraging young families to have more children, Mr Wong noted that long wait times for new HDB flats and rising resale home prices are key concerns for many young Singaporeans.
"This is partly due to the disruptions in the building programme brought about by COVID-19 and the pandemic in the two-and-a-half years. But HDB has been ramping up the supply of new flats and will be able to launch more flats to meet the demand soon," said Mr Wong.
"In addition, we will also review our housing policies to see how we can help first-time home buyers secure a flat quickly and affordably."
To help parents better balance work and family commitments, the Government will also encourage flexible work arrangements and review leave measures.
"This is under review," Mr Wong said. "It does not mean that we will do everything – because we have to take into consideration all the constraints and needs of different stakeholders."
In addition, Singapore will consider how financial support schemes for parents can be enhanced, and review and adjust existing marriage and parenthood measures.
"We must make Singapore the best place for families – a society where young couples feel well-supported to start and raise a family, and can give their children the best possible start in life," said Mr Wong, who is also Finance Minister.
He urged fathers to be more involved in parenting, nothing that in most families here, mothers still bear the larger share of caring for the children. Singapore should aim for more equal sharing of parental responsibilities, said Mr Wong.
"This is not something that we can change through policies alone. Ultimately, it's about how we can engender a broader mindset shift in individual attitudes as well as societal norms," he added.
Another major area is support for children in their early years, said Mr Wong, assuring parents that more will be done to invest in pre-school education. He promised that fees at government-funded pre-schools will become more affordable and be eventually similar to what parents pay for primary school and after-school care.
"We will take some time to get there ... but this is what we are working towards," he said.
SUPPORTING SENIORS
Another key area of focus is supporting seniors, as Singapore is one of the fastest-ageing nations in the world. By 2030, 1 million citizens, or one in four Singaporeans, will be aged 65 and above.
"We must take better care of our seniors – to help them live independently for as long as possible and to live active and meaningful lives, contributing to society – at work, or in the community," Mr Wong said.
Touching on the Central Provident Fund (CPF) system, he noted that while it has worked well so far, it faces challenges as the nature of work is changing. For instance, more people have taken up gig work.
"We must continue to evolve and update our CPF system ... it will require not just moves on the CPF front, but also on wages. And that's something we will study and discuss further with our tripartite partners," said Mr Wong.
"Meanwhile, our current seniors have not had the runway to benefit as much from enhancements to the CPF system, such as Workfare and the extra interest rates. We will see how to further strengthen retirement support for them, including those with low or less stable incomes."
Mr Wong said that while Singapore has improved its healthcare and eldercare system, there is an urgent need to transform the care and living options for seniors.
Several ministries are already working together to develop better senior living options in housing estates and scale them nationwide, he said.
This should complement an extensive network of community and eldercare services "within easy reach" in all neighbourhoods.
SOCIAL MOBILITY
Mr Wong said that further reducing income inequality in Singapore and sustaining social mobility is yet another key priority for him.
He noted that for children born in the 1980s, 14 per cent of those whose parents earn the bottom one-fifth of incomes reached the top fifth of their cohort by their 30s. This percentage is higher than many advanced economies and twice as high as the United States.
"But any society which has been stable for a long time tends to stratify and become less socially mobile. In particular, we know that lower-income families today face more challenges," he said.
There are some signs that social stratification is becoming more entrenched, with more families with young children staying in rental flats, Mr Wong pointed out.
There are no "magic bullets", but he said Singapore has to "refresh and update" its approach to providing social support.
"What we have learned is that to help lower-income families sustain progress, our social services need to be delivered in a more holistic manner. We need to provide more integrated, wraparound support, tailored to the family's unique circumstances and needs," he said.
Asking the more than 200 attendees from the social service sector to contribute their ideas, he said: "We are also open to new ideas to encourage lower-income families towards better life outcomes, empowering them to achieve success on their own terms."
Following Mr Wong's speech, several social service practitioners rose to ask questions and give suggestions from expanding mentoring programmes, having later school start times to ways to better coordinate social services.
Mr Wong welcomed the suggestions and promised to look into some, while pointing out that there are programmes or pilots in most of these areas.
In his closing remarks, he asked for more feedback and suggestions: "I'm sharing with you some of our preliminary thoughts but we are wanting to also get your feedback, your input on how we think the social service sector can improve and can be better for our next 10 years and beyond ... the dialogue shouldn't stop just here."