Schools take extra safety precautions as they resume overseas trips after COVID-19 suspension
One school had made plans for students who fell ill to be isolated in a separate hotel room during a recent trip to Bali.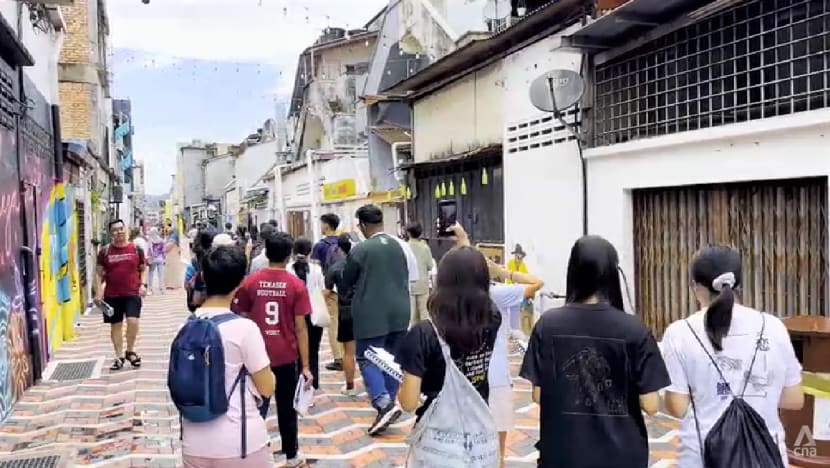 SINGAPORE: Schools in Singapore are restarting their overseas immersion trips again, three years after the COVID-19 pandemic put a halt to such activities.
However, schools told CNA that they are still taking extra precautions when taking students abroad. 
Cedar Girls' Secondary School, for instance, had made plans for students who fell ill to be isolated in a separate hotel room during a recent trip to Bali. Teachers on the trip had to act fast, even though the students did not come down with COVID-19. 
"We just wanted to make sure that the girls were able to move into a different room, and (be) isolated for one or two days before they joined the rest of the group," said Ms Nuraini Ismail, teacher-in-charge of the regional studies programme at Cedar Girls' Secondary. 
TAKING LEARNING BEYOND THE CLASSROOM
The trip saw 30 students travelling to the Indonesian resort island to learn about its culture, under a programme to let them experience life in other Southeast Asian countries. 
As an added precaution, five teachers went along, up from three previously. 
Ms Nuraini said such overseas trips extend students' learning beyond the classroom. 
The teachers visited Bali a few months before the actual trip, to scout new local school partners after previous ones stopped working with them, she added. 
"Our principals encouraged us to ensure that all the processes and procedures, and the students' safety were taken care of before we proceed."
Cedar Girls' Secondary student Goh Kai Yue said: "It's something you must be able to be there and physically experience it."
Fellow student Isabel Chua said: "To be able to go there and see in real life, to be able to touch the mud and soak my feet in it, it's quite a cool experience."
PLANNING AROUND CHANGES
At Temasek Junior College (TJC), teachers also had to plan around changes for trips to Kuantan and Kuala Lumpur.
"We found out that one of the usual attractions that we used to go to had closed due to COVID, so we had to change the itinerary," said TJC teacher Jared Wong.
"But at the same time, that also gave us a chance to find new sites to put into our itinerary that will also be meaningful sites."
These new attractions include the Kuantan Art Street, which opened two years ago. 
There, geography students learnt about the city's efforts to urbanise and reinvent itself.
Caves and waterfalls were also part of the four-day trip last month.
Students told CNA that they are grateful to finally be able to travel for such learning opportunities. 
GRATEFUL FOR LEARNING OPPORTUNITIES ABROAD
"That really brought the textbook to life, because we don't have any limestone caves in Singapore," said TJC student Liv Ng. 
"Being able to go there and experience it was really majestic."
TJC student Jovi Lai said: "We have this thing called 'geography investigation', where we have to go out onto the field, ask questions and conduct investigations to enhance our learning. It's quite difficult for us to learn this online. 
"So being able to go out onto the field, and into Malaysia really helped us quite a bit."
Read this story in Bahasa Melayu here.