Jockeys, stable hands at Turf Club face uncertain future with end of horse racing in Singapore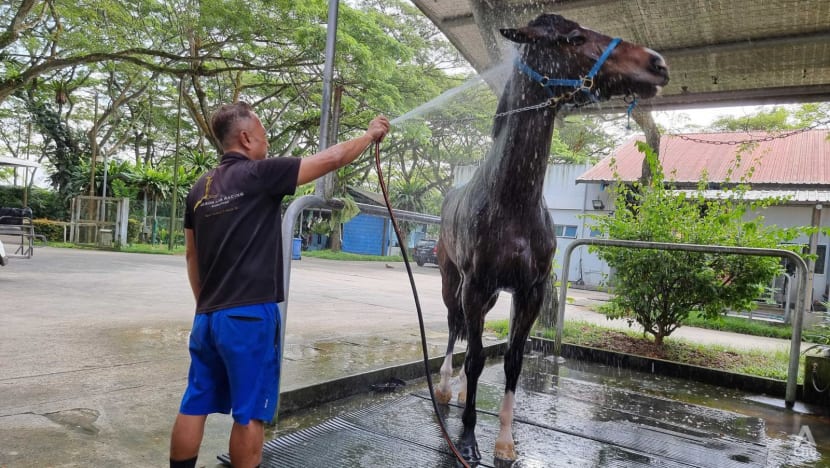 SINGAPORE: Jockeys and stable hands who are not direct employees of the Singapore Turf Club are asking why they were not offered any compensation after it was announced that the Turf Club will close next year.
CNA, along with other reporters, spoke to more than 10 horse trainers, jockeys, track riders and stable workers on Thursday morning (Jun 8). They are freelancers or employees of racing stables and not staff of the Singapore Turf Club.
They seem resigned to the fact that the Turf Club will close, but question why they are not being given any support. These workers are not included in the roughly 350 employees of the Turf Club who will receive retrenchment packages and help with retraining and job placement.
"We got nothing, but we are the ones that make things happen ... We get the horse ready, train the horse ... We have to look after the horses, rain or shine," said Mr Zairi Othman, an assistant horse trainer. "But the (retrenchment) benefits, we never get."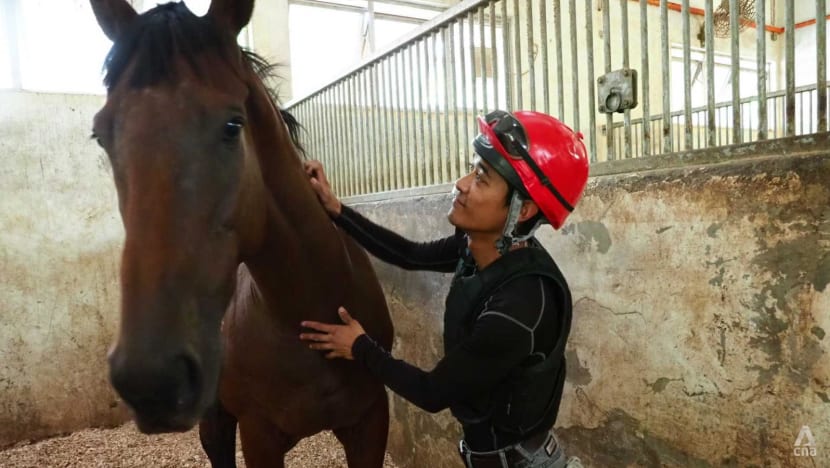 He, like other jockeys and stable hands at the Singapore Turf Club, said they felt lost after the government announced that the club will be holding its last race next October, and the land will be handed back to the state for redevelopment.
The shutting of the Turf Club, the only facility for horse racing here, will mark the end of horse racing in Singapore.
Zyrul Nor Asman, 35, who became a professional jockey three years ago, has spent the last 13 years working with horses. Speaking to reporters on Thursday, Nor Azman choked up a little as he talked about the closure.
"This news is very sad ... I have a new family, my wife is losing sleep," he said, tearing up.
"Our skill sets are very unique, we've been doing this for over 10 years ... there's no other turf club. There are riding centres but that's totally different ... it's not what we are trained to do."
He's concerned that he will not be able to find another job with a similar salary, which for him is about S$6,000 (US$4,500) a month, excluding prize money from winning races.
"I live in a four-room HDB flat ... we're not living like superstars," he said. "I have a family to feed and two small kids and I really don't know what I can do."
A fair proportion of jockeys here are foreigners, and there are about 30 jockeys from Singapore and Malaysia based at the Kranji racecourse. Professional Singaporean jockeys number fewer than 10, interviewees said.
Including syces or grooms and other stable hands, there are a few hundred workers affected.
One horse trainer is also in trouble, as he had taken a S$150,000 loan to set up his own stable just last year, not realising that the Turf Club was going to close.
Mr Mahadi Taib, 52, was in tears as he recounted to reporters how he recently invested in more horses to build up his stable. He estimates that he has eight more horses to be shipped to Singapore from New Zealand over the next few months.
"Now the (horse) owners, they're very upset ... I encourage them to buy horses - they thought I was cheating (them)," he said.
He said that most of their employees have been in the horse racing industry for decades and are not highly educated, making it hard for them to find other work. But he feels helpless to help them.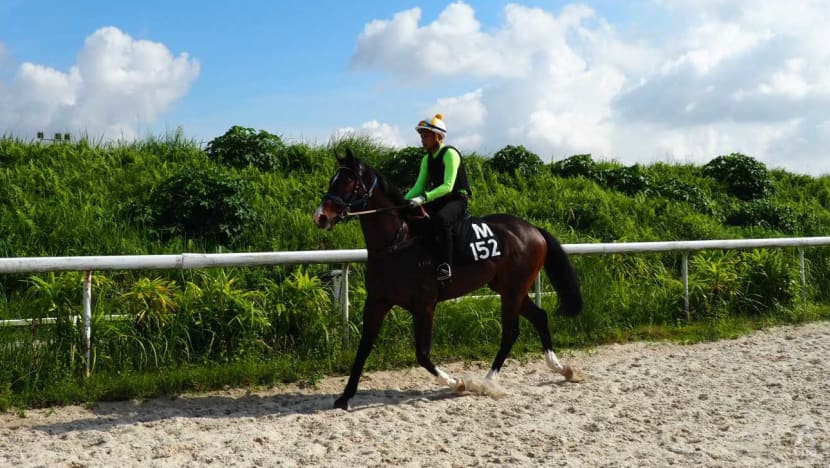 "I can't do anything - if they leave the stable, what happens to all the horses? I also can't stop them (from leaving), if I stop them, I can't promise them (any compensation)."
Workers CNA talked to said that the morale has been very low and everyone has been feeling down since the announcement on Monday, and they also feel concerned about the horses' welfare.
"We are dedicated to the job but suddenly, you just close everything," said Mr Zairi. "The horses live here, who's going to look after them if we have that kind of mentality that we can just find other jobs? But it's not us."
Responding to CNA queries, a Singapore Turf Club spokesperson said it will facilitate the trainers' access to an HR consultant, so that employment support such as job-placement assistance and skills-training courses can also be rendered to their staff.