'This is the only thing I know': Horse trainers, jockeys express shock, disbelief at Turf Club closure
The Association of Racehorse Trainers says that about 700 people in the industry could be affected, on top of the 350 employees from the Singapore Turf Club.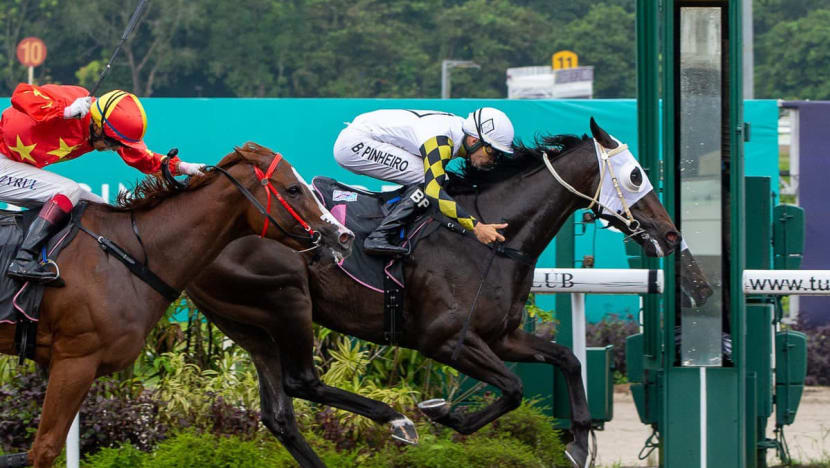 SINGAPORE: About two weeks ago, horse trainer Jason Lim heard rumours about the closure of the Singapore Turf Club, but he did not believe there was any truth to them.
Then on Monday (Jun 5), the authorities announced that the club will shut for good, and its last race, the 100th Singapore Gold Cup, will be on Oct 5, 2024. The land the Kranji racecourse now stands on will be handed back to the government in 2027, and be redeveloped for housing, leisure and recreation facilities. 
While the COVID-19 pandemic was tough for Mr Lim and other horse trainers, things had been looking up, with races and spectators returning. The announcement on Monday came as a shock.
"I didn't think the Turf Club would close, we have 180 years of heritage," the 42-year-old said in an emotional phone call on Monday night. "This is the only thing I know, I don't know (how to do) anything else."
Michael Clements, the president of the Association of Racehorse Trainers, said that the news was "devastating".
"It's kind of surreal to have such an announcement made out of the blue without any form of dialogue between the government and the industry players," said Mr Clements, who was born in Zimbabwe and became a Singapore citizen more than 10 years ago.
"I think that the government has fallen short on understanding the dynamics and diversity of the industry. The implications of their decision are a lot more far-reaching than they understand." 
Mr Clements, who runs Michael J Clements Racing Stables, revealed some of his clients had recently purchased young horses to race in Singapore and were unaware "the government have been planning to close it (the club) down".
Another reason the government gave for the closure was that interest in horse racing worldwide, including Singapore, has declined over the years. 
"The decline in spectatorship is not unique to Singapore - horse racing in other countries like US and UK are witnessing similar declines," Second Minister for Finance and for National Development Indranee Rajah said on Monday.
Mr Lim and Mr Clements added that while they understand the government's decision, they both felt the closure should have had a longer timeline on top of a plan to wind down the wider industry.
Mr Lim currently employs 15 workers to manage about 30 horses under his care, and some of the horses were imported recently by their owners, he said. His stables help owners acquire horses, as well as to train and care for them for a monthly maintenance fee of about S$4,000 (US$3,000) each.
Mr Lim told CNA that he has already had horse owners text him to "take the horse", saying that they will not pay for their maintenance anymore.
"We are not talking about cars, we're talking about live animals," he said of the 700 horses at the club.
They are also concerned about their staff and livelihoods. At a press conference on Monday, the authorities said that about 350 employees from the Singapore Turf Club will be retrenched, and that they will be given help to reskill and with job placement.
But it is not so clear what support, if any, will be provided to the racehorse trainers and their employees, said Mr Clements. He estimates the number of people in the industry affected to be about 700.
"They haven't really given a lot of thought to all the other players and stakeholders," he said.
The horse trainers and other industry players held an emergency meeting on Tuesday to examine all these issues and said that the association will issue a statement soon.
"The concern now is that (the industry) may well collapse before the end of October," said Mr Clements. "The morale of everybody after today's announcement is so low."
Ms Jerlyn Seow, 29, a jockey at Stephen Crutchley Racing Stable, said that she felt "nauseous" when she heard the news.
 
One of the rare females and millennials in the industry, Ms Seow has had a passion for horse racing since young. She has been training around 2016 to be a jockey and got her racing licence in 2019.
"I felt I was living my dream but now it's shattered," she said. "Why does the government want to close this historic industry, when there isn't much recreation or entertainment in Singapore? It's a mistake."
Responding to CNA's queries, the Ministry of Finance (MOF) and Ministry of National Development (MND) said that the government has taken a "considered approach" in the decision to close Singapore Turf Club.
Although local horse racing will cease in October 2024, the club has been allowed up until March 2026 for racehorse owners to export their horses. To facilitate this process, the handover of the club's land and assets was extended to March 2027.
"We understand the reactions and feelings of the trainers and jockeys, and have plans to engage with them to hear their concerns and to inform them of the various types of support available to them," said the ministries in a statement on Tuesday evening.
"We seek your understanding that we were unable to engage all stakeholders before the announcement due to its sensitive nature," they added.
 
Since Monday, Singapore Turf Club has been actively engaging with key stakeholders, including employees, horse trainers and owners, on the support available to them during this transition period, said MOF and MND. 
Transition support will be provided to racehorse owners. This includes horse maintenance support to encourage owners to continue participating in racing until the last race, and support for owners to export their racehorses after the last race.
"The transition support is designed to encourage racehorse owners to remain in Singapore and pace out their horse exportation, in line with the cessation plans," the ministries said.